We know breast is best, but if you are formula feeding, how do you decide on the best baby formula to feed your baby?
All formulas you can purchase from reputable dealers in Australia meet the strict Australian Standards. But which one is the best? And how do you decode all the different types?
Well, we go through the quality brands to see which are the formulas worth spending your money on.
Disclaimer: Yes we know breast is best. But we also know (from personal experience) that this isn't always possible. That's okay! When formula becomes necessary – here is where to go!
Table of Contents:
More Reading:
1. The Different Types Available:
It can be so confusing when shopping for babies because there is just so much choice! Don't worry – that's what this article is for – to help you decide the right one for your baby.
Although all the baby formulas sold in Australia do meet the Australian standards, that doesn't mean you can just grab the first tin of formula you find and it's going to be okay for your baby. Know that both Australia and New Zealand makes the very best baby formula in the entire world!
Important things to consider when deciding on a baby formula include:
Health requirements.
Does your baby have an allergy to cow's milk? If so – your Paediatrician will help you decide the best baby formula for your baby and will often offer you a prescription so that you can purchase the right baby formula at your local chemist (and at a decent price – because they are EXPENSIVE!). We do have a list below of the options you can choose from.
There are a few different types of baby formula on the market.
Reflux or Colic?
If your baby has reflux (which is pretty common) and struggles to keep down baby formula, you could try one of the many 'AR' baby formulas. AR or 'Anti-Regurgitation' is a 'thickened' baby formula that can assist in keeping that formula down. If your baby has reflux, ensure you get this checked out by your GP and ask for recommendations on the best AR baby formula to suit.
Budget
Although we like to think we are always going to feed the very very best to our children, budget always comes into consideration. Baby formulas range in price from $15 through to over $100 per tin! The basic formulations are of course the cheapest, and the more additives such as those DHA's (see below) – the more the price adds up!
The Type of Baby Formula
There are traditionally three different types of baby formula on the market:
How to Choose?
If your baby was born at full-term, is healthy and at a good weight, and breastfeeding isn't an option – then go the traditional cow's milk-based infant formulas.
Babies who have health issues can also drink formula if breastfeeding isn't an option – and we have listed all the options below – but check for recommendations by your Doctor or Paediatrician for specific guidance.
Where to Buy Baby Formula Online (And Have it Delivered to your door)
2. The Difference Between Breast Milk and Formula Milk
Both breast milk and formula milk are a total nutritionally complete meal for your baby. Breast milk contains all of Mum's antibodies that assist in protecting your baby from some illnesses. Breast milk also adapts to your baby's needs as they grow. Other special ingredients in breast milk include:
White blood cells that can fight any infections
Hormones that regulate baby's appetite
Long Chain Fatty Acids which help brain growth
Nucleotides that help baby develop healthy sleep patterns
Formula milk does contain more protein than breast milk, and it is this protein content that tends to make babies put on more weight than breastfed babies.
3. Decoding The Baby Formula 'Lingo' on the Tin
AR
AR stands for 'Anti-Regurgitation' and means that the baby formula is thickened. AR is a good choice for babies suffering from reflux or colic.

Brands that have the AR on the label or are made specifically for sensitive little tummies include:

– Nan AR Formula
– Aptamil Gold+ Reflux
– S-26 Alula Gold Reflux 0-12 months
– Enfamilk AR Infant Formula
– Novalac Reflux
– Novalac Colic
– Gerber Good Start Soothe Infant Formula with Iron
– A2 Platinum Premium Infant Formula 1

LI
LI is a Lactose-Free Formula. Made specifically for baby's who have been diagnosed with lactose intolerance. These formulae are still made from cow's milk.

Baby formula that is Lactose-Free include:

– Aptamil Gold Lactose Intolerance
– Nestle NAN LI
– S-26 LI
– Gerber Good Start Soy-Based Lactose-Free
– Enfamil Soy Infant Formula Lactose-Free

DHA & ARA
or 'Gold'
DHA (Docosahexaenoic Acid) and ARA (Arachidonic Acid) are added supplements to the baby formula that consist of long-chain fatty acids that are typically only found in natural breast milk. In Australia, baby formula's that contain these acids say 'GOLD' on the tin. These Acids have a big role in brain development.

Baby formulas that contain added DHA & ARA's are typically more expensive.

This type of formula can be for all babies – but it is particularly good for premature babies.

Brands of Baby Formula that contain DHA & ARA include:

– Bubs Organic
– Pregestimil DHA & ARA
– Enfamil Neuro Pro Infant Formula
– Aptamil Gold+
– Karicare Gold+
– S26 Gold
– Oz Farm Gold

AFF
Amino Acids Formula. Made for baby's that have an allergy to cow's milk.

Brands of baby formula include:

– Aptamil AllerProSyneo
– Karicare Soy
– Enfamil Plant-Based Soy Formula
– Novalac Allergy

Organic Formula
How the core ingredients have been initially farmed. All the ingredients must come from a certified organic farm.

Baby Formula that is certified organic include:

– Nutura Organic
– Nature One Dairy Premium Baby Formula
– Bubs Australia Organic Formula
– Bellamy's Organic Baby Formula
– Burt's Bees Organic Extra Gentle Infant Formula

Probiotics and Prebiotics
The addition of good bacteria helps a baby's digestive system grow. Particularly good for preventing eczema.
4. Best Budget Baby Formulas:
These are the best budget baby formulae on the market that are under $25. But to get the very best deals on baby formula – buy it in bulk packs!
5. Best Goat's Milk Infant Formulas
Bubs Australia Goat Milk Baby Formula

Bubs Australia has all stages of goat's Milk Baby Formula – this particular one is from newborn to 6 months old and contains the A2 Goat's Milk Protein which is gentle on tiny tummies. This formula is more affordable than some of the other Goat's Milk Formula brands.

See Online Stockists
Oli6 Organic Goat's Milk Formula

Oli6 Dairy Goat Infant Formula is suitable for birth to 6 months old. They also have a follow-on formula from six months old to 12 months. Manufactured in Melbourne, it is nutritionally complete meets all strict Australian standards.

See Online Stockists
Karicare Goat Formula

Karicare Goat Milk Formula is suitable from birth to 6 months. It is an approved breast milk substitute

See Online Stockists
Mim's Gentle Milk Co Organic Goat Milk Formula

Made by Bellamy's Organic, this is a relatively new offering in the Goat's Milk Baby Formula range. Like all the recommended Goat's Milk Baby formulas in this article, it is suitable from newborn to six months of age. Made in Australia and Certified Organic by two Australian certification bodies, this non-gmo formula is made with the A2 beta-casein goat protein.

See Online Stockist
Holle Organic

Holle Organic has produced a pure organic Goat's Milk Formula suitable from birth to 6 months. In addition to Goats Milk Formula, they also produce baby cereals and a range or organic baby foods. The formula contains no palm oil and has additional DHA for increased nourishment.

Nourished Life
LITTLEOAK NATURAL GOAT MILK INFANT FORMULA

Suitable for infants from birth to six months, this premium goat's milk baby formula is nutritionally complete and proudly manufactured to the highest food safety standards using only non-gmo ingredients.
Stockist:

Costco
6. Best Plant-Based Baby Formulas
Soy Milk Baby Formulas and other plant-based baby formulas are a substitute for traditional cows milk-based infant formulas that are specially made for babies with an allergy to cows milk.
Please never change your baby from a cow's milk-based infant formula to a soy-based unless medically advised. Although many parents believe that soy-based infant formula is easier on little tummies and may assist with colic and reflux, always make sure you check with your Doctor or Paediatrician first.
Soy Milk-based baby formulas are usually used for babies living with vegan or vegetarian families (under the strict instruction of medical professionals), or babies with a lactase deficiency which is a rare hereditary condition where a baby is born without the ability to digest the sugar lactose in milk.
7. 10 Best High Quality Ingredients Baby Formulas
Okay here is our list of the highest quality baby formulas suitable from birth.
BEST QUALITY INFANT MILK ON THE MARKET & CLOSEST BABY FORMULA TO BREAST MILK
This premium infant formula is 100% organically sourced from A2 protein-producing cows. The cows were bred in New Zealand which produces the finest quality milk powder in the world. Aptamil Essensis contains a Nutricia patented synbiotic blend, this unique blend incorporates probiotics and prebiotics into your baby's gut to improve digestion and produce the 'good bacteria we all need.
Aptamil Essensis is the closest baby formula to breast milk on the market.
Aptamil Prosyneo Sensitive Baby Formula is a premium baby formula made to feed babies from birth to 12 months old and is specially made for sensitive bellies. The formula has been 'broken down' (partially hydrolysed) to make it easy to digest. This baby formula contains 'SYNEO' which is a patented symbiotic blend of scientifically researched ingredients. This isn't suitable for babies with a diagnosed cows' milk protein allergy.
Certified organic and free from GMO, palm oil, pesticides, chemicals and preservatives, Bubs Organic is a premium baby formula sourced from free-range cows that graze outdoors 365 days per year, helping them to produce quality milk.
This baby formula has no fillers and is made to incredibly high standards to ensure safety, quality, purity and nutrition.
Proudly Australian made and owned.
RRP: $36.49
900 grams
Stockist: Chemist Warehouse Online
This formula is often recommended by Australian Paediatricians as the A2 protein is known to be good for sensitive little tummies. Contains the naturally occurring A2 type of beta-casein protein from special cows which help with digestion!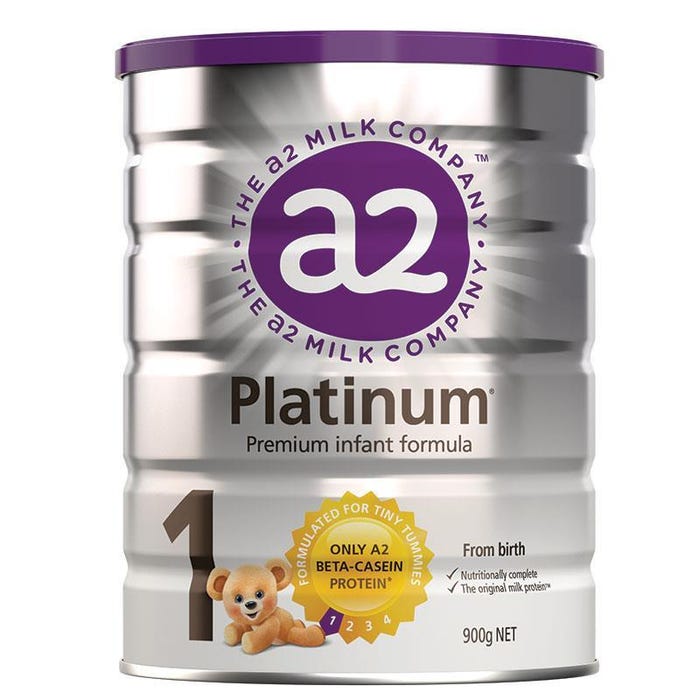 With organic certification, 20 years of scientific expertise and 250 different safety and quality checks, we just had to add Bistime Premium Organic Infant Formula to this list. Suitable from birth to six months of age, this formulation has premium organic ingredients that your baby needs to thrive and is easy on the tummy.
Made by Australia's leading natural health brand, Blackmores, this newborn infant formula by Blackmores is gentle on tiny tummies, is gluten-free, GMO-free and has no added sugar or artificial sweeteners.
Certified organic and made from A2 milk, Bellamy's Beta Genica-8 is a premium baby formula using an advanced formulation that combines the purity of ingredients with functional nutrition supported by the latest in paediatric research.
A premium infant formula made with the natural A2 protein sourced from New Zealand farms (New Zealand makes the best quality milk powder in the world). Gentle for little tummies, and contains no added preservatives or artificial flavours.
Mumamoor Premium Infant Formula contains Omega 3 and 6 fats, prebiotics, probiotics, nucleotides and up to 25 essential vitamins and minerals to make your baby thrive. This premium formula is made from grass-fed Australian cows milk and is 100% Australian made and owned.
Novalac makes premium baby formulas that address different issues your newborn may have. Colic is a common issue, and this formula has been made specifically to ease baby's wind pains. With a balanced blend of nutrients that contain everything, your baby will need, together with gentle ingredients to provide relief. Designed for babies from birth to 12 months of age.