The advantage of wand vibrators over other 'normal' vibrators is one thing. Power – and lots of it! And sometimes we girls just need to get off FAST. And Wand Vibrators do that – with earth-shattering orgasms!
Who says the ideal climax has to be something out of a fantasy novel? When it comes to creating magical, toe-curling, 'make me want to scream Os', wand massagers have the power and the vibrations to do that in the least amount of time possible!
More Reading:
What Makes Wand Vibrators So Damn Powerful?
Originally, the Wand Vibrator wasn't intended to be a sex toy, but a massage device. But when more people were using the powerful vibrators on their neither regions rather than on their tennis elbow, the device, today called the Magic Wand—rapidly earned a reputation as one of the greatest toys for powerful external stimulation, giving rise to the immense popularity of the wand vibrator.
So, what exactly is the big deal? And don't normal vibrators just do the same thing. No!
Wand vibrations' extremely powerful rumbly vibrations are what makes them magical. You don't need to move your body in order to get a "deeper vibration" since the motor is located at the top of the toy, allowing for all-over clitoral stimulation. And because they just have so much power (and because some of us have lost a bit of sensitivity after birthing children)… that power can be put to good use!
So if normal vibrators are a bit on the snooze side – it's time to level up to a wand!
Here Are Our Beck Picks For The 10 Best Wand Vibrators for Explosive Orgasms!
Powered by 8 strong speeds and functions, this seductive black metallic wand is cordless and rechargeable! Using the simple toggle button is so simple that you can focus on the delightful suppleness of the velvety silicone head and the tremendous pleasure of the strong motor.
Because it's entirely submersible, you can use your wand in the tub or shower. Steamyyyy!!
Size: 34cm
Power: 50 powerful vibration settings
Price: $96.95
Stockist: Bed Buddies
The Wand-er Woman's Premium size Wand Vibrator has a soft silicone head that is comfortable on your most private parts, but still 'stiff' enough to allow those shuddering vibrations to shine through. Made from medical-grade silicone, the rounded shape of the head makes it easy to reach all areas of the body in need of relaxation! But especially your clitoris.
Size: 32cm
Power: 10-speed mode
Price: $75.95
Stockist: Bed Buddies
The vibrations produced by this massage wand vibrator are the most pleasurable you will ever experience! You may go as hard as you want with its 10-speed mode and ultra-powerful yet low-noise (55dB) motor. Perfect to use in bed when the kids are asleep.
The flexible silicone material conforms fast to your body's warmth and provides a luxuriously smooth sensation against your skin.
It has a swivelling head that is very comfortable and easy to use!
Size: 20.5cm
Power: 10-speed motor with turbo boost
Price: $113.95
Stockist: Bed Buddies
Yes – there are travel-sized wand vibrators so you can take your earth-shattering orgasms with you wherever you go! With its 10-speed turbo-boost motor and water-submergible design, this joystick will make you feel like you're in a sunny paradise! As your palm rests securely in the loop handle, the wand's big tip and maximum strength will leave you breathless.
Using a flexible head allows you to build to a climax over and over again!
Small enough to fit in your handbag!
Power: 49 separate speed and function combinations
Price: $161.95
Stockist: Bed Buddies
Incredibly versatile, this silicone toy has a strong massager on one end and a gratifying bulbous, softly curved vibe on the other. This double-sided form, which has exquisite easy-access controls in the centre, will shake your world both inside and out!
Designed for imaginative play in the bath, shower, or anywhere else, this USB rechargeable multifunctional wand vibrator is waterproof and has several functions.
This mini-wand is great for travel because of its compact size, silent motor, and USB rechargeable design—all of which add to the climax and pleasure you were looking for!
Size: 5 x 2.83 x 0.89 inches
Price: $222.95
Stockist: Bed Buddies
The luxe version of the Magic Wand Vibrator. And worth every cent! The Bodywand Luxe 2-Way Wand is exactly what the name implies like: a one-of-a-kind toy with two distinct sides, one for the head and one for the tail. Both sides are designed with a typical wand massager head that is fantastic for external stimulation, while the other side is designed with an ergonomic form that is perfect for hitting the g-spot!
Powerful and will give you toe-curling waves of orgasmic pleasure!
Size: 4.5 inches in length
Price: $55.95
Stockist: Bed Buddies
A magic wand that literally gives the magical feeling for you! This body wand is lookin' like a baby toy but gives an adult boost!
Size: 14.8 cm long, 3.7 cm wide
Power: 10 powerful vibration speed
Price: $78.95
Stockist: Bed Buddies
The strength of a large wand in a little, clit-pleasing compact is here! So many ways to satisfy your hot button with this silky-smooth silicone tiny wand. If you like a more powerful buzz, try wrapping it around your clitoral region for a more textured experience.
A strong 10 function motor gives significant vibration power precisely where you need it for body-shaking orgasms!
If you're looking for a more powerful and versatile wand, go no further than the Double Wand-er Woman! Using the Double Wand-er Woman's two replaceable head extensions, you may choose between relaxing full-body vibrations and more precise stimulation.
Your adventure begins as soon as you unplug and re-plug the sensuous pressure bulb with its exquisite ribbing or the flexible finger attachment with its come-hither curve!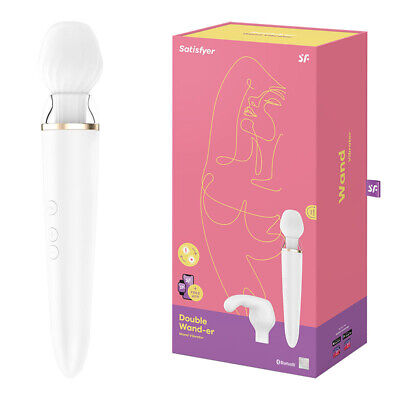 These Are Our Best Picks! Enjoy ladiessss!!