Family Friendly Gold Coast Hotels can get lost amongst all the fancier more glamourous resorts..But we know just which resorts are the best stays when you have little ones!
When you think of The Gold Coast when you are a parent, you think of theme parks and swimming and fun activities with the kids.  But where do you go and stay that caters to young families?  High rise fancy hotels that are all the rage at the Gold Coast with balconies would be a nightmare for parents with small children!
Well, we live in Queensland and have holidayed at the Gold Coast on a number of occasions, and there are some really fantastic hotels and family-friendly resorts now that are terrific for families of all ages, and some that cater to really young families that make going on holiday a dream come true!
More Reading:
The Water Park at Paradise Hotel
What Parents of Young Kids Desire in a Hotel
Taking kids away from home is always super stressful. So when choosing a family-friendly Gold Coast hotel, you want as much of that worry gone as possible. Parents want to know:
Will the room be safe for the kids to walk around without breaking anything or themselves?
Can the kids access the balcony, and is it safe if they do go out there?
Is there child-friendly food to eat nearby?
Will the bathroom be suitable for bathing young children? Is there a bathtub?
Is there a microwave to heat up a baby bottle in the middle of the night?
Is there a fridge to keep kids snacks and milk?
Does the television at the hotel have Disney and Nickelodeon to keep the kids entertained?
Is there access to a laundry to clean soiled kids clothing?
Family Friendly Attractions on The Gold Coast
The Gold Coast has so much for families of all ages to do and so much to see – here is just a snippet:
Warner Brothers Movie World
Sea World
Wet' n' Wild
Dreamworld and White Water World
Currumbin Wildlife Sanctuary
Australian Outback Spectacular
SkyPoint Climb
Ripley's Believe it Or Not!
King Tutt's Putt Putt
Harbour Town Shopping Centre
Here is our list of 10 Family-Friendly Gold Coast Hotels that are just perfect for your next family getaway – no matter the age of your babies!
Location: 122 Ferny Avenue, Surfers Paradise
From the second you arrive at Paradise Resort, you know your kids are going to love it.  This is truly a kids paradise!
Located a few minutes walk from the beach and heart of Surfers Paradise, Paradise Resort Gold Coast caters for all families with babies and toddlers through to children 12 years of age.
Here are just some of their facilities:
An Ice-Skating Rink (seriously!)
A giant kid-friendly water park
The best Kids Club in Australia called Zone 4 Kids
A lagoon pool (and spa for the grown-ups)
Child-friendly restaurants with food they will actually eat!
Make the most of your complimentary child supervision with every accommodation booking at Paradise Resort Gold Coast! Every child has access to up 4 hours of fun in the Zone for Kids Club – every day, for FREE! Meanwhile, you can enjoy the precious time utilising our Zone 4 Adults areas and activities including live music, wine and beer tasting and cooking demonstrations. With something for everyone, the whole family will find their perfect Gold Coast holiday haven.
Best Part: Their bunk rooms are designed so that the parents can have some privacy at night!
Location: 66-86 Siganto Drive, Gold Coast
Big 4 Holidays Parks have been popular for families all over Australia due to their family-friendly rooms and child-friendly activities, and the Big 4 Gold Coast Holiday Park is no exception.
Set on 32 lush acres, Big 4 has a resort pool, an amazing water slide and spa. A licensed cafe to get your daily fancy coffee and an activity centre for the older kids including a remote control race track. Other great features include the Big 4 jumping pillow, bikes, kayaks and barbecue facilities.
Big 4 Gold Coast Holiday Park is a great base if you are wanting to visit the Gold Coast Theme Parks – it's only a five minute drive (and the theme parks are a must see!).
Accommodation options include smaller open plan cosy cabins through to 2 – 3 bedroom cabins and top end villas. They also have family motel room for people wanting a more traditional hotel like stay.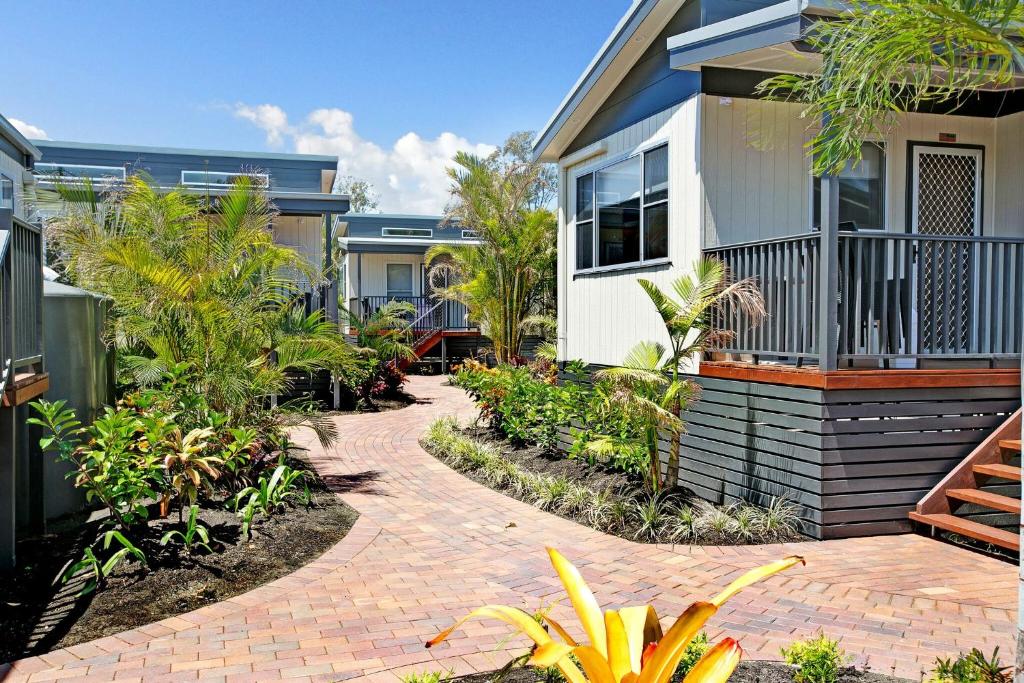 Location: 2346 Gold Coast Highway, Mermaid Beach
Turtle Beach Resort is a family-friendly Gold Coast Hotel located just five minutes walk from Mermaid Beach.
Turtle Beach Resort has loads of things for kids to do. There are three swimming pools, a designated holiday program for the kids including party themed nights and video game championships. There is a splash zone with a water slide, toddler slides and water cannons. Nearby is mini-golf and the theme parks aren't far away.
The accommodation options are all family-sized fully self-contained apartments. They come in one, two and three-bedroom apartments and a selection of suites.
There is a family friendly on-site restaurant that offers wood fired pizzas, salads and drinks.
Location: 117 Brisbane Road, Biggera Waters
NRMA Treasure Island Holiday Resort is made for families with small children. The resort is a 20 minute driver from the Theme Parks.
Activities for the kids include four resort style swimming pools, a heated spa, tennis course, a pirate-themed mini golf course and a giant jumping pillow. There is also an outdoor cinema and a family friendly bistro that serves breakfast, lunch and dinner.
Accommodation includes studio apartments, and fully self-contained villas. There are also fully self contained safari tents (glamping!) which are a budget option but actually look nicer than the cabins do. The poolside villa sleeps up to six people.
This family friendly Gold Coast Resort is super affordable too – so you have more cash to spend on activities.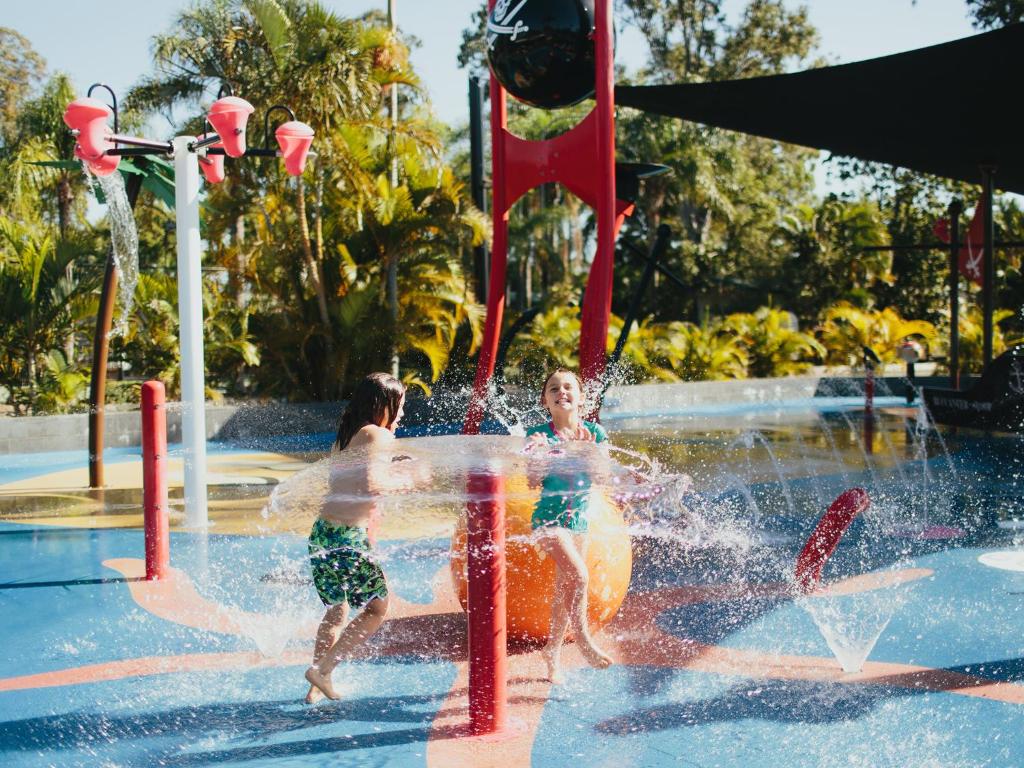 Location: Seaworld Drive, Main Beach
Sea World Resort is in the perfect location to enjoy everything that the Gold Coast has to offer.
With direct access to the Sea World Theme Park, this beautiful family resort has a 50m lagoon pool with a waterfall, an aquatic playground for the kids and a 12-seater hot tub for the parents. The beach is only a two-minute walk and for the really little kids, the Sponge Bob Splash Bash and Light Show will keep them entertained for hours.
The accommodation is plush with spacious hotel rooms with contemporary decor. Each room has a balcony or patio (child friendly) that overlooks the lush gardens and pool area.
When you book your holiday through Booking.com you also receive complimentary entry to all three theme parks.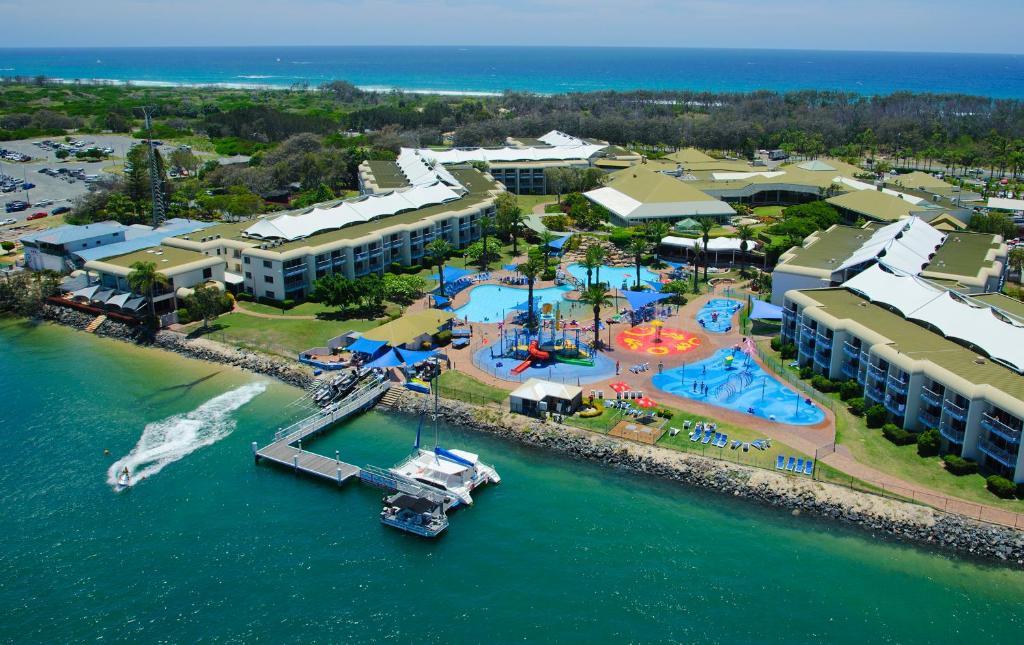 Location: Ross Street, Benowa
The RACV Royal Pines Resort is a family friendly Gold Coast resort that really caters to the parents as well as the kids. I is just a 20 minute drive from the theme parks.
The resort is set on over 100 acres and has a 27-hole championship golf course, five different restaurants, a water park with 3 water slides, a toddler pool and other fun water activities. There is an outdoor lagoon, 5 tennis courts, a fitness centre, kids playground, a day spa – it sounds like heaven.
The accommodation options are pretty fancy too. The accommodation is all hotel-style rooms with large rooms and fancy linen. There are balconies at this hotel – with sturdy glass balustrading to stop the kids from clambering over.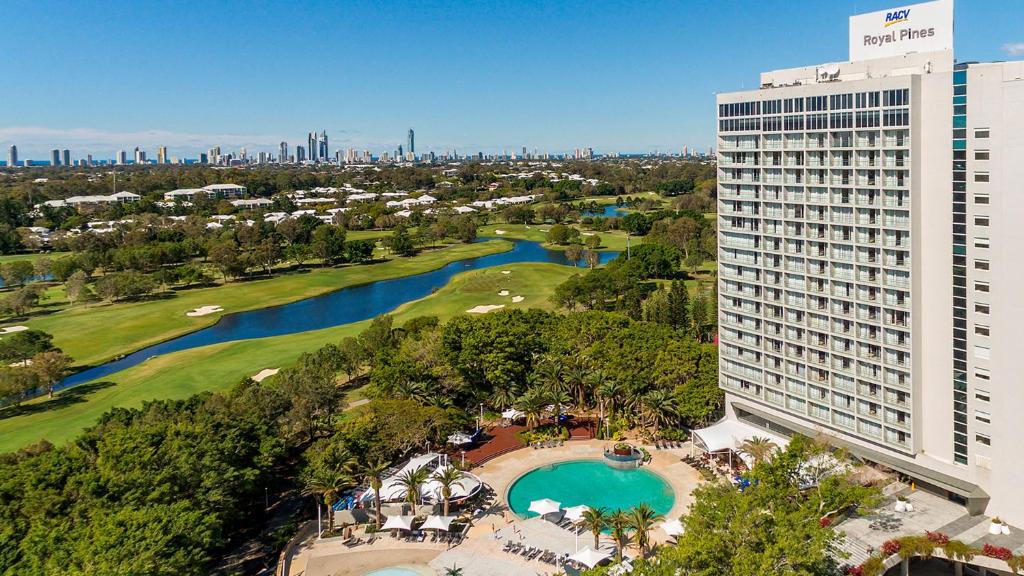 When you're ready to take your kids to a family friendly Gold Coast Hotel on a budget – then look at the Oaks Gold Coast Hotel. Located close to the beach (just a 400m walk) or shop til' you drop at Pacific Fair,  
Feel like being a little more adventurous? Jump in the car and head to our world-famous theme parks or visit the beautiful Gold Coast Hinterland for a hike. With stylish hotel rooms, spacious studios or one and two-bedroom apartments, there's space for everyone at Oaks Gold Coast Hotel.
This is the perfect 'base hotel' for you and your family to enjoy all the Gold Coast has to offer because of its central location.
The Oaks Gold Coast Hotel is located a 30 minute drive from the theme parks.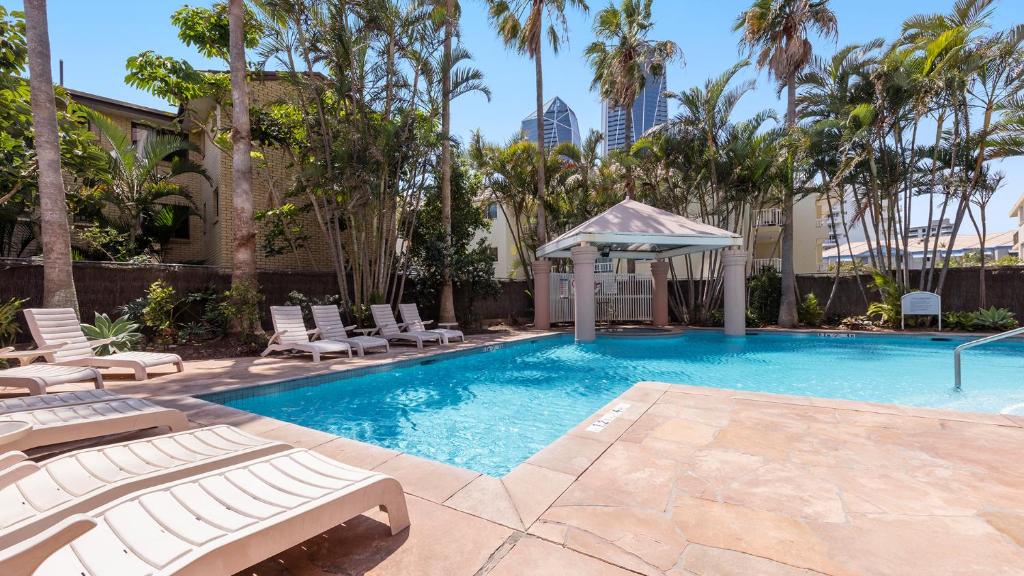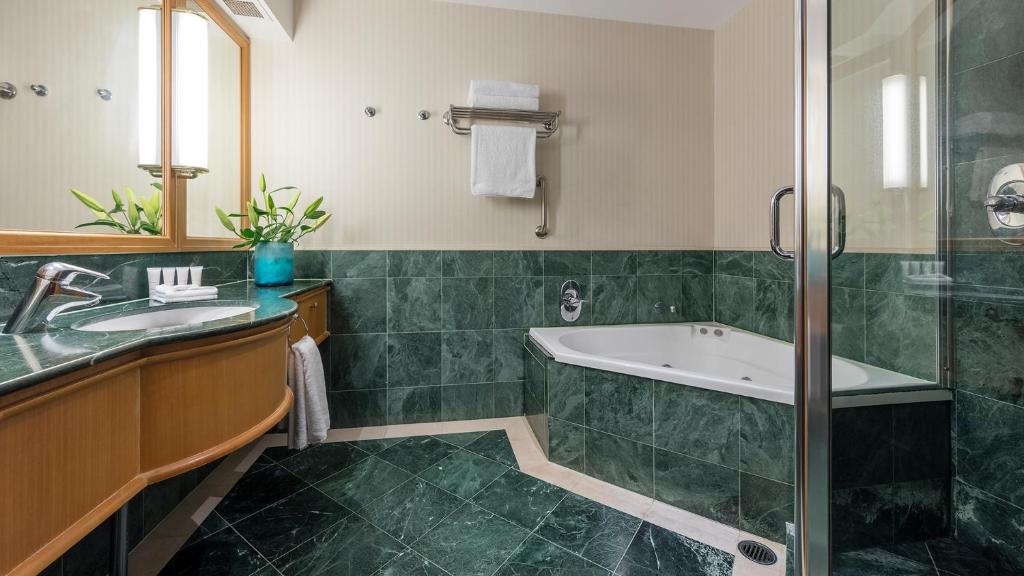 8. Sheraton Grand Mirage Resort (5 stars)
Location: Sea World Drive, Main Beach
It is my ultimate DREAM to stay at the Sheraton Grand Mirage Resort on the Gold Coast with my family. It is simply spectacular! It is a five-star resort located just a 10-minute drive from Surfers Paradise and 15 minutes from the Star Casino.
It is located right on the beach, has amazing pools that the kids won't get out of all day. A swim-up bar for the parents. The rooms are swanky hotel rooms with fancy sheets and fancy beds. All rooms overlook the lagoon pool and the beach.
Accommodation options are huge, from swanky basic hotel rooms through to spa suites and everything in between. It isn't cheap – but it is well worth the investment!
Location: 158 Ferny Avenue, Surfers Paradise
Located right in the heart of the Gold Coast, and set on 2.5 acres of ponds and waterfalls, your stay at the JW Marriott Gold Coast Resort and Spa is more on the swanky side of family-friendly holidays. This resort just undertook a $35 million dollar upgrade – so everything is fancy!
For the family there is a heated freshwater lagoon pool. A tennis course and a sports course. The beach is just a few minutes walk away.
Best of all – the JW Marriott has a Vacation Club for the kids. The Kids Club includes lunch or dinner and full activities to keep your crotch fruit entertained.
And for the parents, you can learn how to make sushi at the award winning Japanese Restaurant. Do yoga by the pool and go on escorted kayaking adventures.
The theme parts are only a 30 minute drive away.
These are our picks for the 10 Best Family-Friendly Hotels at the Gold Coast
Location: Manor Circle, Hope Island
If you want your family friendly hotel on the Gold Coast to be 5-star all the way – this is the place for you. There is a huge saltwater beach lagoon pool as well as a second terrace pool and spa. Three championship golf courses and the Sanctuary Cove Country Club are right on the doorstep.
There is a Kids Club during the school holidays. Planet Trekkers has a dedicated program of fun activities for the kids together with a bespoke dining menu designed to immerse your child in the beauty of Queensland. There are over 90 restaurants and cafe's within walking distance of the resort and loads of shopping, art galleries and attractions.
The rooms are darling. Fancy sheets, premium finishes and brand new indoor and outdoor furnishings. All rooms overlook either the marina, the garden or the lagoon.
Do you have any family-friendly resorts on the Gold Coast to add to our list?