Unless you have been living under a rock, you have probably heard the talk about Yellowstone's western drama. It's a country soap opera!
Yellowstone is now in its fourth season, and we all can't get enough!
Yellowstone is about the Dutton family, if you don't know about this totally addictive television show. A seventh-generation family living on one of the largest ranches in the United States. The Dutton family constantly fights those who want to take their land from them. Land developers, a neighbouring Indian reservation, and those jealous of the land they possess.
You can watch Yellowstone on Paramount+.
We thought we would share 13 fascinating facts about the Yellowstone TV Show!
More Reading:
Yellowstone TV Show Image via Looper.com
1. Think you have seen Gil Birmingham in something before? He was in Twilight!
Gil Birmingham plays the character Thomas Rainwater in Yellowstone. But if you think he looks familiar, you might remember him from a bit of movie called 'Twilight'. Yes! Gil Birmingham played 'Billy Black' in the Twilight series. Jacob's Dad.
Gil is a former bodybuilder, and he became an actor after appearing in Diana Ross' music video for 'Muscles' released in 1982.
Gil Birmingham in Twilight.
Yellowstone TV Show Image via USA Today
2. Luke Grimes appeared in 50 Shades of Grey
Luke Grimes, who plays Kayce Dutton, may seem familiar. And no – it isn't Twilight (although he did audition for the role of 'Edward' in Twilight but lost to Robert Pattinson. Luke Grimes played Christian Grey's brother, Elliot Gray, in the 50 Shades of Grey series.
He also appeared in True Blood and American Sniper's hit shows with Ryan Phillipe.
He is pretty damn dreamy!
3. Actress Kelly Reilly who Plays Beth Dutton is a Pom!
Yes! Who would have thought that filthy-mouthed Beth Dutton actually speaks in real life with a posh accent! If you want to hear Kelly in all her British glory – go back and watch the first Sherlock Holmes movie (starring Robert Downey Jnr) – Kelly Reilly plays Watson's wife, Mary.
Kelly was also the youngest actress ever to be nominated for the Laurence Olivier Theatre Award for Best Actress in 2003 at aged 26.
She is a true bad-ass and my favourite character on Yellowstone!
Kelly Reilly plays Beth Dutton on Yellowstone. Image via TV Insider
4. Ryan Bingham who Plays Walker is a Real Life Country Singer
'Walker' always carries around his guitar and sings (rather well) in Yellowstone. In real life, Ryan Bingham is a thriving country singer who has released six studio albums under his own label, Axster Bingham Records and regularly performs live shows.
Ryan competed as a bull rider in rodeos before embarking on an acting career. So he is perfect for his role on Yellowstone!
Ryan Bingham as 'Walker' in Yellowstone. Image via Outsider
5. Kelsey Asbille who Plays Monica Long Dutton Isn't a Native American Actress
Kelsey Asbille, who plays Monica Dutton (Kayce Dutton's wife) in Yellowstone TV Show, is actually of mixed race (Asian and American). The casting of Asbille became heated as Yellowstone has many roles for Native American actors.
Asbille claims to be "Part Cherokee and half Chinese'; however, no Native American group has proved this.
But if you recognise Kelsey Asbille, you may have seen her in MTV's Teen Wolf.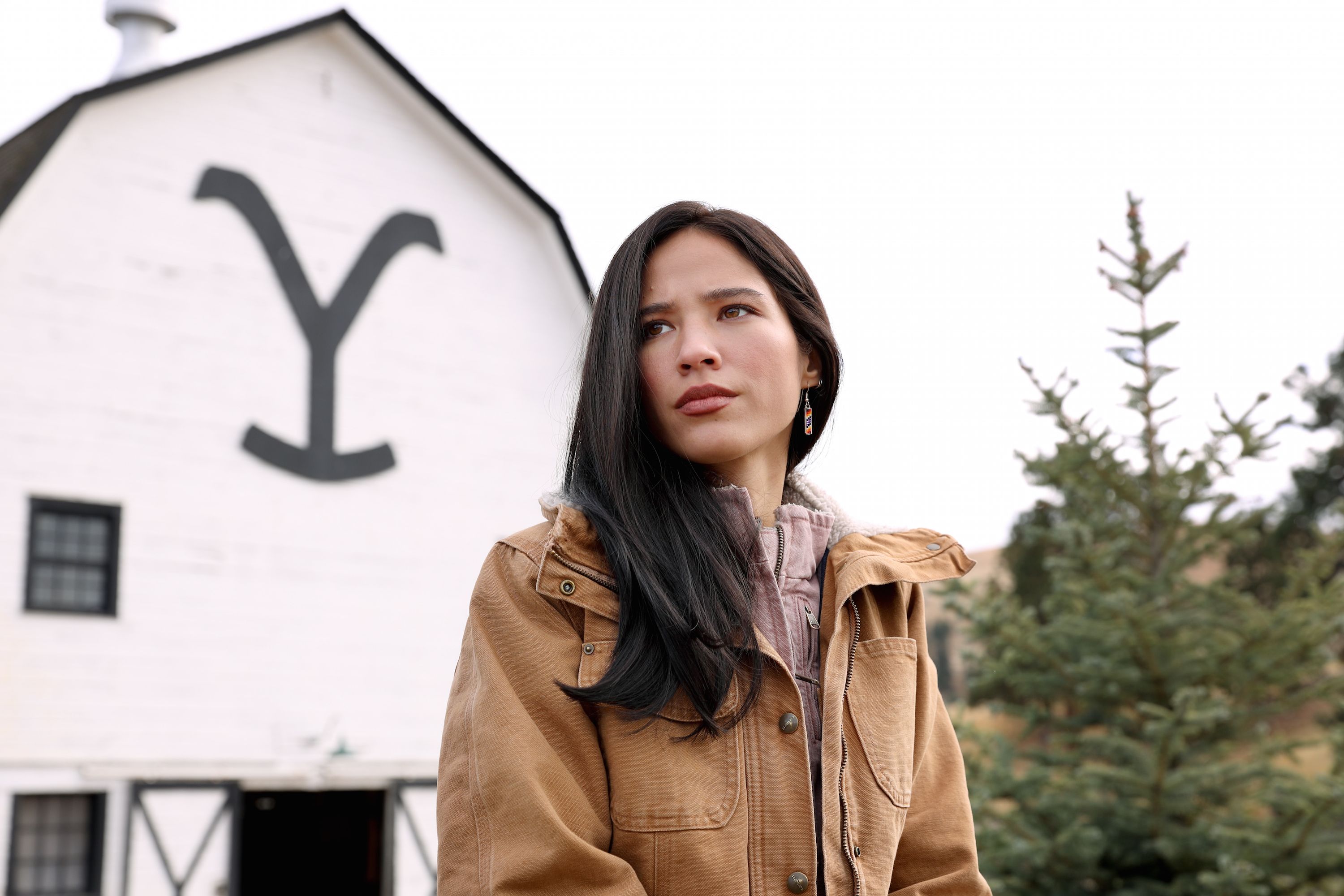 Kelsey Asbille plays 'Monica Dutton' in Yellowstone. Image via Good Housekeeping
6. Two Spin-Off Shows from the Yellowstone TV Show are Already In Talks
If you love Yellowstone – you may just be seeing a whole lot more of it! There is a prequel to Yellowstone called '1883' that is the origin story of the Dutton family and is starred by Country music royalty, Faith Hill and Tim McGraw. It also stars Sam Elliott and Billy Bob Thornton. 1883 will premiere THIS MONTH on Paramount+, so keep an eye out!
1883 will follow the Dutton ancestors James and Margaret Dutton (played by Faith Hill and Tim McGraw, pictured) as they journey from Texas to Montana, searching for a better life.
There is also talk of a second spin-off called '6666' (pronounced Four Sixes), and those who watch Yellowstone will know what that's all about!
6666 will be streamed exclusively on Paramount+
Yellowstone TV Show 1883 Prequal. Image via People.com
7. You Can Rent a Cottage at the Dutton Yellowstone Ranch
The real-life Dutton ranch, Chief Joseph Range, is just as gorgeous in real life as it is on the television. And although the large house on the ranch isn't available to stay in, you can rent one of the smaller cabins featured on the show. You can even bring your horse with you!
Although with the massive popularity of the Yellowstone TV Show, the cabins are booked out a long time in advance.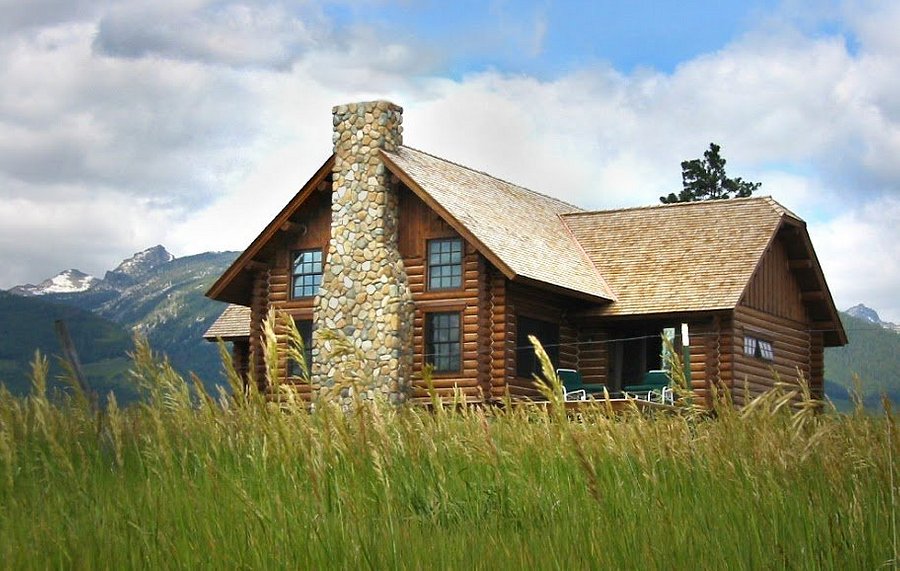 This is one of the cabins you can rent at the Chief Joseph Ranch.
8. The Real Yellowstone Ranch is Called Chief Joseph Ranch
Chief Joseph Range is a real-life working ranch located in Darby, Montana. The original house you see in the show was built in 1914.
The historical lodge is 6000 square feet and was initially called 'The Ford-Hollister Ranch' after the glass tycoon William S Ford and Judge Howard Clark Hollister.
Today, the ranch is owned by Shane Libel, who lives in the magnificent home (when Yellowstone isn't being filmed) with his wife Angela and their family.
The Ford-Hollister Ranch.
Yellowstone TV Show Image via Chief Joseph Ranch.net
9. Cole Hauser Didn't Have to Audition to Play Rip
Cole Hauser plays the broody bad boy and loyal ranch hand, Rip Wheeler, who has become one of the favourite characters on Yellowstone.
Cole Hauser was originally going to play one of the Dutton sons, but after reading the script, he knew Rip was the character for him. Luckily the director of Yellowstone agreed, and Cole didn't even have to audition for the part!
Cole comes from a whole family in the movie business. His maternal grandparents were producers and screenwriters, his maternal great-grandfather was Harry Warner, one of the founders of Warner Bros Studios and both of Cole's parents are actors.
Cole Hauser as Rip Wheeler in Yellowstone. Image via Outsider
10. 'Gator' Who Plays the Dutton's Chef, is Also the Caterer on Set
'Gator' or Gabrielle Guilbeau is the chef at the Dutton Ranch. But he doesn't just cook for the fictional Dutton family; Gabrielle is a real-life chef and makes delicious Louisianan cuisine for the whole cast and crew. His recipe for authentic Gumbo is to die for!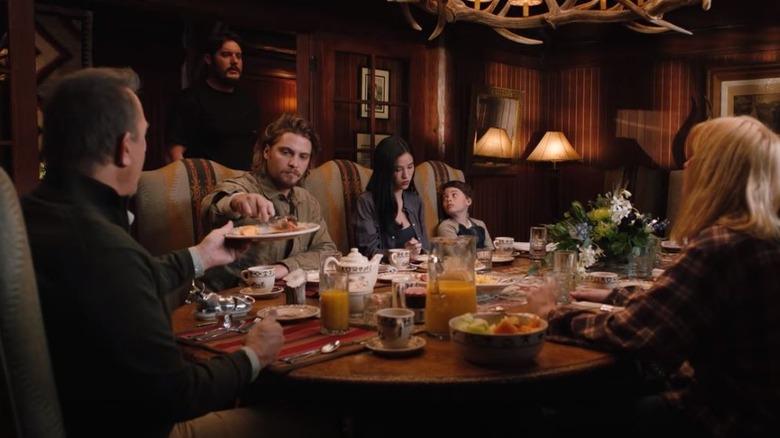 Gator in Yellowstone.
Yellowstone TV Show Image via Looper
11. Kevin Costner's Band 'Kevin Costner & Modern West' Write Some of the Songs Featured on the Yellowstone TV Show
Kevin Costner is a man of many talents, many of which you are probably already familiar with. But did you know that he has a band that do worldwide tours? His band, 'Kevin Costner & Modern West', have released four studio albums.
Some of their songs appear in Yellowstone!
Kevin himself owns a 165-acre ranch outside Aspen, Colorado.
12. Creator of Yellowstone TV Show, Taylor Sheridan Also Stars in the Show
Creator of the Yellowstone tv show, Taylor Sheridan, has an impeccable resume. Heard of a little show called 'Sons of Anarchy?'. Taylor also wrote the screenplay for 'Sicario' and 'Hell or High Water', which received an Academy Award Nomination for Best Screenplay.
And you know that fellow in Yellowstone that rides all those amazing tricky horses from 6666? Yeah – that's the creator, Taylor Sheridan!
13. Josh Lucas Plays a Young John Dutton
Any Josh Lucas fans out there? Everyone must remember the delicious Jake in Sweet Home Alabama with Reece Witherspoon. He also starred in A Beautiful Mind with Russell Crowe. He is just as delicious in the Yellowstone tv show.
Josh Lucas as a young John Dutton in Yellowstone. Image via Outsider
"What you're watching is the slow death of a family,"
Taylor
So, do you think that Taylor is a really badass leader? Let us know!!