Boys can be hard to buy for – I always run out of gift ideas!
I have two boys and I can tell you – they are hard to buy for! Especially around the primary-school age, tween/teen. Urghhh.
At that age, they outgrow toys so fast and are usually starting to request expensive gifts that they get bored of less than a year.
Over the years I've had some no fail ideas so here are some of their favourite things – and hopefully they might appeal to your boys, too!
Yes, Pokemon Trading Cards are the number one in FAD for boys at the moment. Boys are simply crazy for them. They can be bought at most toy stores or Big W. Prices start from $5 up to about $30. Cheapest place to buy them is usually eBay. Other trading cards that are popular at the moment include:
I don't know what it is with tuxedos, but my kids wear them on every free dress day! I've bought them one each of these super cute t-shirts and it makes a good substitute!
3. Science Experiment Kits or Chemistry Sets
You'll find some incredible science experiments both online and in the stores. Things that go pop or explode will delight them. There are some great challenging ones too like ways to drop a raw egg from heights without it breaking. Make up your own kit or buy one pre-prepared.
The Weather Science Experiment Kit
3-in-1 Mini Solar Robot Engineering Kit
4. Their own pet (and we aren't talking about a puppy…)
If they are mature enough, look into a new pet for them. Great ideas for this age include:
Goldfish or Fighter Fish – only requires a small bowl, some water conditioner and food
Hermit Crab
Sea Monkeys
Guinea Pig
Budgie or Parrot
5. Lego Kits Or Little Bits Kits
Both Lego and Little Bits are awesome and educational! It's often the first time a boy will follow instructions (which they seem to lose by manhood!) Many engineers, builders and mechanics started their passion with the simple enjoyment of putting things together. Lego is expensive, however, you can get the small starter boxes for around the $10 mark. The best thing about building stuff is that it is something Dad can do with the kids!
Our Picks:
6. Fishing Gear
What greater delight for a young boy than to learn how to fish. Put together a fishing kit with a hand reel, tackle box and maybe a few fishing accessories.
Specific ideas include:
A long sleeved fishing shirt
Fishing Line
Kayak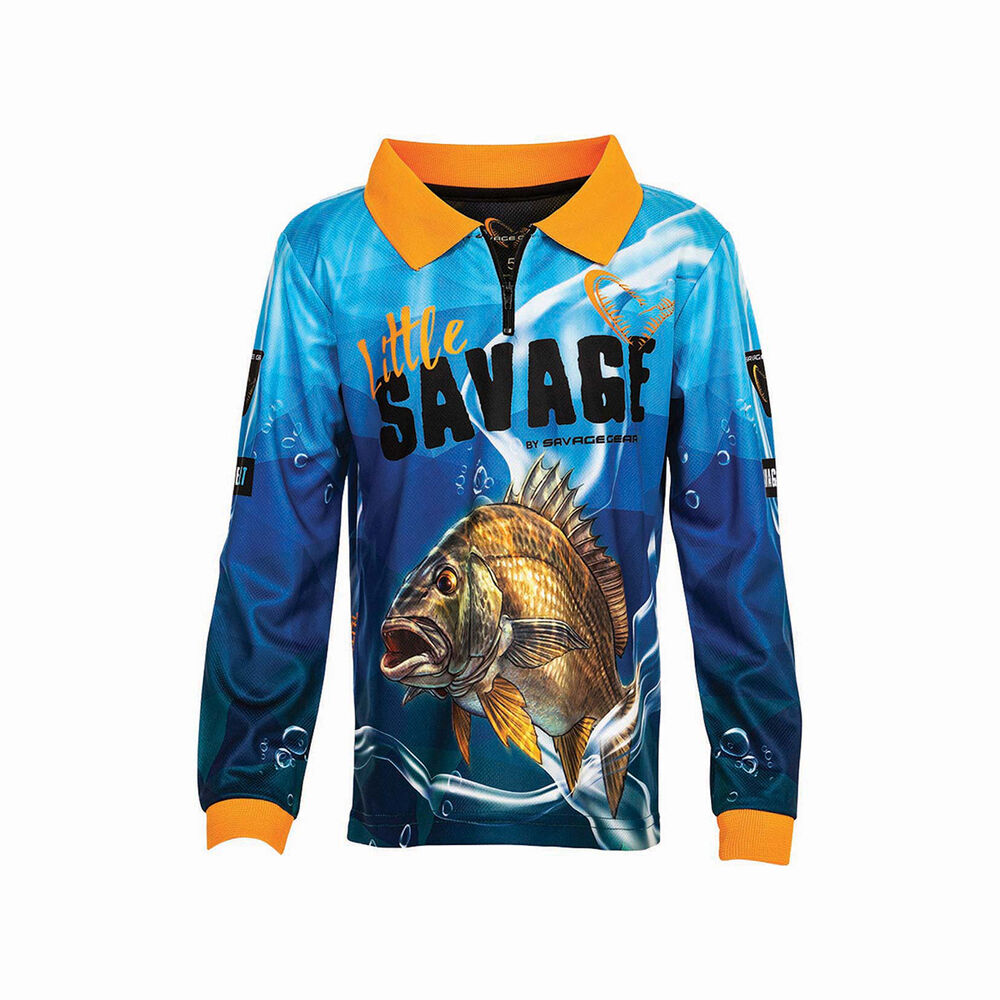 Savage Kids' Bream Subliminated Polo from BCF
7. A Gaming Console
If you truly want to ROCK this Christmas (and you have the cash) – you can't go past a gaming console for boys. They love it. There are a few to choose from – but the best (in my humble opinion) are:
8. Gaming Acessories
The thing is, there are so many accessories for all of them that you will have loads of ideas for parents, aunts and uncles to buy them on top. Think things like:
Gaming Headsets
Wireless Controllers
Character Packs
Digital Download Packs
9. A Drone
Just a small one. You can usually pick up a kids version for around $50. You might want to help them for the first couple of goes… We lost ours in the paddock – never to be seen again…
ANY age boys love these…. even the grown-ups. Grab them at Big W or OzGame Shop. There are also loads of accessories for Nerf Guns too – extra foam bullets, clips, basketball rings etc. You could go mad!
Not the baby ones… No… Go for the of the 500 or 1000 piece puzzles – not only will it keep him entertained for days or weeks, parents can get in on the act too. Just make sure you have a space that he can put it where it won't get disturbed. My pick is the Ravensburger Puzzles – good quality and reasonably priced.
12.  Electric Scooter
Get where you need to be in serious style. Let your journey unfold before you as you cruise up to 30km from start to finish on a seriously long-range battery, while a double braking system, complete with LED taillights and indicators for optimum safety, cruise control to lock down your comfortable speed, dirt, dust and splash protection, and a smart portable folding design to quickly pack it up for storage in seconds.
13. A Tent
You can pick up super cheap two-man tents now – even from Aldi, very reasonably priced. Boys can camp out in the backyard if you aren't keen on camping – or have their own tent if you do enjoy it!
14. Board Games
Yes board games are perfect for this age. But don't go too baby-ish. Good suggestions for this age include:
However, if you happen to be lucky enough to have an Xbox or Playstation – go for the online versions of the above games. Less pieces to lose and the whole family can still play! You can get games and consoles from EB Games, Big W and Kmart.
15. Online Games
There isn't a boy alive that doesn't LOVE online games. So if you are thinking about an Xbox One or Playstation for Christmas – here are some great games that aren't too violent – or babyish!
Minecraft – All about building your own reality.
Fortnite
Fruit Ninja (aged from 7+ onwards)
Monopoly Family Fun Pack
Disney Infinity – Star Wars Starter Pack (Aged 10+)
Forza Motorsport 6 (Aged 10+  buy my boys aged 8 and 9 LOVE IT!)
16. Books
There are some fantastic books written with primary aged boys in mind. Help them discover the incredible world of getting lost in a book and being transported to another time or place. Ask your school librarian for suggestions, or your local bookshop will know of their best sellers.
My suggestions:
What kid wouldn't love their very own water park at home!  Epic!
18. Telescope or Microscope
There are some excellently affordable telescopes on the market designed for children to discover the beauty of our universe. I always thought telescopes would cost close to $100, but I love that there are now great starter sets for under $15!
19. Crystal Growing Kit
Perhaps for the smaller primary school kids. You can pick up kits like this from Yellow Octopus for $18.99 (online only).
Laser Tag is a great game boys can play with their siblings!  Great way to get them outside too!
The space-age robot arm is a build-it yourself hydraulic device that'll help you do all manner of  tasks using its gripping and sucking functions. Make the base, wrist or shoulder an elbow rotate to pick up things with ease!
No batteries are required as this uses hydraulics for power instead.
A fantastic gift idea!
We will keep adding awesome gift ideas for Primary School Aged Boys as we come across them. If you have a great idea, drop us a line at [email protected]!