I think that this world would be an extremely dull place if I didn't have my mum.
I wouldn't survive motherhood without her. There were so many tricks I learned from her that made me a better parent to my kids and a better wife to my hubby – home remedies, classic cleaning tips, cooking tricks, recipes and more! I also learned how to be more frugal when doing groceries, budgeting and cooking.
When it comes to leftovers, my mum always told me to be smart about it because it will make or break your budget. I grew up seeing her cooking a new meal  and not tossing out food unless it's already bad. Back then, we didn't even realise that she was feeding us the same thing!
So, whenever there's a  huge occasion coming up I always make sure to prepare for leftovers. The trick is in storing them properly! Here's how I make sure no food goes to waste….
1. Freeze
Before anything else, you will need to store your  leftovers properly. Put them together in one spot in the fridge and organise them to be at the front so you don't lose them at the back of the fridge several days later! Click here for more tips on how to store leftovers properly.
via budgetbytes.com

via bakedbyanintrovert.com

via listotic.com
 2. Organise an informal get together (also known as a leftover party)
via jerrymabbott.com
Invite your friends over and serve up all your leftovers to share. They might go through them quicker than you thought.
3. Go on a Picnic
via freewechat.com
A picnic is a great way to use some of those leftover salads and cold meats, especially if there are kids around.
Leftover cheese? No worries! Toss those hard cheese chunks to soups, goat cheese on salads or use leftover cheese for some yummy Mac n' Cheese. Just make sure you store cheese appropriately. Check out the Food Savers page at Woolworths for more tips on how to reuse leftover cheese.
via stylist.co.uk

via rd.com
5. Make Mouthwatering Sandwiches
via foodrepublic.com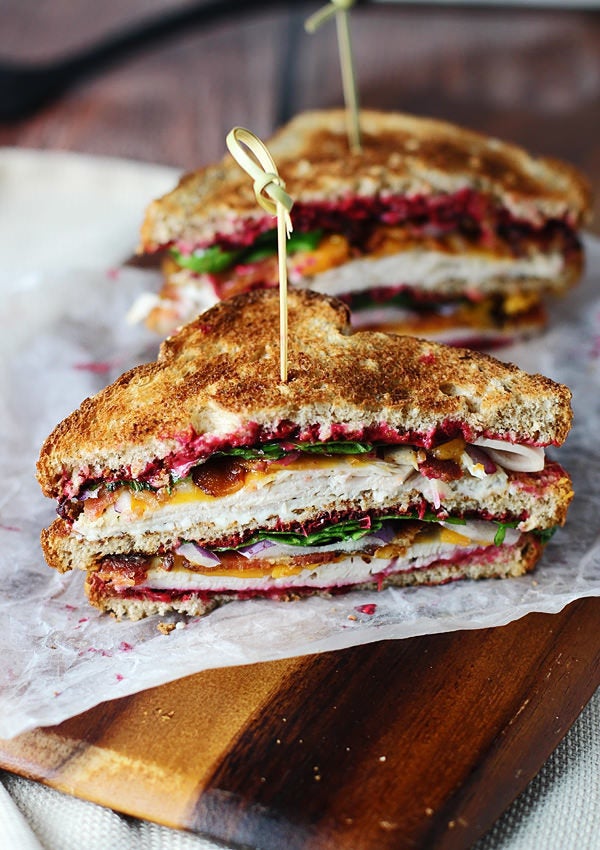 via Huffington Post
You can pretty much chuck anything and everything into a sandwich: perfect for leftovers. Check out some healthy sandwich ideas here.
6. Level it up with Toasties
via Woolworths
This is a delicious festive treat to use up the remaining meat and some sauce you have hanging around. If your family loves meat then this recipe will blow their mind!
7. How about a Quick Quiche?
via Woolworths
This is one of the dishes where it's acceptable to throw everything in and hope for the best. Use the ham, roast veggies or cheese and roast beef. Ham and Mushroom Quiches are my go to!
8. Stuff it up
via whatsnewjakarta.com
This ingenious dish potentially gets rid of three leftovers at once. Replace the chicken in it with turkey, throw in your leftover stuffing and cover it with your leftover gravy and cook away! Check Leftover Stuffing recipes here.

Another classic throw-together meal for your leftovers, where the same "anything and everything" rule applies. You can also have rice as your side dish! Here's a great recipe for fried rice – just change up the ingredients with any of your leftovers.
10. Meaty Salads
via woolworths.com
If your green salad mix is looking a little dull, brighten it up by adding leftover meat like turkey, chicken and then mix it up with some leftover cheese! May I suggest this delicious Grilled Ham Salad? The leftover ham mixed with crunchy lettuce and fresh tomatoes makes such a wonderful meal – guests will never guess it's made with leftovers!
11. Ham It Up
via closetcooking.com
via recipegirl.com
Don't leave your ham hanging on the bone. It takes up too much room in the fridge. Instead, cut it up into thin slices and store it in containers for quick and easy use. Check out this section at Woolworths. They got lots of ideas on how to use leftover ham!
12. Bubble and Squeak
via dishmaps.com
Bubble and Squeak is so versatile. You can use virtually any ingredient and it will usually turn up great. A basic bubble and squeak uses onions, mashed potatoes, and cabbage. Eggs are optional, but of course, feel free to customise.
13. Pizza with Leftover Bread and Meat
via vidaativa.pt

via eatingwell.com
A pizza is a classic example of everything goes, so use up all your meat in one big protein-filled pizza!
14. Curry On!
via recipeshubs.com
This is super quick to make, as the turkey is already cooked – just needs warming through and it tastes delicious with the Thai spices.
15. Croquettes
via glutenfreealchemist.com

via mycolombianrecipes.com
If you have any leftover mashed potato to use up, these are ideal. They should be lovely golden-brown and be served hot.
16. Pie
Pies are a lovely idea to make for a meal. A turkey leftover pie is always a popular option or you can opt to make this Pork & Fennel Pot Pie!
17. Glazed Veggies
via livliveslife.com
Take all those boiled veggies and toast them in the oven with a touch of balsamic glaze. It will transform their soggy outers into crispy and delicious. More recipes on how to use up leftover veggies here!
18. Puff pastry pasties
via aboutamom.com

via dreamstime.com
Puff pastry pasties can be filled with all manner of leftovers turkey, bacon, ham, beef, stuffing and more. Definitely top on our list when it comes to leftovers.
19. Spring Rolls
via woolworths.com.au
Spring rolls filled with pork or turkey taste delicious. They are also really fun to make with children simply lay all the ingredients out and let everyone assemble their own. Here's a yummy Spring Roll recipe from Woolworths!
20. Fritters
It is highly unlikely for us to have leftover bananas – but just in case you need one we have a yummy recipe right here! When the bananas come close to going bad, don't wait anymore and make some banana fritters for snacks!
P.S. They taste lovely with ice cream!
21. Rice Balls
via payasa.in
Another leftover rice recipe you can try. Kids will obviously love this goodie!  These rice balls are such a treat fresh off the stove, stuffed with glorious gooey cheese.
22. Skewers
via wearetravelgirls.com
Everything just tastes better on a stick – even leftovers!
Which of these leftover revamps is your favourite?
Do you have more tips on how to save money on food?