Best Books For Your Dad This Father's Day!
We've got you covered for this Father's Day with a range of titles that will make dad feel appreciated whatever his interest.
It might be challenging to choose what to get your dad or your spouse for a present, particularly on Father's Day. You don't want to gift him anything that's too generic, and while he says he only wants a card every year, you can't take it at face value. Assuming he is an avid reader, the answer is straightforward: Bring him a new book. And even though it could be challenging to identify his preferred genre, you don't need to worry about us since we've got you loaded!
Here Are Some Reasons Why You Should Give Him The Best Books This Father's Day:
They simply love reading— especially if that will tickle their passion!
They're naturally uplifting and wholesome; in other words, you're giving the elderly guy something that will stimulate his mind and take him away from watching television.
They provide him with an excuse to leave and spend a significant amount of time alone—every man's favourite part!
So, check out our top 5 picks for Dad whether he's a bookworm, a wannabe chef, a sports junkie, or a climate warrior into sustainability.  
For the eco-warrior dad into sustainability and tackling the big questions…
A River Divided by George Paxinos
A definitive story for the 21st century, this first novel by world-leading neuroscientist George Paxinos poses the what if question: If we could clone Christ and create his presence at this critical moment in time, could he avert the climate crisis, what would he do, who would listen, what battles would be waged?
A River Divided centres on twin brothers who are unaware of each other's existence until they meet over an almighty battle for the Amazon. This eco-fiction page-turner is a classic nature v nurture thriller with a thrilling twist.
For the foodie dad who fancies himself a chef…
Ottolenghi Test Kitchen: Extra Good Things by Noor Murad and Yotam Ottolenghi
Ottolenghify every meal with the new book in the bestselling Ottolenghi Test Kitchen series. Yotam Ottolenghi and his superteam are back, with flexible, flavour-packed dishes that all lend a little something to the next meal. It's harissa butter on a roasted mushroom, then tossed with steamed veg or stuffed into a baked potato.
It's tamarind dressing on turmeric fried eggs, then drizzled over a steak the next day!
The Boy from Boomerang Crescent by Eddie Betts
Sometimes funny, sometimes tragic, and always honest – The Boy from Boomerang Crescent is the inspirational life story of an AFL Legend in his own words. Whether Eddie Betts is narrating one of his trademark gravity-defying goals from the pocket, the discrimination he's faced as an Aboriginal person, or the birth of his first child, Betts's voice – intelligent, soulful, unpretentious – rings through on every page.
For the blokey dad who wants to reminisce about growing up in the 70s and 80s.
Happy As: Stories of Summer, Childhood and the Magic of Family by Larry Emdur
Long before the game shows and morning TV, Larry Emdur was just Larry, a cheeky kid from Bondi whose idyllic childhood was dominated by endless summers, adventures with mates, sunburnt noses, and board rashes, all underpinned by his dad's rule: 'Be nice to everyone.'
A perfect blend of nostalgia, side-splitting humour, and heartbreaking pathos that will leave you wishing it was the '80s again.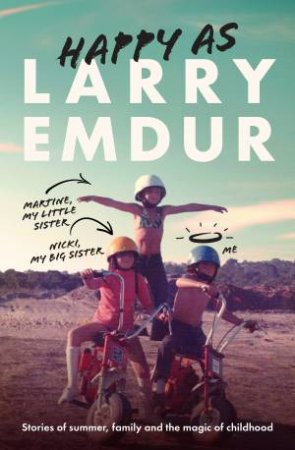 For the thrill-seeking dad who loves a whodunnit page-turner…
Lying Beside You by Michael Robotham
Two women are missing, so many lies… Lying Beside You is the latest offering from number-one bestselling and award-winning master of the crime genre, Michael Robotham. While Lying Beside You can be read as a standalone, this book expands upon the character development of Cyrus and Evie that hooked readers in the first two books of this masterful crime thriller.