The female body is ever evolving, ever changing and once we enter our late twenties, the changes are more permanent, more evident and harder to embrace.
Sure, men have their share of changes in their bodies too, but not as much and as constantly as women. We experience changes at least every two weeks that when we do arrive at a mindset where we're confident and accepting of our bodies, something changes – a pimple, a stretch mark, lines, sagging, and more – and it throws us off.
Add in childbirth, weight gain, breastfeeding, hair loss and more which are actually very normal parts of life, but these experiences don't really make you feel sexy, especially while having sex.
In a 2020 study by Women's Health Research Program at Monash University, it showed that more than 50% of Australian women aged 18-39 experience sexually-related personal distress or female sexual dysfunction (FSD) with the most common cause for FSD being low sexual self-image or self-esteem.
We don't even need science to tell us that low sexual self-esteem messes up our sex lives whether its enjoying the deed with our partners or pleasuring ourselves.
While this doesn't mean that you will never be able to enjoy sex again, its important to do something about it before it affects your relationship with your partner or worse – yourself. After all, sexual confidence affects how you see your body, how you connect with someone else through sex and feeling comfortable too. Remember that YOU should come first and however you feel about yourself with sex and pleasure is what will manifest with whoever you are with.
What is sexual confidence?
Sexual confidence is not about being able to do a lot of sex positions, be amazing at sex or have a very high body count. It is simply being confident with your own body, knowing what you want, knowing that you deserve pleasure and being present in that moment to also listen to the needs of your partner.
5 Hacks To Boost Sexual Confidence
Below are tried and tested hacks to boost your sexual confidence ASAP but please keep in mind that these hacks should be done over and over until you become fully confident regardless of your size and shape.
1. The Mirror Exercise
The first thing to do is to talk to the bully in the mirror. Every day, every time you see yourself glancing at the mirror to dress, to comb your hair, to put on makeup, tell yourself compliments. How beautiful you look, how nice your eyes are, how healthy and strong you feel in that moment, the things you accomplished. Random compliments that will feel really awkward at first, but will plant seeds of appreciation towards yourself.
2. Lean In To It
I remember this really beautiful conversation from Eat, Pray Love. This is what Elizabeth Gilbert said:
"Let me ask you something, in all the years that you have…undressed in front of a gentleman has he ever asked you to leave? Has he ever walked out and left? No? It's because he doesn't care! He's in a room with a naked girl, he just won the lottery.
I am so tired of saying no, waking up in the morning and recalling every single thing I ate the day before, counting every calorie I consumed so I know just how much self loathing to take into the shower. I'm going for it. I have no interest in being obese, I'm just through with the guilt.
So this is what I'm going to do, I'm going to finish this pizza, and then we are going to go watch the soccer game, and tomorrow we are going to go on a little date and buy ourselves some bigger jeans." ― Elizabeth Gilbert
And truly, what this means is to lean into your new shape and size. We live in an era of inclusivity and there are clothes and tastes for all. Your new size and shape may be scary to embrace, but it is not less beautiful than what you look like before.
Perhaps, this is a chance to do some clothes shopping!
3. Laugh More
You might be feeling puzzled as to why this is included in the list. But laughter has been proven to make you feel lighter, comfortable and ease anxiety. There are even studies that prove that couples who laugh together have better sex.
Think about the last time you laughed your heart out, didn't you feel good about yourself? Watch some comedy movies or a comedy show and laugh often!
4. Play
There has always been a stigma surrounding masturbation in women, that we can't talk about it outright, but a lot of women do it and in fact, health experts recommend it. Masturbation not only makes sure you orgasm, but the act alone helps you recognize what you like, what you want and in that moment, you are able to focus on yourself and you alone.
But don't just stop there. Put on some sexy music, wear lingerie, light those candles and get your favourite sex toy!
5. Alter ego
The last hack, and the most effective one for me, is creating an alter ego.
Create a character of everything you want to be, just like a writer creates a character, with qualities you want to acquire, and then give it a name.
You can also pick a celebrity or public figure as an alter ego.
Now, whenever you are in an anxious state, tap in to that alter ego and let her exist in the moment. This will take a lot of practise to get a hang of, but it is wonderful when you can easily switch on your alter ego in certain moments.
If I can give you the most iconic, most popular person who was able to create an alter ego and used it to boost confidence, it's Norma Jean Baker.
Don't know her?
How about Marilyn Monroe?
That's right. Marilyn Monroe is Norma Jean Baker's alter ego.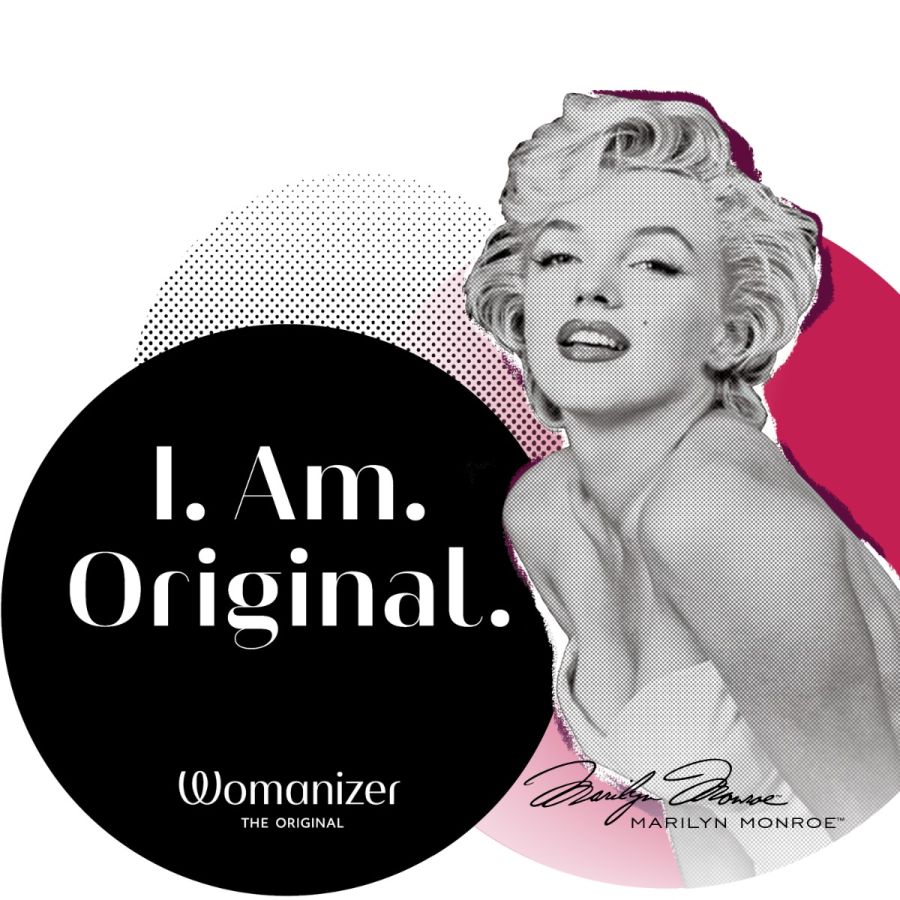 The sexy, sensual, incredibly confident, sex icon Marilyn Monroe.
Marilyn Monroe wasn't thin and didn't have a Kardashian-like body, she was curvy and in the age where filter and cosmetic procedures aren't common – maybe it didn't even exist yet – it is safe to say that what we saw was exactly her, raw and original state.
I am pretty sure that she had her insecurities as well. Who doesn't, right? But she knew how to tap into her alter ego, and get into character fast. People who knew Marilyn would sometimes hear her saying: "I just felt like being Marilyn for a minute" or "Marilyn would say that." And that is how she created this alter ego of a glamorous and confident blonde bombshell.
"A woman knows by intuition, or instinct, what is best for herself." – Marilyn Monroe
In honour of this icon, Womanizer launched the Womanizer Marilyn Monroe™ Special Edition Clitoral Suction Stimulator.
This thing of beauty embodies everything about Marilyn Monroe. Classic. A true original.
This sleek and lightweight toy will deliver heavenly orgasms with the pleasure air technology that sucks and massages. It also has 10 intensity levels to choose from.
IPX7 waterproof so you can have some fun during your bath or while in the shower!
You will definitely enjoy the high-quality, silky smooth feel of this one as well.
It is available in 4 elegant colours: Mint, Vivid Red, White Marble and Black Marble.
My favourite part? This comes with two stimulators, each different in size so you can find something that will fit and accurately hit the spot.
We hope the hacks and tips above will help you boost your sexual confidence.
Remember, you come first.
Literally and figuratively. *wink*