We're big fans of cooking in bulk where we can, and reusing items from previous meals further along in the week.
We have compiled a huge list of Leftover chicken recipes as cooked chook is such a versatile ingredient, and works well in so many other recipes, so we often use it.
We thought we'd compile a list of some of the many, and there are soooo many ways that you can use cooked chicken in your family meals. This is fantastic if you have too much chicken roasted or grilled, or you've got some leftover rotisserie chicken from last night's takeaway.
NOTE: Remember to keep and freeze the chicken carcuss – it is perfect for when you feel like making chicken stock from scratch!
Here are some recipes to get you started – most of these are Stay at Home Mum favourites!=
Ohhh! This one's perfect for dinner!
Check out this recipe!
To adapt the recipe to use leftover roast chicken, just cut up the chicken and add to the cooked sauce and veggies to heat through. For an even tastier Chicken Pot Pie – add a teaspoon of curry powder to the mix!
Check out this recipe!
If the weather is cool and you are kinda feeling like some comfort food than this is the perfect recipe for you! This recipe is a basic chicken and vegetable version, but you can even spice that up with a little curry powder if you want something with a bit more WOW!
Check out this recipe!
What makes this pie magic? Well, it's a kind of casserole that not only makes itself SUPER creamy on the inside as it cooks but also creates its own biscuit top. Now, this is an American recipe, but you can replace the Bisquick with a boxed scone mix from White Wings or similar, plus buttermilk.
Check out this recipe!
Fried rice is the ultimate family-friendly meal. Filling and simple, with lots of different ways to mix things up. We love it because it offers a really simple way to use up the leftover cooked chicken so none goes to waste. If you've got leftover rice too, even better!
Check out this recipe!
Just substitute the pork in this recipe for the chicken pieces.  That's the great thing about Fried Rice – it is so adaptable and is great for using any limp veggies or leftover meats the very next day!
Check out this recipe!
Hmmm, this is a family favourite!  Make the homemade pizza base, top with barbecue sauce (or sweet chilli for adults!), some onion rings, shredded chicken, mushrooms, pineapple, capsicum – and any other pizza toppings you love, top with some mozzarella cheese and bake until golden!
Little Tip:  If you always have a few pizza bases in the freezer – dinner is just a 10-minute oven bake away!
Check out this recipe
Pizza is great, but when you want something simple for lunch or a quick dinner, this BBQ Chicken French Bread Pizza is a great solution. It will definitely use up your leftover cooked chicken, but it's also a hit with kids and adults alike. Talk about an all-around success!
Check out this recipe!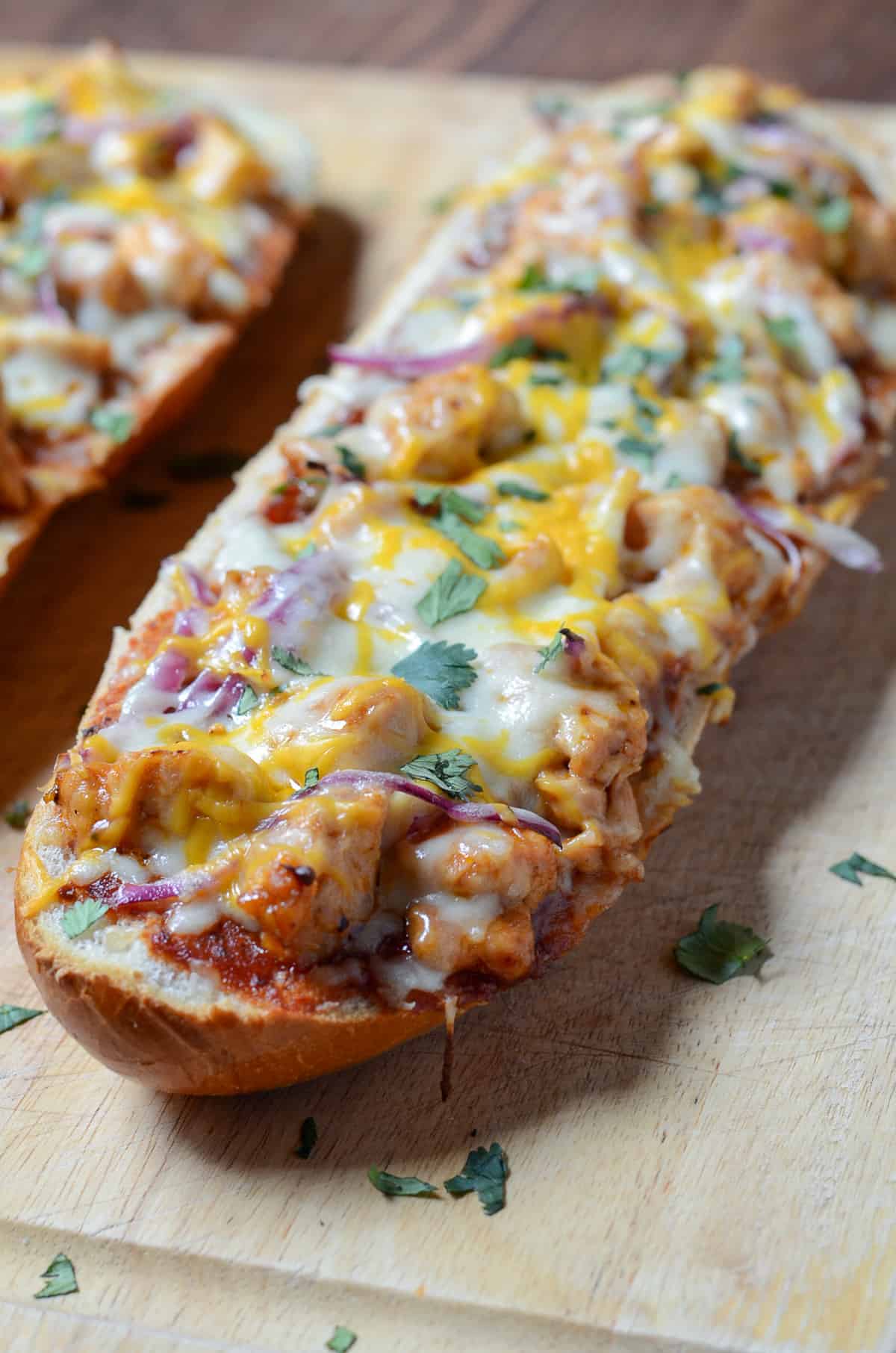 You can never go past a pizza for dinner.  They are always so quick and easy (especially if you keep some dough or pre-made pizza bases or even pita bread in the freezer).  But chicken pizza has to be the best by far! We love this version.
Check out this recipe!
Shred some lettuce, add some semi-hard boiled eggs, bacon pieces, the chicken and a lovely Caesar dressing. Plus make your own croutons – just cut up some bread into small squares, spray with oil (and garlic for extra taste) and bake in the oven until golden!
Grab this recipe!
A deliciously light way to use up leftover road chicken!
Click here for our recipe!
This is a great entertaining dish – you mixing the leftover roast chicken with mango and mayonnaise and serving in a baked wonton cup!  Very fancy and simple to do.
Click here for the recipe!

Another fancy way to serve leftover chicken! These creamy delicious parcels might look difficult to whip up, but they are easy to make! Serve one each as a dinner with a salad!
Grab the recipe here >
14. Chicken Toasted Sandwich
Tired of the old peanut butter and jelly sandwich for breakfast? Take out your leftover roasted chicken from the fridge and make a toasty sandwich out of it!
Sweet Potatoes are very good for you, very filling and very cheap.  When you mix it with leftover barbecue chicken and a little sour cream and cheese, you can have dinner on the table in just 20 minutes!
Grab the recipe here >
This Easy Asian Chicken Noodle Soup is an updated spin on classic chicken noodle soup. It comes together in under 30 minutes, uses minimal ingredients and will warm you from the inside out.
Check out this recipe!
Cheesy, creamy and hearty!
Check out this recipe!
Chicken spaghetti is definitely a yes. It's different than the pork heavy spag that we are used to but it's a different kind of delicious!
Check out this recipe!
If you want a healthier option for a meal, you can never go wrong with a veggie and chicken combo. Tasty and healthy!
Check out this recipe!
Cheesy Chicken with Broccoli And Rice is one satisfying and delicious dinner. I'd definitely whip this up midweek, or when work and kids collide!
Check out this recipe!
The perfect way to use up any leftover roast chicken that you have on hand – plus it only takes ten minutes to make – and it is cooked in the sandwich press!
Find the recipe here >
Crunchy Nut Cornflake Chicken, this recipe is so easythe perfect homemade "fast food"!
Check out this recipe!

If you want to mix up your breakfast options every once in a while, this Chicken Noodle Omelette makes a great change to your traditional morning omelette.
Check out this recipe!
Dish up something different tonight. Chicken Lasagne Roll Ups are deliciously easy and the kids will love the shape of them on the dinner plate.
Check out this recipe!
There's nothing we love better than a salad, and this Chicken Couscous Salad is a great one. It's perfect for a lunch or on the side of a family dinner, and an ideal way to use up cooked chicken. This is our go-to satisfying salad when we've cooked up a roast chicken and we've got some leftovers, which is pretty much always! Yummy!
Check out this recipe!
Slow Cooker Mexican Chicken Soup is full of bold Mexican flavours. It is also so easy to make, just throw it all in and watch it cook! This recipe is perfect for crazy busy run-the-kids-everywhere kind of day.
Check out this recipe!
Ohhh perfect for winter! It does take time to prepare but the results are worth it.
Check out this recipe!
Talk about a dinner that performs. This Chicken Alfredo Baked Ziti is a fantastic way to use up leftover chicken. The resulting dish is cheesy and creamy, but the alfredo sauce is lighter than most so it's easy on the waistline. Plus, using leftover barbecue chicken the recipe is a breeze. Yum!
Check out this recipe!
Check out this recipe!
Oh hot-pot, how we love thee. This chicken and mushroom hot-pot is great for two reasons. One, it uses up leftover cooked chicken, and two, it's easy for kids to get involved in. The hearty, filling pie topped with potato slices is sure to satisfy, and you definitely won't have leftovers this time!
Check out this recipe!
There's nothing better than a decent chicken salad when you feel like a lighter meal. We particularly like this Asian Shredded Chicken Salad, which is packed with incredible flavours but is relatively light without being insubstantial. It's great for work lunches, or for summer dinners when the weather is warm. (PS. I'd gladly eat this whatever the season)
Check out this recipe!
via thehealthyfoodie.com
We love BBQ chicken, particularly when it's contained inside these fantastic tacos. Not only do these tacos taste amazing, they're also really simple to make, and there's a great tip in there to stop your tortillas from tearing as you're trying to eat your taco. Amazing!
Check out this recipe!
Tasty little morsels of chicken made into a patties with a garlic dipping sauce is perfect for nights in front of the TV. Even the kids will be wolfing down these delectable little savoury cakes!
Check out this recipe!
Mac and cheese is always a hit with kids, but when you pair it with leftover chicken in a casserole you get a sure winner. This dinner is super family friendly, really satisfying, and guaranteed to fill any hungry belly. Now that's what we're talking about!
Check out this recipe!
Mexican flavours pair so well with chicken, particularly in these Leftover Chicken Quesadillas. What's great about these is that you don't need to know how to pronounce them to enjoy them. This is a fast and easy (15 minute!) recipe that is perfect for lunch or a really last-minute dinner.
Check out this recipe!
We know avocados aren't the cheapest they've ever been, but there are still opportunities to pick them up on special and when you do you should definitely make this Avocado Chicken Salad. The flavours of chicken and avocado, along with yoghurt and mayo, work really well in this one.
Check out this recipe!
Creamy chicken noodles is so comforting to us, it's a wonder we aren't making this recipe all the time. This is great because it's not just a recipe that uses leftover chicken, it's also a one pan recipe where dinner is on the table in around 20 minutes. Perfect!
Check out this recipe!
When you want simple flavours in a super hearty family dinner, you can't really go past this Chicken Cordon Bleu Rice Bake. Creamy, cheesy, and with lots of yummy chicken and ham flavours, there's so much to love about this recipe, which is a quick family favourite.
Check out this recipe!
If lunchtime has rolled around and you've got a hunger and some leftover cooked chicken on your hands, this Shredded Chicken Parmesan Sandwich is the thing to make. Delicious and oh-so-simple, it might be time for you to re-imagine the humble lunchtime sandwich!
Check out this recipe!
A good turnover just does something for us, particularly when it's a delicious savoury turnover like this Creamy Chicken and Corn Turnover recipe. These are great for dinner paired with salad, or you can throw together a bunch of them for lunches and snacks.
Check out this recipe!
Take the remaining meat off the bone and cook with some onion and tinned tomatoes and some taco seasoning. Serve over corn chips with grated cheese, or in Tacos or Burritos with shredded lettuce, tomatoes and cheese.  Easy and fun!
Check out this recipe!
We LOVE nachos, particularly when they're full of naturally delicious flavours like these Chicken And Black Bean Nachos. Using leftover cooked chicken means this recipe comes together in a blast, and it's really that good. Perfect for feeding a hungry family with something different.
Check out this recipe!
Chicken goes so well with French Onion, we can't believe we don't put them together more often. This recipe is another American one, so you'll need to find a suitable replacement for the 'biscuits'. We suggest a scone mix, but it's ultimately up to you!
Check out this recipe!
Those trying to add more vegetables into their diets will appreciate the simplicity of these Chicken Enchilada Stuffed Zucchini Boats. Yummy zucchini stuffed full of leftover chicken enchilada filling and topped with ooey-gooey cheese is one your family is going to love.
Check out this recipe!
If you've never thought about making a White Chicken Chili, we urge you to reconsider. This recipe is perfect for those cooler evenings when you need a nice warm soup with a bit of a bite. It's packed with great flavours and, you guessed it, uses leftover cooked chicken!
Check out this recipe!
One look at the photo of this chowder and my tummy would make that I'm hungry sound. Doesn't it look so satisfying?
Check out this recipe!
Something nutritious for dinner? Chicken Lentil Soup is the answer!
Check out this recipe!
Got leftover cooked chicken and looking for something for your kids for school lunches? These Mini Chicken And Cheese Pies are a great option, and the perfect way to both satisfy hungry little ones and use up all those chicken leftovers. No need for waste anymore!
Check out this recipe!
Just add the chopped leftover roast chicken pieces to this deliciously creamy recipe!
Check out this recipe!
Add some white sauce, grated fresh veggies or frozen veggies, cooked pasta and the diced leftover roast chicken, top with grated cheese in the oven until golden and bubbly.
Check out this recipe!
When I hear cauliflower and cheese sauce a little part of me dances I'm sure, but even I can get bored with it so this is my new twist on the old favourite, without even standing over a pot stirring white sauce.
Check out this recipe!
If there's any other ideas you can think of, let us know!