Toddler shoes . . . where to start?! There are so many on the market. Because of that, it can be overwhelming trying to compare options and find what's best for those small but mighty, always-on-the-go little feet. Though they grow at the speed of light and require the next size up faster than we're prepared for sometimes, it is so important to choose wisely (and let's be honest, have some fun with all the cutest styles!) when selecting shoes for our children. We've done the hard part for you and rounded up some of the best shoes for toddlers below. There's something for every need and budget. Happy shopping!
Best Shoes for Toddlers
Best Overall Toddler Shoe
Ten Little Everyday Original Sneakers
Cost: $39
Image via tenlittle.com

Buy Here

Why We Love Them: Why wouldn't we?! APMA (American Podiatric Medical Association) approved, built for comfort and stability, and available in over ten vibrant, solid colors, this is the perfect toddler shoe for versatility and everyday wear.
Bonus: Every purchase comes with a free pack of specialty stickers, allowing your kiddo to get creative and personalize his or her new kicks to their heart's desire!
Best Beginner Walker Shoes
Alex + Nova Skipper Mesh First Walker Sneakers
Cost: $29.95-$40
Image via alexandnova.com

Buy Here

Why We Love Them: These stretchable mesh shoes feature breathable fabric, soft soles, and a non-slip bottom. Made to fit like a sock, these sneakers are sure to ease the newest of walkers into the world of shoe-wearing with comfort. Simplicity is key here, with a handful of basic, toned-down colors to choose from.
Stride Rite Zips Kennedy Sneaker
Cost: $29.95-$52
Image via striderite.com

Buy Here

Why We Love Them: A trusted brand for kids' shoes, Stride Rite delivers style, comfort, support, and practicality with the Zips Kennedy Sneaker. Featuring a memory foam foot bed, eco-friendly lining, and an odor-reducing treatment, the perks are plentiful. APMA-approved.
Best Podiatrist-Approved Shoe
See Kai Run Stevie (First Walker)
Cost: $45-50
Image via seekairun.com

Buy Here

Why We Love Them: This APMA-approved podiatrist and parent favorite shoe offers flexibility to encourage natural foot movement, wiggle room for tiny toes to move freely, and a padded collar and tongue for added comfort. See Kai Run shoes are known for their precise fit and durability.
Best Vegan Toddler Shoe
Pediped Grip' N' Go Troop
Cost: $48-55
Image via pediped.com

Buy Here

Why We Love Them: Also APMA-approved, this podiatrist pick is vegan-made, completely machine washable, and built to withstand any day's adventures. Offering heel stability, rounded edges, and a soft toe box, growing feet will have no problem moving about as they need in these bold kicks.
Best Shoes for Wide Feet
New Balance Kids 888 V2 Lace-Up Running Shoe
Cost: Varies
Image via amazon.com

Buy Here

Why We Love Them: These sneakers from a household footwear name are a top seller on Amazon, which is no surprise. They are available in wide and extra-wide sizes, making them a great find for little ones needing extra wiggle room.
Saucony Child Baby Jazz Lite
Cost: Varies
Image via amazon.com

Buy Here

Why We Love Them: Also available in wide and extra-wide sizes, these sneakers feature a wide toe box and soft tongue for added comfort. They sell out fast but come in a solid range of baby to kids' sizes, styles, and colors.
Livie & Luca First Walkers Collection
Cost: Varies
Image via livieandluca.com

Buy Here

Why We Love Them: These beauties offer a wide toe box, a six-month warranty, and are APMA-approved. Heirloom quality with a humble price tag, this line offers sandals, sneakers, and Mary Janes. Aesthetically pleasing and wide-foot friendly!
Best Shoes For Narrow Feet
Stride Rite SRT Baby and Toddler Elliot Leather Sneaker
Cost: Varies
Image via amazon.com

Buy Here

Why We Love Them: Built a bit more narrowly than many other toddler shoes, Stride Rite offers classic style and durability. Featuring a sleek leather build, this pair's lace-up design will help ensure you're able to tighten accordingly to get the perfect fit for your little one. APMA-approved.
Primigi Kids Toddler Shoes
Cost: Varies
Image via zappos.com

Buy Here

Why We Love Them: Offering a wide variety of sweet designs and unique styles, from Mary Janes to velcro to lace-up sneakers to sandals, Primigi gives you an abundance of options for toddler shoes. This all-Italian line runs a bit narrower than others and maintains the highest quality materials, guaranteeing a comfortable and stylish experience.
Best Diaper Bag (AKA Always Have On Hand) Shoes
Cat & Jack Toddler Parker Sneakers
Cost: $9.99
Image via target.com

Buy Here

Why We Love Them: First, they're available at your friendly neighborhood Target. Say no more, right?! Really though, these casual velcro slip-ons come in a variety of adorable designs and feature a double hook-and-loop closure, pull-on tab, and soft lining for guaranteed stability, ease of use, and comfort. Plus, that price gives us so much to love.
Best Budget-Friendly Shoes
Cat & Jack Toddler Rory Slip-On Sneakers
Cost: $7.49-$9.99 (No, seriously!)
Image via target.com

Buy Here

Why We Love Them: Similar to the pair above, these cost-effective slip-ons are casual yet incredibly versatile. Comfort and ease are the focus here, with a pull-on tab, soft cotton lining, and the option to add your own laces. Starting at a parent-approved price point of $7.49 (when marked down, which is often), you truly can't beat these.
Best Splurge Shoes
Allbirds Smallbirds Wool Runners – Little Kids
Cost: $60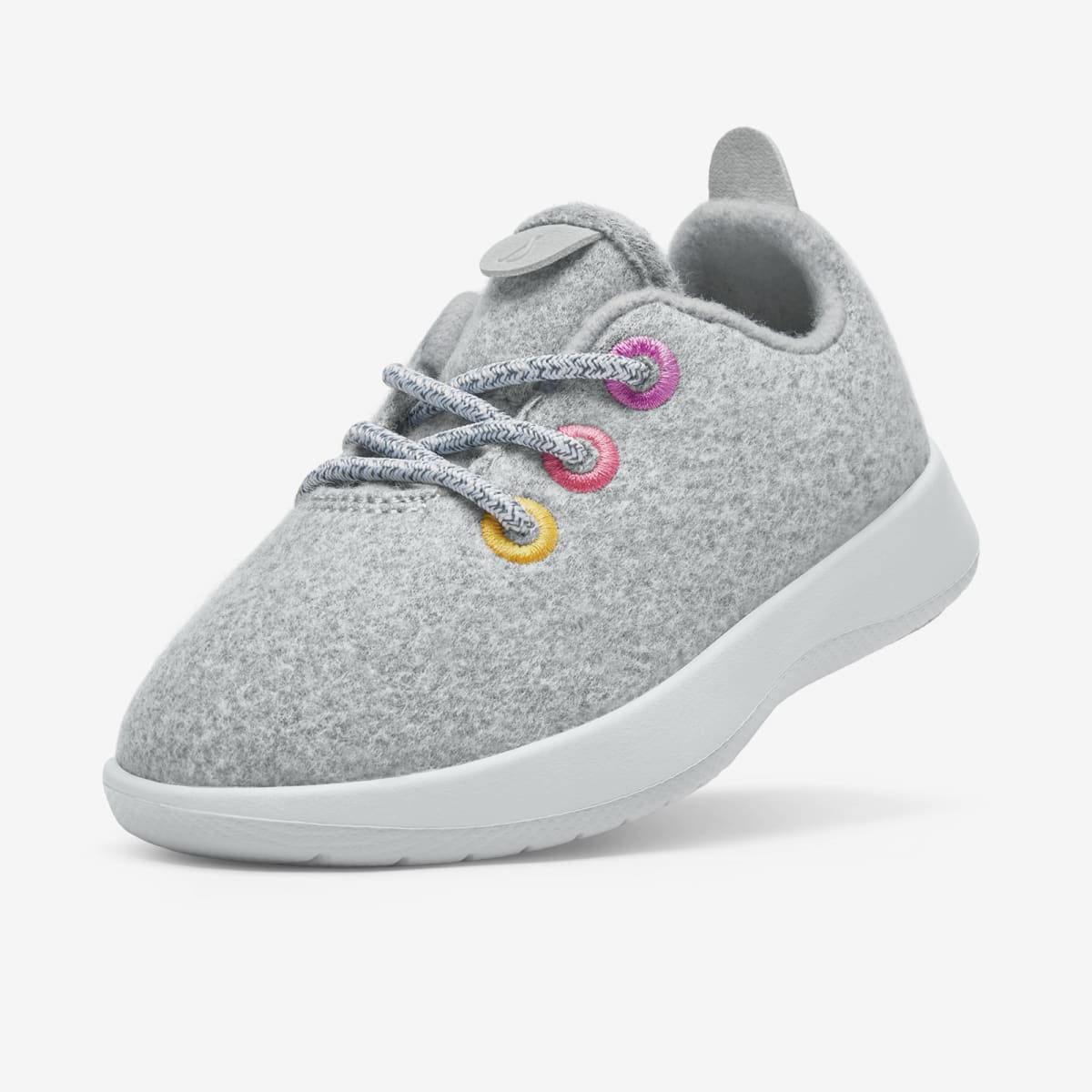 Image via allbirds.com

Buy Here

Why We Love Them: Beautifully made and kid-friendly, these elastic-laced runners are made with premium ZQ Merino wool, offering stretch and softness. This stylish option is machine washable and breathable. It also comes from a brand committed to lowering the carbon footprint (no pun intended!) of footwear.
Best Dress Shoes
The Children's Place Toddler Bow Girls Low Heel Shoes
Cost: $20.21-$26.95
Image via childrensplace.com

Buy Here

Why We Love Them: We couldn't help but add these to our list of best shoes for toddlers. These sweet shoes feature a low heel, adjustable strap with buckle closure, and no-slip rubber outsole. The pure white and stationary bow look makes this a charming pick suitable for any dressy occasion. This is a great go-to for completing any special occasion look.
Carter's Toddler Boys Boat Shoes
Cost: $27
Image via carters.com

Buy Here

Why We Love Them: Another trusted name in children's apparel, Carter's delivers attractive attention to detail and sleek fashion with this classic choice. These slip-ons are machine washable, timeless, and a must for any little boy's shoe collection.
Best Sandals
Ten Little Everyday Sandals
Cost: $36
Image via tenlittle.com

Buy Here

Why We Love Them: These bestselling, lightweight, water-resistant sandals are made for being taken out for any and every summer adventure. Featuring extra outsole traction, textured insoles, and quick-drying materials, you can rest assured knowing that your toddler's feet will be as secure and content as can be in this well-loved pick.
Best Rain Boots
Lone Cone Rain Boots
Cost: $16.49-$34.99
Image via lonecone.com

Buy Here

Why We Love Them: Available in a generous selection of possibly the most darling toddler prints out there, these playful boots are sure to brighten up any rainy day. They're designed with easy-to-grip handles, perfect for toddlers learning to put on their own shoes. This popular choice will quickly become a family favorite.
Best Winter Boots
The North Face Toddler Alpenglow II Boots
Cost: $55
Image via thenorthface.com

Buy Here

Why We Love Them: Quality is key here with this highly-rated product from a well-loved outdoor gear brand. These snow boots combine traction, insulation, and flexibility for durability in any winter wonderland. They're cozy, classic, and kid-friendly. You'll want to invest in these for your little one's cold-weather wardrobe.
Best Water Shoes
Green Sprouts Water Socks
Cost: $9.99
Image via greensproutsbaby.com

Buy Here

Why We Love Them: These basic water shoes are lightweight, fast-drying, as well as chlorine and saltwater resistant. Made with stretchy material and a flexible, non-slip sole, they're a practical, budget-friendly option for your pool or beach bag.
Nautica Kids Protective Water Shoe
Cost: Varies
Image via amazon.com

Buy Here

Why We Love Them: This sturdy-yet-flexible water shoe pick features a protective bump toe guard and velcro closure. Stability and the ability to adjust accordingly for a perfect fit are key perks of these breathable sport sandals. Plus, Nautica offers a fun selection of prints to choose from.
Best Statement Shoes
Old Navy Glitter-Jelly T-Strap Flats
Cost: $5.97-$14.99
Image via oldnavy.gap.com

Buy Here

Why We Love Them: If you were a 90's child yourself, you'd love this modern-day take on a nostalgic favorite. Jellies are a quirky and cute trend that we wouldn't mind keeping around. They're easy to clean and affordable, so why not grab a pair or two?
The Bottom Line
We hope these best-shoes-for-toddlers picks helped you narrow down your options! Shoe shopping for toddlers doesn't have to be stressful. With a bit of guidance and some trial and error, you're bound to find the perfect pair for your little one to walk, run, and explore in!