This Creamy Mushroom Pasta is packed with flavor, buttery caramelized mushrooms, the most silky-smooth sauce, all made in under 20 minutes. If your kids aren't mushrooms lovers yet, this recipe is sure to change that! Learn how to saute mushrooms the right way to fall in love with them.
I haven't always like mushrooms. When I was growing up, we actually never ate them because my dad didn't like mushrooms (and still doesn't). He grew up on a farm and his mom didn't cook with mushrooms – it was a meat and potatoes kind of house. I adopted the same feelings about mushrooms as my dad – yuk!
Then I got married, and Russ had a totally different experience with mushrooms growing up. His mom cooked with fresh and canned mushrooms and they all loved them. I remember Russ saying he loved to just take a bite out of a fresh raw mushroom and thought it was the most delicious thing ever. I was appalled – ha!
He enjoyed them so much that I decided I wanted to learn to like mushrooms and enjoy them like Russ did. Turns out that starting with raw mushrooms was a bad idea. But then I learned how to saute them the right way and so they turned out deliciously caramelized. And now I can honestly say I love mushrooms.
And guess what? My kids also love mushrooms. I think because Russ and I love them so much and we cook them correctly, my kids have naturally developed a love for them. And you can too!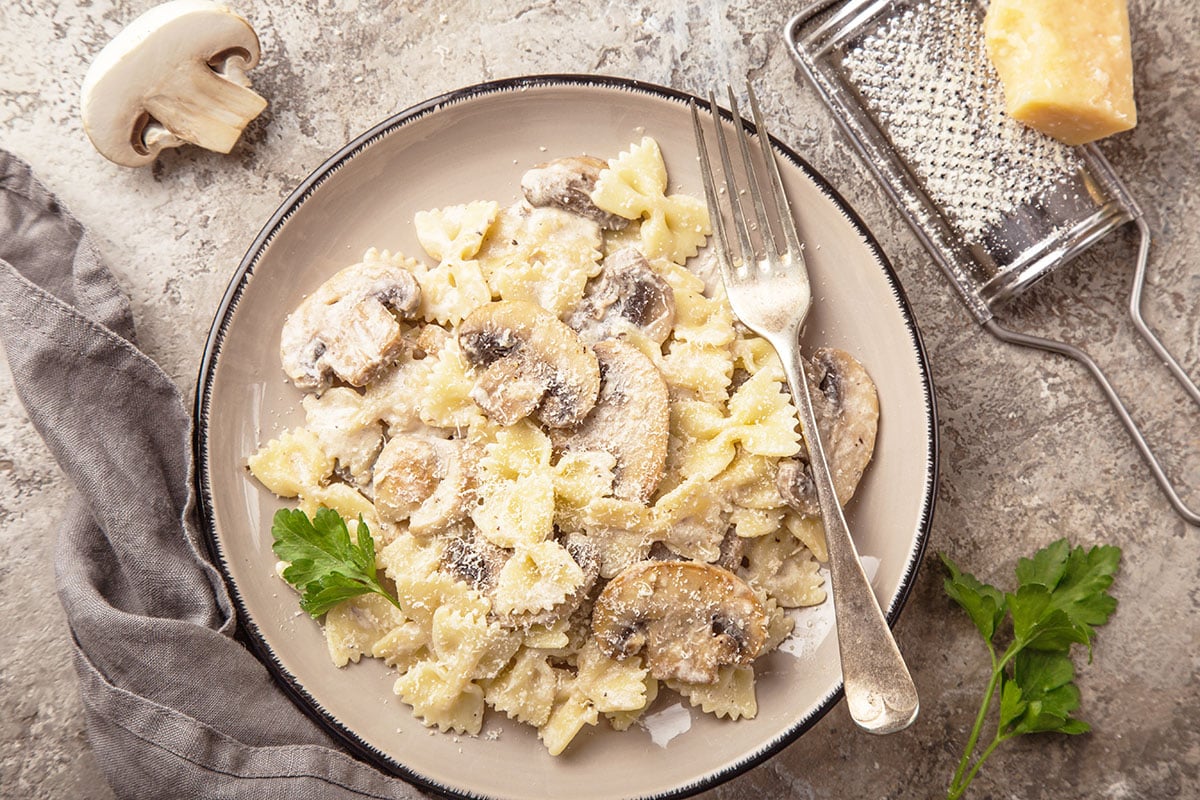 Ingredients You'll Need for Creamy Mushroom Pasta
Bowtie Pasta – also known as farfalle. The shape and texture go perfectly in this dish.
Mushrooms – the best mushrooms for this recipe are white, cremini, and shiitake mushrooms.
Butter + Olive Oil – this combination is the key to get your mushrooms perfectly caramelized and avoid soggy unappetizing mushrooms.
Garlic – fresh garlic adds the best flavor to this recipe and is the perfect pairing for mushrooms.
Milk – much lighter than cream and is the perfect base for this creamy sauce.
Parmesan Cheese – freshly grated parmesan is a must for the best flavor.
Cream Cheese – adds the most amazing creamy texture and very subtle tang to the sauce.
Spinach – I love the color, nutrition and flavor balance spinach adds. If your kids are just learning to like mushrooms, leave it out so that they don't feel overwhelmed with too many ingredients, flavors and textures they are learning to like. If you are going to add it, make sure to get fresh baby spinach.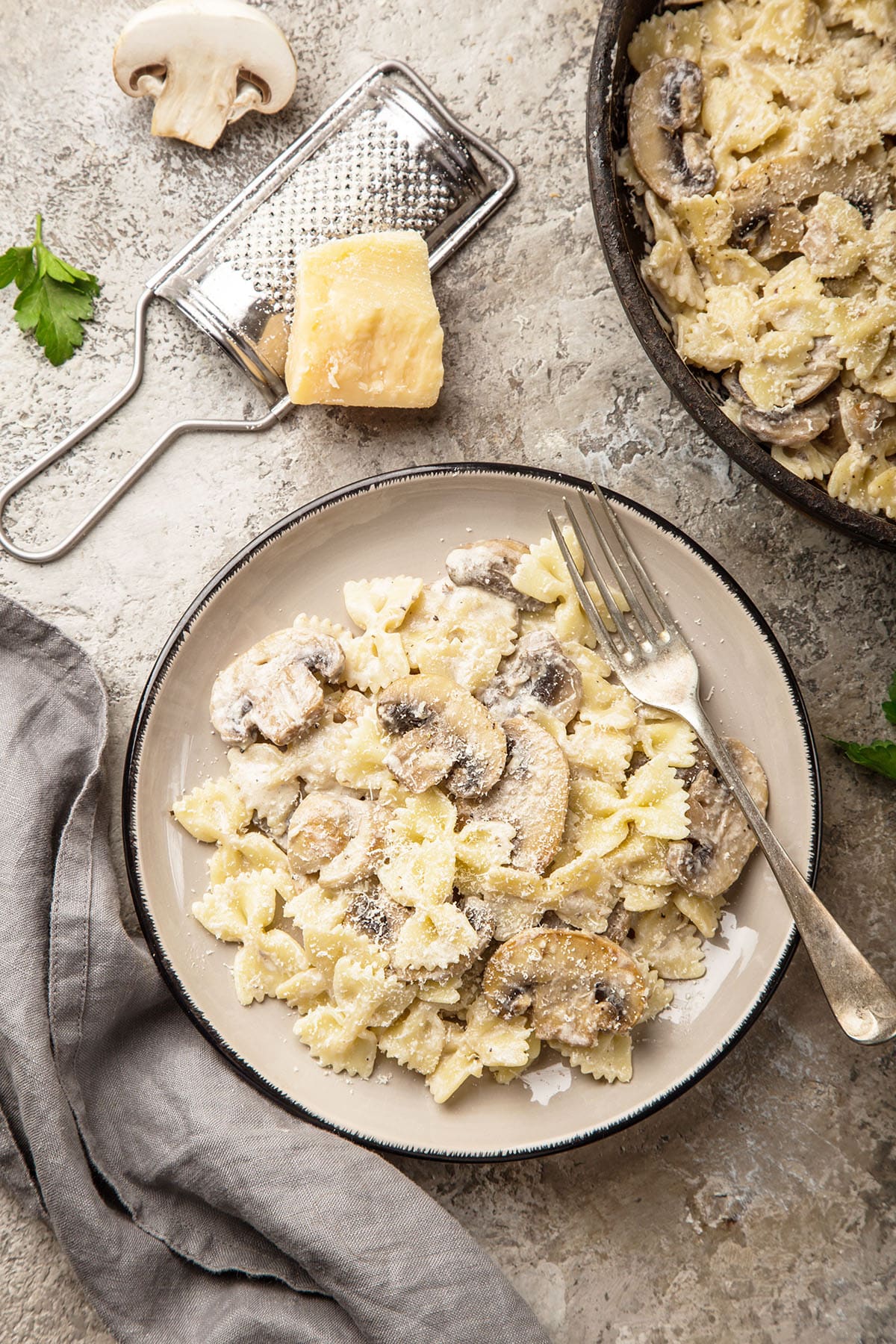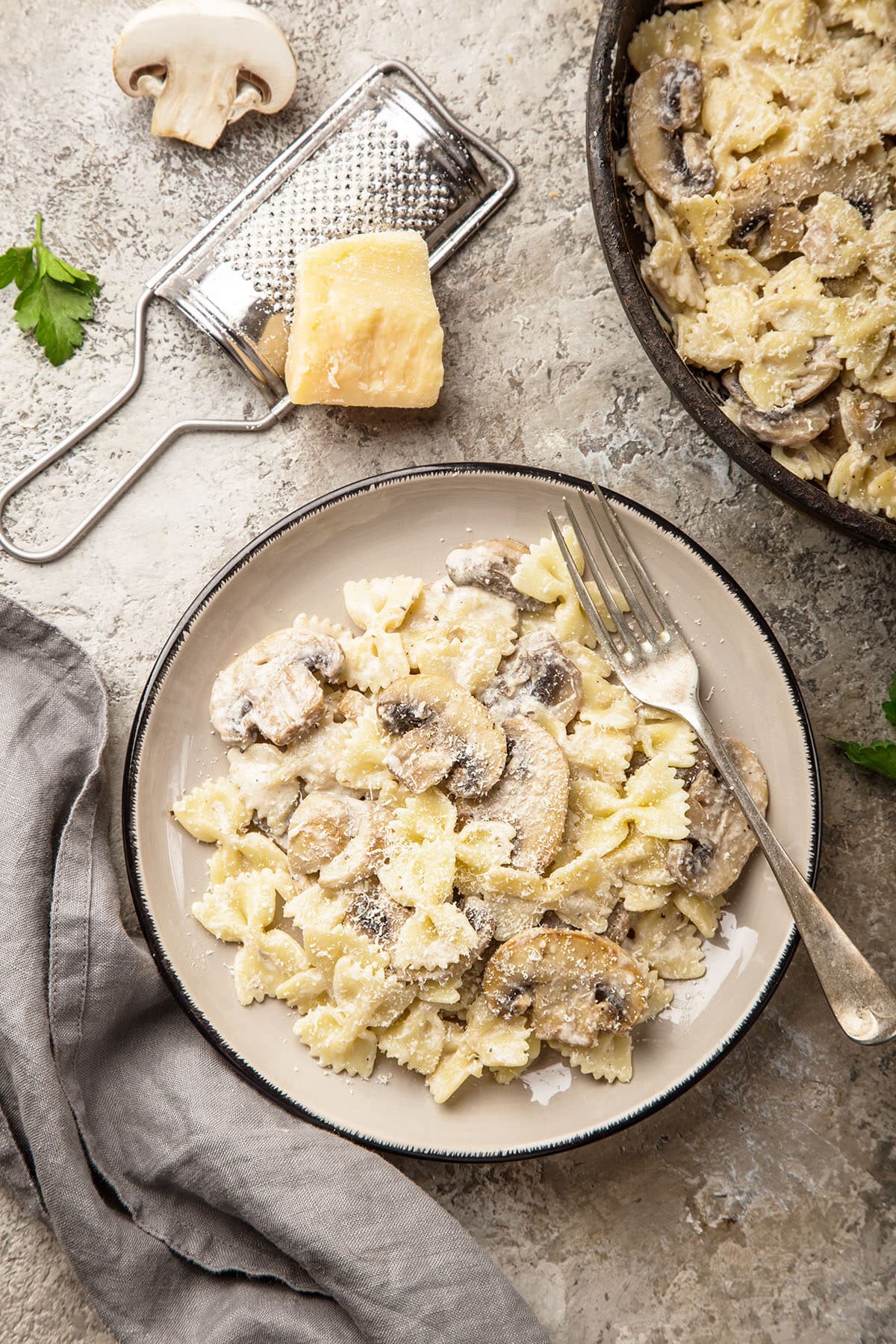 How To Perfectly Saute Mushrooms
I'm truly convinced that if you learn how to saute mushrooms correctly, that anyone can learn to love them!
Clean and Slice. Wipe your mushrooms off with a damp towel or quickly rinse and dry well. You don't want excess water on them because it will take longer to cook and contribute to soggy mushrooms. Slice them into thick slices – mushrooms shrink a ton when cooked and thicker slices cook the best.
Heat Oil/Butter. In a large saute pan, add your oil and butter and turn the heat up to medium high. You want it to get hot before you add your mushrooms. The reason that the oil/butter combination is so important is because the oil allows for cooking at a higher heat allowing the moisture to evaporate quickly. This is the key to caramelization.
Cook. Add mushrooms to your pan and make sure you allow some space between the mushrooms. If you overcrowd them, the moisture will steam the mushrooms instead of searing and make them soggy. Cook for 4-5 minutes before touching them. Then give them a good stir so that the other side cooks and gets nice and brown.
Finish. You will know your mushrooms are done when all of the liquid has evaporated. Your mushrooms should look golden brown and caramelized.
How to Make Creamy Mushroom Pasta
Cook pasta according to package directions and drain.
Saute mushrooms using the above method. Once they are done, turn the heat down to medium and add garlic and 1/3 of the broth to deglaze the pan. Cook for another minute.
Add milk and salt; stir to combine. Add the cooked pasta and the remaining broth.
If you are adding spinach, cut using a chiffonade method. To do this, stack the spinach leaves on top of each other and roll them into a 'burrito'. Using a sharp knife, make very small cuts creating strips. Add to pan.
Stir in Parmesan and cream cheese; cook another 2-3 minutes or until heated through and the cheese is melted. Serve warm and enjoy!
Why You Should Eat Mushrooms
Is it really that important to learn to like mushrooms? Yes! Mushrooms are a powerhouse of nutrition.
Mushrooms are full of micronutrients. They are a good source of copper, potassium, phosphorus, and iron.
Mushrooms are low in calories and high in fiber making them a satiating food choice if you are trying to add more bulk to your meals.
Mushrooms are one of the best sources of selenium. Antioxidants, like selenium, protect body cells from damage that might lead to chronic diseases and help to strengthen the immune system.
Mushrooms are naturally low in sodium and are rich in umami which is a savory, brothy, rich or meaty taste sensation. This means that mushrooms add more flavor to recipes with less salt needed.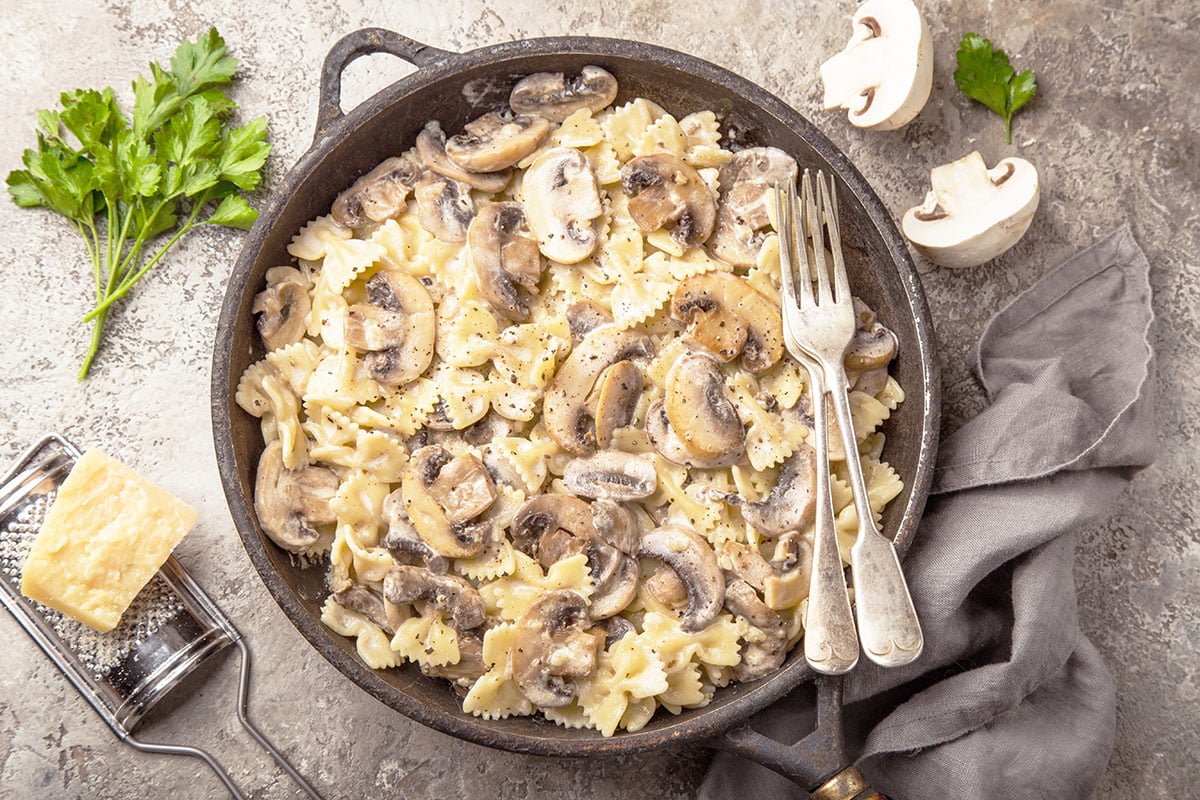 More Favorite Pasta Recipes
8

ounce

bowtie (farfalle) pasta, dry

2

large

mushrooms, portabella

1

tablespoon

butter, unsalted

1

tablespoon

olive oil

2

clove

garlic

3/4

cup

vegetable broth

1/2

cup

milk

1/2

teaspoon

salt

1

ounce

Parmesan cheese

2

cup

spinach

2

ounce

cream cheese, low fat
Cook pasta as directed on the package, then set aside.

Meanwhile, slice the mushrooms.

In a large skillet, heat butter and olive oil over medium heat. Once hot, toss in the mushrooms and sauté for 5-10 minutes, or until they begin to soften.

Mince garlic and add to mushrooms, along with 1/3 of the broth. Stir to combine; cook 1 minute more.

Add milk and salt; stir to combine. Add the cooked pasta and the remaining broth.

Stir in Parmesan, spinach, and cream cheese; cook another 2-3 minutes or until heated through and the cheese is melted.

Serve immediately with grapes on the side.
Calories: 430kcal | Carbohydrates: 62g | Protein: 13g | Fat: 16g | Saturated Fat: 7g | Cholesterol: 31mg | Sodium: 643mg | Fiber: 3g | Sugar: 17g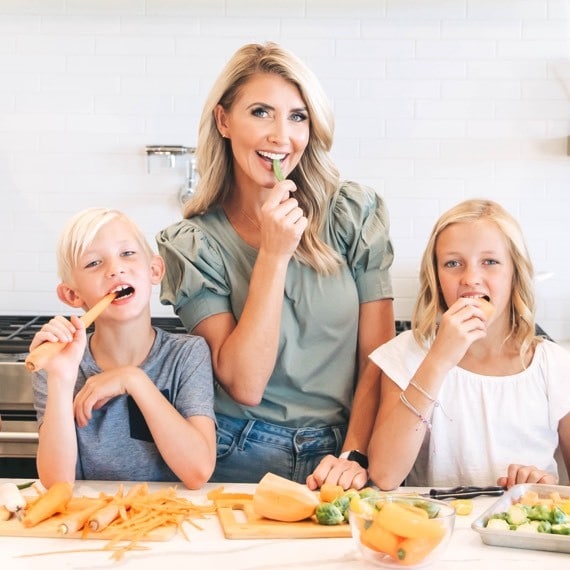 Natalie Monson
I'm a registered dietitian, mom of 4, avid lover of food and strong promoter of healthy habits. Here you will find lots of delicious recipes full of fruits and veggies, tips for getting your kids to eat better and become intuitive eaters and lots of resources for feeding your family.
Learn More about Natalie