A super fresh and healthful take on enchiladas using seasonal produce, Enchilada Stuffed Zucchini Boats are brimming with flavor and make a great vegetarian family dinner.
Enchilada Stuffed Zucchini Boats
I love zucchini boats! They are such an easy way to include a veggie in your meal, and they usually replace a heavier carb of some kind. Don't get me wrong, carbohydrates aren't bad………they're usually just very plentiful in the American diet so I like it when I have other options.
These zucchini boats have a veggie base and then are filled with more veggies! Tomatoes, red pepper, jalapeno, garlic and onion. Hello, vitamins! And don't worry, the jalapeno doesn't make them spicy because you take out all the seeds… unless you want to leave them. They just add lots of flavor. They have just the right amount of seasoning and are topped off with sharp cheddar. They're so flavorful you forget you're just eating veggies!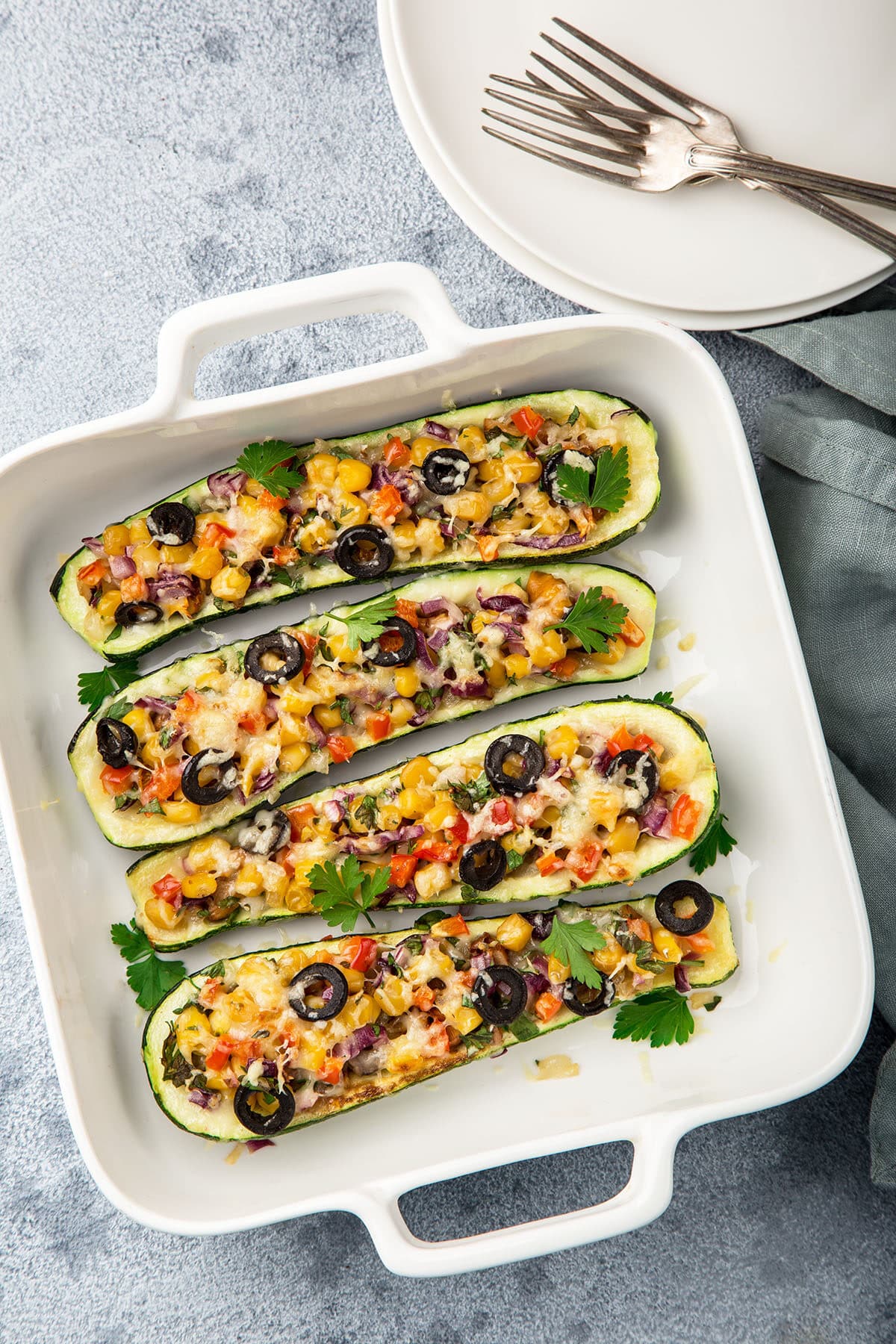 How to Make Enchilada Stuffed Zucchini Boats
Preheat your oven to 400 degrees. You can cook these on a baking sheet or baking dish. You can line with parchment paper for easier cleanup.
Prep Veggies. Dice onion, mince garlic, and chop red pepper into small pieces. Deseed the jalapeno and then cut into small pieces as well.
Saute. Add oil to a large skillet over medium-high heat. Saute onion, bell pepper, and jalapeno for 10 minutes, until soft. Next, add garlic, tomatoes, salt, and seasonings. Saute for another 8-10 minutes.
Scoop. While that is cooking, chop the hard knob off the top of your zucchini and then cut them in half lengthwise. Use a small spoon to scoop out the soft centers. The trick is to leave just enough flesh so that the boats hold up, but also lots of room for filling. I'd say my sides were somewhere around 1/4-1/3 of an inch thick and that worked well. You can quickly chop the scooped flesh and add it to your veggie mixture sauteing.
Cook. Place the zucchini boats on your baking sheet or baking pan (open side up) and fill with equal portions of the cooked veggie mixture. Top with grated cheddar cheese. I recommend using something on the sharp side – the sharp white cheddar I used was a fantastic complement to the enchilada flavors of the veggies.
Bake for 20 minutes, until cheese is bubbly and zucchini is tender. Top with cilantro, if desired.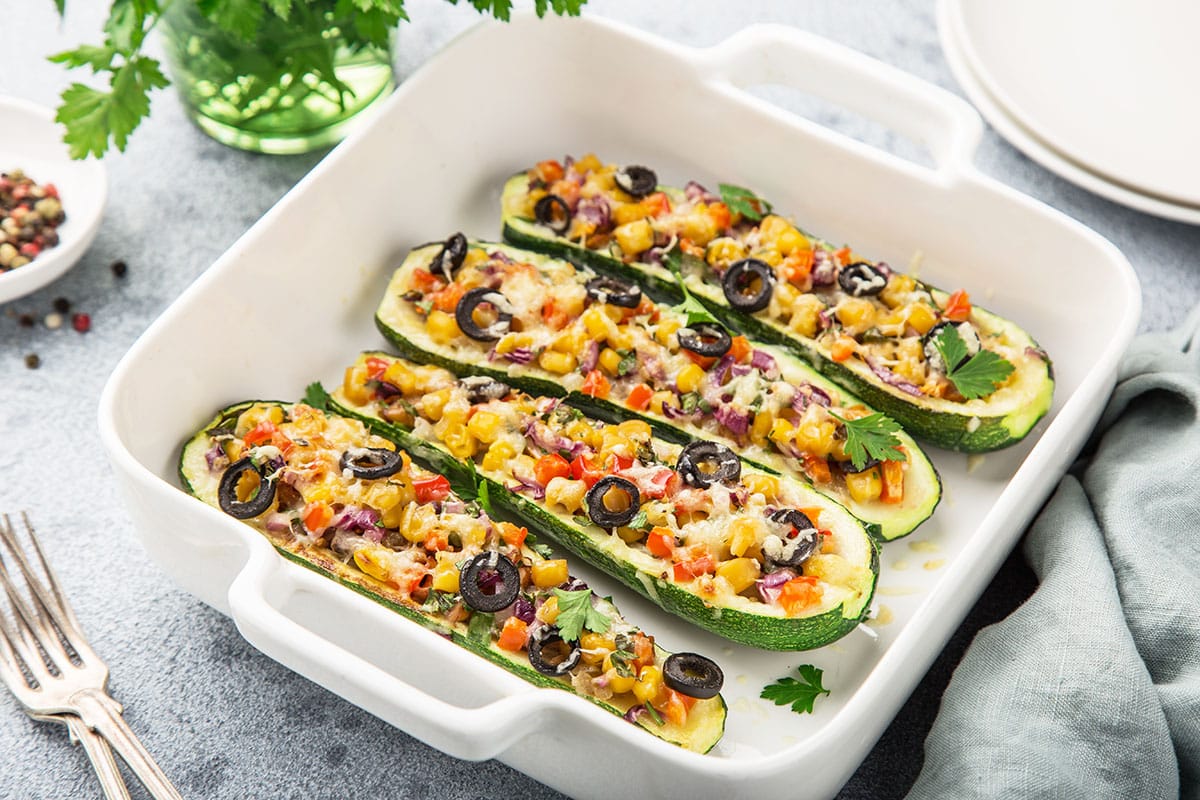 How to Make Zucchini Boats Ahead of Time (Freezer Friendly)
You can make the filling ahead and freeze it for a super quick dinner in a pinch! Just following the steps of the recipe for the filling and then let it cool. Place in a freezer safe container until you are ready to use.
To reheat, let the filling thaw in the fridge overnight. Then place filling in a saute pan with a lid and heat over medium heat until thawed (15 minutes) Then prepare zucchini and fill and bake following the recipe.  
Variations for Zucchini Boats
You can add beans and rice to the filling to make it a more complete meal. Or serve them on the side.
Add ground beef, turkey or shredded chicken for added protein.
Use fire roasted tomatoes instead of fresh for added flavor.
Add sliced avocado and a dollop of plain Greek yogurt as a topping.
More of My Favorite Zucchini Recipes
1

medium

onion, red

1

medium

bell pepper, red

2

medium

tomato, red

2

clove

garlic

1

medium

peppers, jalapeño

4

ounce

Monterey Jack cheese

1

tablespoon

butter, unsalted

1

teaspoon

cumin, ground

1

teaspoon

chili powder

1/2

teaspoon

salt

4

large

zucchini
Chop onion, bell pepper, and tomatoes into small pieces; mince garlic. Remove seeds from jalapeno and dice into small pieces. Grate the cheese.

Preheat oven to 400 degrees F. Line a large baking sheet with parchment paper.

Heat a large skillet over medium high heat and melt butter (or olive oil). Saute onion, bell pepper, and jalapeno for 5 minutes. Add tomatoes, garlic, cumin, chili powder, and salt. Saute for another 8-10 minutes.

Meanwhile, cut zucchini in half lengthwise and remove the hard stem at the top. Use a small spoon to scoop out the center, being careful to leave enough flesh that the zucchini is stable.

Place hollowed zucchini on the prepared baking sheet and fill with tomato mixture. Top with cheese. Bake for 20 minutes, until zucchini is tender.
Calories: 423kcal | Carbohydrates: 61g | Protein: 16g | Fat: 14g | Saturated Fat: 8g | Cholesterol: 33mg | Sodium: 518mg | Fiber: 9g | Sugar: 16g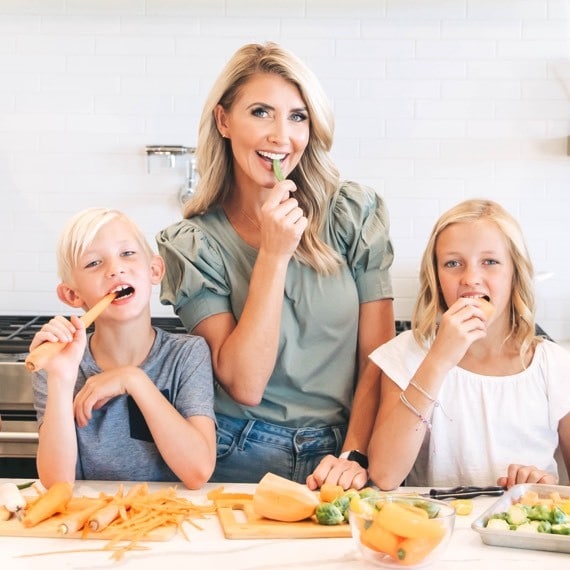 Natalie Monson
I'm a registered dietitian, mom of 4, avid lover of food and strong promoter of healthy habits. Here you will find lots of delicious recipes full of fruits and veggies, tips for getting your kids to eat better and become intuitive eaters and lots of resources for feeding your family.
Learn More about Natalie