Did you know it is possible to wash pillows in the washing machine?
We here at SAHM are all about saving money and sharing tips on doing so. Whilst they don't exactly get the workout that the bed sheets do, pillows collect all kinds of nasties and should be replaced regularly. But in between buying new pillows, you can give your head-resters a gentle wash to remove those horrible yellow stains and sweaty smells, especially if you have recently been sick.
Note:  It is a worthwhile investment to buy pillow protectors if you have expensive pillows.  This prevents sweat, vomit etc from getting into the fibre of the pillows and will make them last longer!
More reading:
We have been trialling several different recipes for washing pillows, just to bring you the very best method to leave you with fresh, clean, non-lumpy pillows.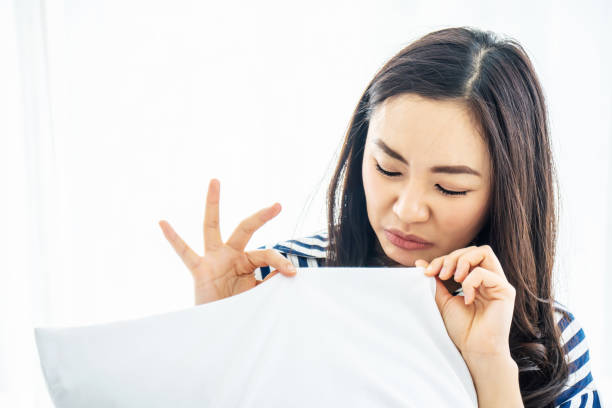 Why does your pillow turn yellow?
Your pillow usually contains dirt, bacteria, germs, fungi, and organic matter that are transferred to your pillow when you sleep. Generally, they stay on your skin or in your hair until they get washed. Occasionally, dirt and germs are transferred from your skin or hair to your pillow, and it appears as dark spots, mildew, or dust in your pillowcase. The dust and dirt are often darker in colour, brown, grey, or black. When your pillow turns brown, you should wash it.
Solutions
If your pillow is in bad condition, you need to wash it thoroughly to get rid of germs and dirt. Your pillow should be cleaned each time you change your pillowcase and wash the pillowcase so dirt and germs don't get transferred onto the pillow and cause further damage.
Method for Top Loading Washing Machines:
You Will Need:
1 cup washing powder (just your normal washing/laundry powder, not liquid)
1/4 cup liquid dishwashing detergent
1 cup bleach
1/2 cup Borax (found in laundry aisle near stain removers)
Fill your machine with HOT water only (I even assisted with a couple of kettles full of boiling water).
Add the above chemicals and either close the lid to agitate the mix for 2 mins, or mix with the handle of a plastic brush or old wooden spoon. Do not put your hand in there – it's really hot and full of chemicals.
Add only two pillows at a time. For a top loader, gently push the pillows down on each side of the centrepiece (if you have one). Try to load the machine evenly as this will minimise any chances for lumps.
Set on a deep rinse cycle and line dry in the sun.
For a fluffy finish, pop them in the dryer for 5-10 minutes when they are dry.
I used this method on both a foam memory pillow and a normal pillow and they came out smelling delightful, looking a brilliant white and, most importantly, no lumps.
Method for Front Loading Washing Machines:
One of our Facebook fans, Maureen uses this method for washing pillows in her front loader machine.
1/2 fill your bathtub with hot water.  Pour in the above chemicals, and use a wooden spoon or similar to mix well.  Add the pillows you wish to wash and soak them pillows overnight, turning them over every now and then, then give them a good rinse in fresh clean cold water. Pop the pillows into your front loading washing machine with normal powder, softener etc. Once washed you can put pillows in the dryer and they come up like new.
Always check the label on your pillows for washing instructions and follow them accordingly. This method was undertaken at the pillow-owner's own risk and although the results were more than satisfactory, all outcomes may vary.
Is it safe to wash pillows in the washing machine?
It is perfectly safe to wash pillows in the washing machine, though as with anything with thin padding it is not recommended. Your pillows should be washed separately from all the other laundry in the washing machine so the fabric does not break.
To wash pillows in the washing machine, place the pillows in a heavy-duty wash bag and add enough soap to soak the pillow for 10 minutes. Follow the washing instructions on the packaging. This process will help remove the slight germs that are on your pillow.
What is your method of washing pillows in the washing machine?