The Best School Lunch Boxes Trending in 2022
It's time to go beyond the brown-bag school lunch boxes. The ones on this list are such that you and your children will definitely remember!
They've been around for more than a century and are just growing better and better. School lunch boxes are a part of everyday life from the time you enrol in childcare or preschool till you retire (though you may still use them beyond that!). 
In the mornings, when your children go to school, you most likely make sure they've got the daily essentials with them: a bag, assignments, and so on. No matter what age your kids are, whether they are in preschool or high school, odds are you ship them off to school with a lunch box filled with their favourite meals. If you're looking for a new lunchbox for your kids, you've come to the right place. There are a plethora of options to pick from, and you must take into consideration the sorts of meals that your kid generally consumes.
The perfect school lunch boxes for your child will most likely depend on their age as well as their own style preferences. Go what are we waiting for?
Recommended Posts
The Best School Lunch Boxes Trending in 2022
Even though back to school for 2022 has been postponed until February (damn you Covid!), we still have to be ready when the kids can pack their school lunch boxes in their bags and toddle off to school and give us FREEDOM!!!
Personally, I buy my boys a new lunch box nearly every year now as they do get a lot of use and by the end of the year, they are usually a bit tired, leaky and stinky (damn your bananas).
Whether your little one is starting kindy, pre-school or high school, they are going to need school lunch boxes that suits their needs.  Take into account the school's rules for packaging (zero waste lunch boxes), and your preference for plastic or eco-friendly – there are perfect school lunch boxes out there for your child.
Table of Contents:
1. What to Look For in a Good School Lunch Boxes?
In an ideal world, a good school lunch box should have the following features.
BPA Free.  You don't want to leech toxic chemicals from plastic school lunch boxes to transfer to the food.
Be large enough for your child's appetite.
Will keep the cold bits cold and the hot bits hot.
Is easy to clean.  You don't want tiny crevices to scrub with a toothbrush every night, you want something that you can swish a bit of hot water in and is clean and shiny.
Dishwasher safe.  Why clean a lunchbox at all when you have one you can pop into the top drawer of your dishwasher!
Waste Free.  Has sealed compartments that allow you to add food without using plastic wrap.
A decent seal so they don't leak.  If you have ever cleaned a school bag that has been leaked into – you know this is an important factor when choosing school lunch boxes.
2. The Best School Lunch Boxes for Pre-Schoolers:
1. Monbento MB Tresor
Available in three colours, apple, iceberg and litchi
RRP: $39.95
These are adorable school lunch boxes, perfect for kindergarten and daycare kids who need a zero-waste lunch box.  The  Monbento MB Tresor is a compact bento box but cleverly designed to contain a variety of different foods without requiring any plastic wrap.  The Monbento MB has three separate compartments that provide enough room for a good-sized lunch plus additional snacks.
Each Monbento MB Tresor contains:
1 x 500ml bottom container
1 intermediary lid for the bottom container
2 x 150ml food cups with clear lids
1 top lid with sidelocks
1 silicone seal
5 interchangeable decorative image tokens
Official Stockist>
More Reading:
3. The Best School Lunch Boxes for Primary School-Aged Children:
Primary Schoolers can be really hard on school lunch boxes. The younger grades tend to show no appreciation for the items we have bought them! So you want to look for rough and tumble school lunch boxes that will last and will take a fair bit of wear.
Here are our picks:
The Befoy Leak Proof Stainless Steel Bento Box
All of the pieces of this stainless steel bento box are dishwasher safe; but, since this lunch box is constructed of metal, it cannot be used in a microwave. For tiny children, the clips may be difficult to open, but they can be adjusted to the required firmness when they're too tight or too loose.
These are excellent for boys, girls, teenagers, and adults as well as for meal preparation and food storage at school or work.
B.box 335mL Kids' Insulated Food Jar
Price: $32.99
Stockist: Catch
When your child wants warm soup for lunch or chilled yogurt and berries for dessert, this convenient 335mL Insulated Food Jar by b.box provides everything they might ever desire. You'll never have to worry about packing lunch for your child again, thanks to the accompanying spork and other handy features!
Features:
Capacity: 335mL 
Keeps food cold for up to 7 hours
Keeps food warm for up to 5 hours
Unique stop feature stops parents from overtightening the lid
BPA, Phthalates and PVC free
Dishwasher and steriliser safe
Bentgo Kids Leak Proof School Lunch Boxes
Price: $35
Stockist: Catch
Designed for busy kids on the run, the Bentgo Kid's Leak-Proof Bento School Lunch Box is unique bento-style school lunch boxes with a leak-proof inside.
Organize healthful items into five easily accessible sections: the biggest compartment is the right size for a half baguette or salad, three mid-size compartments are ideal for fruit, vegetables, and other snack favourites, and the smallest compartment is ideal for sauces and salad dressings.
Features:
21.6 x 16.5 x 5.1cm.
Five compartments: left – 1 cup; back – 1/2 cup; right – 1/2 cup; front – 1/4 cup; sauce – 2 tbsp.
Lightweight – 560g.
Leak & mess proof.
Sturdy design with drop-proof, rubber-coated edges.
Kid-friendly latches.
BPA-free
4. The Best School Lunch Boxes for High Schoolers:
OmieBox Hot & Cold Bento Lunch Box – Sunshine
Price $75.00
Stockist: Biome
Make healthier lunches for your children with this clever bento-style lunch box. With two temperature zones, it is particularly designed to hold both hot and cold meals at the same time. Entrees will stay warm while vegetables and fruits will remain cold. The mixture of air insulation, vacuum insulation, and an airtight seal, which was developed through real-world home visits with parents packing lunches, minimizes heat transfer, allowing food to remain fresh and delicious.
Features:
Comes with a 220ml, two-layer vacuum insulated stainless steel container, perfect for hot or other temperature-sensitive foods. 
Spill-poof box and individual compartments
The thermally insulated bowl is completely leakproof. 
The square compartment (when not using the insulated bowl) is only intended for sandwiches and other dry foods.
Removable silicone seal for easy cleaning.
Trudeau Fuel Food Container Lunchbox
Price: $20.50
Stockist: Catch
If you have a strong hunger, Trudeau's new Food To Go Container is ideal for you. Featuring a wide inside and large clips to hold the top firmly in place, this lunch box also includes a knife and fork, which are stored in a convenient cutlery container inside the lunch box.
Everyday meal options that are created with a healthy lifestyle in mind, limit environmental effects throughout the product's life cycle, and allow you to prepare a waste-free lunch are available.
Features:
Spacious lunchbox with cutlery and cutlery case included
Measures 21 x 15.5 x 6.5cm
Microwave Safe
BPA Free
Inside capacity holds approximately 966ml
Strong clips keep the lid secure
Designed in Canada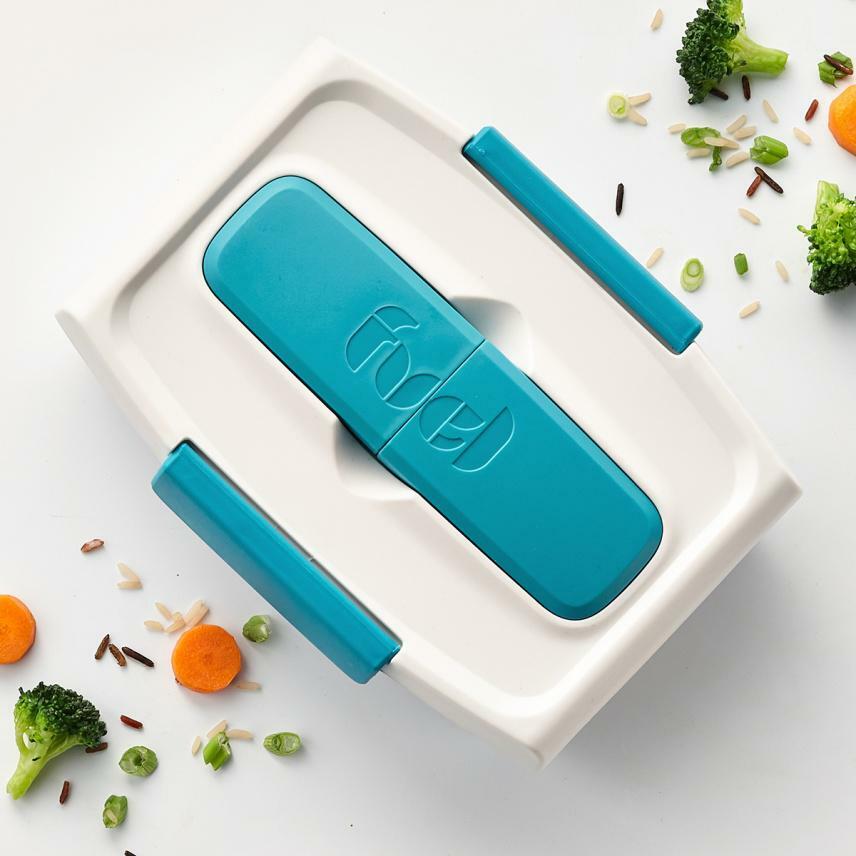 Stainless steel double-layer School lunch boxes
Price: $44.38
Stockist: Catch
With their compartmentalized divisions, these bento boxes make it easy to pack a variety of healthful foods for children and adults alike.
Features:
Bento box is made of BPA free, food-grade and eco-friendly materials
A lunch box with a lid can store tableware and save space
When you are eating, the lid can be lifted up as a mobile phone holder
size:21.5x11x11.5cm
Product Name: Double-layer stainless steel soup bowl lunch box
Tuck A Stacker 3-in-1 school lunchbox set
Price $35.95
Stockist: Biome
The Tuck A Stacker is a dynamic mix of space that allows you to simply pack a safe, waste-free lunch. This ingenious and compact lunchbox has two rectangular sections that nest and clip together, as well as a tiny container that can be tucked within the top layer or used on its own as a separate compartment.
Features:
2 x rectangular layers which easily clip open and close.
Top layer can be used separately when not clipped to the bottom layer.
1 x smaller container with lid for nesting into the top layer or use separately.
Top rack dishwasher safe.
Fridge to Go Insulated Lunch Box Medium – Chevron
Price $44.95
Stockist: Biome
All Fridge-to-go insulated bags are lined with a proprietary Tempguard fabric, which helps keep food colder longer and prevents sweating and dampness. Alternatively, you may freeze or chill the whole bag without having to take off the panel first.
Its small size makes it ideal for picnics, the beach, baby formula, sports events, and just about anywhere else you would need a cooler!
Features:
Classic slimline lunch box design
Includes 1 x removable chilling panel containing non-toxic purified salt water
Fully collapsible to flat
Front storage pocket with a name tag
Back zippered pocket
Easy tote handle or fits inside most backpacks
Main compartment with zipper closure and fold-out opening for easy packing
Interior chilling panel sleeve with zipper closure for easy removal
Heavy gauge durable TempGuard fabric-lined interior for insulation
Thermos Upright Insulated Lunch Kit
Price:b $17.99
Stockist: Catch
Your meal will remain cool and fresh for hours and hours thanks to the twin walls of insulation protecting it. "Thermos keeps hot things hot and cold things cold," as the old commercials used to say – prepare to use it again and over again!
Features:
Keeps cold foods fresh and cool 
Hygienic and safe way to transport foods 
Durable, easy-care fabric
PEVA lining 
Super easy to clean 
Front storage pocket 
Large, zippered opening
Convenient mesh drink bottle holder on the side
PVC free 
SoYoung Large Raw Linen Insulated Cooler Bag – Rose Gold Stripe
Price $46.95
Stockist: Biome
SoYoung lunch bags are constructed of coated linen cloth and feature retro-inspired motifs. When it comes to adult-sized lunches, bringing family snacks on vacations and picnics, or serving as a kid's school lunch bag, this adaptable 'poche' is the best choice!
Features:
PVC-free, phthalate-free, and lead-safe inside and out (you can smell they are not PVC!).
Raw uncoated linen fabric.
Fully insulated silver lining inside with a removable inner pouch for easy cleaning.
Detachable and adjustable strap for wearing as a messenger bag.
Mesh pocket on the back for cutlery or napkins.
A place for the name inside the lid.
Design from the Modern Collection.
Go Green Snack Box 5 Compartment – Purple
Price $39.00
Stockist: Biome
This lunch box is made of BPA- and phthalate-free polypropylene and is engineered with utility in mind. It is leakproof and safe for both wet and dry meals. Perfect for that spilly kiddo!
Features:
Completely leak-proof with an easy-to-use lock mechanism which ensures a tight seal for all sections
Suitable for wet foods like fruit, yogurt, and dips
5 compartments for a variety of foods
Use for snacks and small meals
Easily fits carrot and celery sticks, nuts, fruit pieces, etc.
For best results remove the silicone bands and handwash after each use – dishwashing is not recommended
MIER Small Lunch Box Kit
MIER's tiny little lunch pale carrier bag is small enough to fit into a backpack or big purse with no problem. It is great for storing snacks, meals, sandwiches, and beverages to be taken to school, the workplace, or a camp picnic, as well as for storing temperature-sensitive medications in the refrigerator. Perfect for a mum on the go!
Features:
The hand-carry lunch bag is made from strong outer Oxford fabric
Interior equipped with food-grade aluminum foil lining(BPA FREE) that is soft and easy to clean, heat-welded seams prevent soft liner leaks
Reusable Insulated Lunch Bag
Comes with a retractable buckle handle that can be easily attached to a backpack or placed beside a briefcase for convenience. It's small enough to carry in a backpack, gym bag, or travel bag so you can keep up with your active lifestyle!
Features:
High Quality – Insulated Lunch Bag – Made of durable oxford fabric and thick aluminum inner lining
Food Safe – Equipped with eco-friendly lining
Adidas Unisex Excel Insulated Lunch Bag
Using this lunch bag ensures that your food stays cool and fresh throughout the day. The main compartment is spacious enough to accommodate larger water bottles. An ice pack may be stored in the mesh divider in the zipped front pocket, which also serves as a cooler for the main compartment!
Features:
100% Polyester
Mesh divided the front pocket to hold an ice pack.
So, What are Your Favourite School Lunch Boxes? Did We Miss Anything?
Let Us Know!