Bec and George Douros were a fan-favourite couple when they competed on The Block back in 2013. 
But while they were renovating in the Sky High season of the hit show, they had other things happening behind the scenes. 
From struggling with pregnancy loss before they made it onto the show to Bec's mum being diagnosed with breast cancer, there was a lot going on for the young couple. 
While Bec's journey to motherhood is something she's kept private in the past, she's opened up about her experiences with loss and IVF on the It's All Her podcast with Jordy Lucas. 
"I always knew I wanted to be a mum," Bec said. 
"But my husband and I have been together since I was 17, so going on 20 years, nearly … we got married young, I was engaged at 21 and then by 23 married."
The Block's Bec has opened up about her private journey with IVF to become a mum. (Instagram)
Bec said they decided to travel and pursue other things; then, when that was out of the way, they wanted to start trying for a baby. 
"And then my mum got diagnosed with breast cancer and I was like, 'maybe this is the time to start trying'," she said in the podcast, which you can listen to here.
The interiors guru explained she and George started trying for a baby before they went on The Block, but it just wasn't happening. She went to see a doctor, who said there could be a few reasons for it and she had surgery to try to help things along.
"I fell pregnant, had a miscarriage, had another miscarriage a little while after that and then got on The Block," Bec recalled. 
"And then we were like, 'OK, let's focus on this', sort of stop trying and then it was after The Block and we tried again and it just wasn't happening. I dunno, I just couldn't fall pregnant.
"We were doing all these tests and it's something I've been really private about in the past, but I went through IVF." 
READ MORE: Bec opens up about building her dream home and what life has been like since The Block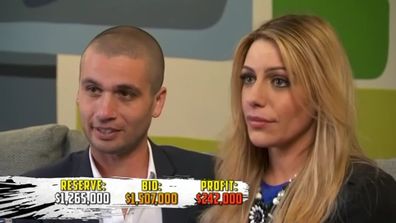 Bec and George at their Block auction in 2013. (Nine)
Bec said she had a lot of trouble falling pregnant and went through a few miscarriages, which was an extremely stressful situation. 
"I was putting a lot of pressure on myself because I knew my mum was really sick," she added.
"My IVF journey wasn't really hard, thankfully, I've got friends going through it and they're really struggling. I was lucky enough to get a good bunch of eggs and Archie was one of those, and then I froze the rest.
"Then after I had Archie, decided to try again, we were trying again naturally and it just didn't happen. So I went back to my doctor and he said, 'Look, you've got the eggs so, you know, let's just go through that process again so you're not putting that stress on yourself,' and then I had Lenny."
With two gorgeous boys, Bec thought she was done with having babies, but she still had a couple of eggs left. 
At the time, she and George were in the process of building their newest family home and put the idea of more babies to the side for a while. 
"I went on a night out with the girls and, lo and behold, Rosie happened naturally. It was like when you're not thinking about it," she laughed. 
READ MORE: Bec and George introduce their baby girl to the world
Rosie – Rosetta Dafni – was born in September 2020, and her name is a beautiful tribute to both Bec and George's mums. 
Alongside the announcement that they had welcomed a daughter on Instagram, Bec shared the meaning behind the name. 
"For those asking about her name. Rosetta is my mums name (we called mum Rosa for short) and means little rose and Dafni is George's mum name, also a flower and the name of the village she came from in Greece," she captioned the post. 
While Bec's road to motherhood wasn't easy at times, the mum-of-three is so grateful for her gorgeous kids.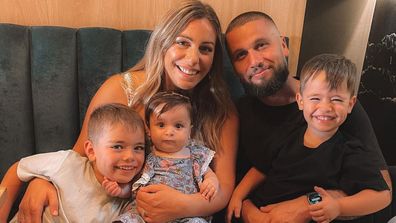 Bec is grateful for the three gorgeous kids she has. (Instagram)
Life since The Block, almost a decade ago, has been nothing but busy for the couple too.
Since their time on the show they've launched their own interior design business Nectaar, which has gone from strength to strength.
"We are flat out – I'm drowning in work," Bec recently told 9Entertainment of Nectaar's success.
"We're doing about 14 projects across Victoria, so I'm actually hiring at the moment because the workload's just so big. Everything's great – I can't complain."
To add to that, she's also juggling the three kids and finishing off the build of their own home. 
When Bec and George started the project for their place they had two kids, but now with the addition of Rosie, their plans for the home have had to adjust too. 
The couple have designed their house to be "an entertainer's delight" where the inside opens up to the outside and features high-end materials and a calming palette.
In Pictures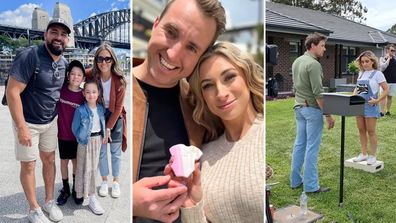 Where are they now? What your favourite Blockheads have been up to post-show
New projects, new babies and new friendships
View Gallery