The death of a child is always a tragedy, but it seems even more so when the individual behind the death is someone the child should be able to trust: their step-parent.
It's something that happens far too often.  In fact, studies looking into the rate of deaths in children under five in Australia have uncovered that there is a disproportionately large number of step-parents killing their partner's children. It's something that researchers have come to call the "Cinderella Effect".
Charlise Mutten Was Only 9 Years Old
Just this week in Australia, nine-year-old girl Charlise Mutten was allegedly killed by her stepfather, Justin Stein, 31. Charlise's body was found in a barrel near the Colo River in New South Wales.
Little Charlise lived with her Grandmother in Coolangatta but was visiting her mother and her step-father during the school holidays on a property in the Blue Mountains. Little Charlise was last seen on the verandah of the Mount Wilson property.
Charlise's mother has been in hospital after an 'episode' and has still not spoken to Police about what happened.
A vigil was held at the Tweed Heads Public School last night to celebrate the life of little Charlise. Children and parents left flowers, balloons and tributes to the little girl.
Charlise Mutten was only 9 years old before she was allegedly murdered by her Step-Father
More Reading:
What Is The Cinderella Effect?
The Cinderella Effect is the term used to explain the phenomenon of step-parents, not always men, being more likely to kill their partner's children than biological parents. The controversial theory was constructed by Canadian Martin Daly in the 1970s and suggests that the reason behind the killings is that humans are not biologically programmed to raise other people's children.
So when issues do arise, generally in homes where families struggle with alcohol, drugs and economic instability, the Cinderella Effect comes into play.
According to an article on Psychology Today – it all comes down to 'Mate Value'.
Biologically, given a choice, a male is more likely to choose a younger female with no children, as opposed to an older woman with children.  A younger female with no children would be considered to have a 'Higher Mate Value'. 
When older women with children who have a 'Lower Mate Value' find a partner, that partner, in turn, is likely to have a lower 'Mate Value'.  Men or women with 'Lower Mate' values are more likely to be violent and have a criminal history.
According to Penelope McEnroe, the national director of programs at Child Wise:
"Women, when they are re-partnering, are not necessarily considering the safety of their children as their first thought.  They want their own intimate relationship and (are) not sizing up that up as they would even the service providers they have interacting with their children.
"Online dating is a real issue.  People are meeting much more routinely on the internet, and as a result of that, for some reason, women are not doing their due diligence as they would in another setting"
An Australian Study on The Cinderella Effect
Studies on the Cinderella Effect are being conducted all over the world, including in Australia. Melbourne's Deakin University Professor Greg Tooley has been exploring the phenomenon with Australian numbers, culminating in a study of almost 900 child deaths. Prof. Tooley told news.com.au that the Cinderella Effect was "very well supported by the empirical evidence in multiple countries, especially the United States and Canada."
Another study looked at the American archive of child abuse where over 20,000 cases were studied.  These figures were analysed and it was shown that a child under the age of three years who lived with one genetic parent and one step-parent was seven times more likely to become a victim of child abuse.
He noted that many people rejected the theory, something he put down to its confronting message and the fact that people "don't like to think human behaviour is programmed and responsible to things like evolutionary pressures". However, while it does put a pin in notions of free will, the statistics couldn't be denied.
"If you look at the data, for children aged under two in the US who live with one non biological parent, and they are overwhelmingly male because most kids stick with their mums, they are more than 100 times more likely to die from physical abuse and 40 times more likely to be physically abused," he told news.com.au.
Prof. Tooley said what it comes down to is human programming. When we become parents we are programmed to follow out the duties that job comes with, which includes ensuring no harm comes to our kids. However, step-parents don't have the same programming, which means they don't always act the same way.
"It's not that step-parents are bad intrinsically," he said. "It's just these mechanisms don't kick in the same way as biological parents."
photo via : juliengordon.com
Fact:  Mum's boyfriend is the most likely person to kill her child.
Not Just Violent Deaths
Unfortunately for step-children, the potential for harm doesn't end at step-parent violence. Professor Tooley's study found that kids in a family with one non-biological parent weren't just 17 times more likely to die from intentional violence or accident. They're also more likely to be at risk of everything from drowning to fatal car accidents.
"Statistically kids in those situations are less likely to be cared for," said Prof. Tooley.
photo via : huffingtonpost.com
Adoptive Children vs Step-Children
Interestingly, adoptive parents did not come up as often as step-parents in terms of child deaths, despite them also having no genetic connection to their children.
According to Professor Tooley, this can be explained quite easily. While adoptive parents have made a "conscious decision to parent a child even though they aren't their biological parent", step-parents usually only become parents as an extension of their romantic relationship, so they're not making a "conscious decision to become parents".
Horrific Examples of 'The Cinderella Effect'
Kaleb Baylis-Clarke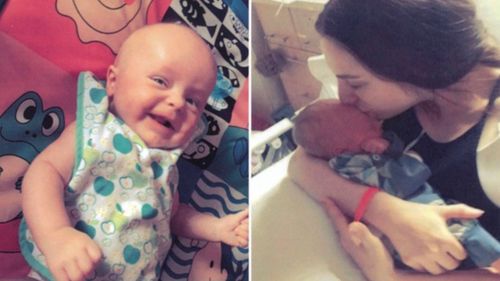 Kaleb Baylis-Clarke was only 17 weeks old when his mother's boyfriend, 26-year-old Jesse Vinaccia, shook him violently after becoming frustrated with the baby. When the child's mother came home she found the boy unresponsive and rushed him to hospital.  Little Kaleb had a severe brain bleed.  His life support was switched off a week later.
Mr Vinaccia had only moved in with his girlfriend a few weeks before baby Kaleb's death.  He was looking after the child at the time when the baby's biological father messaged him on Facebook asking Mr Vinaccia 'Not to post photo's of my son every day'.  Mr Vinaccia later told police he was angry about the message and had put Kaleb down 'roughly' in his cot.
Mr Vinaccia was charged with the murder of the baby boy and was jailed for eight and a half years.
Image via 9News
What To Do About The Cinderella Effect?
While the Cinderella Effect doesn't do much to improve confidence in the caring abilities of step-parents, Professor Tooley said that the vast majority of step-parents "still managed to be good to their step-children". But that doesn't mean that the Cinderella Effect wasn't real.
Professor Martin Daly, who coined the phrase, said that there was no doubt the Cinderella Effect was fact, even though "There are some people who desperately want to say this ain't so".
Prof Daly suggested that couples planning on living together with kids from previous relationships should get counselling when conflicts arise between step-parents and children. He also recommends caution, particularly among those who delude themselves into believing their partners will automatically love their kids.
"You're exacerbating the resentment rather than alleviating it. People aren't spontaneously inclined to love just any kid on the block."
It might not be a pretty picture, but a bit more awareness about the Cinderella Effect could save lives, and stop so many Australian families from being unnecessarily plunged into grief.