Home › Eating Guides › 20 Best Healthy Breakfast Cereals (2022 Guide)
This post may contain affiliate links. As an Amazon Associate, I earn from qualifying purchases. Please read my disclosure.
Have you looked at the cereal aisle lately? There are literally a million options, many of which claim to be healthy when they're not. On top of that, how do you know which healthy breakfast cereals actually taste good? This guide will help you to find the best healthy cereals for you and your family — cereals that taste great, will keep you full and satisfied, and are actually good for you too!
We've all been there.
The cereal aisle.
Rows and rows of colorful boxes with labels like "whole grain" and "all natural" and "organic" – but which one is actually the healthiest?
Before we get into my list of the healthiest breakfast cereals, here are my Healthiest Cereal Rules:
10 Tips On How To Find The Healthiest Cereals
When looking for the healthiest breakfast cereal, you want a cereal that has:
No more than 150 calories per 3/4-1 cup serving (note: for Granola or Raisin Bran type cereals which tend to be denser, you want no more than ~200 calories for 1/2 cup serving)
Less than 6 grams of sugar per serving (any more than that and you're venturing into dessert territory). Watch out for all of the ingredients that don't sound like sugar on the nutritional label but actually are – including: cane sugar, fruit juice, high fructose corn syrup, barley malt, evaporated cane juice, maple syrup, honey, and sucrose.
At least 4-5 grams of fiber per serving
At least 3 grams of protein per serving
No dried fruit added
No soy protein isolate or soy protein added
"Whole grain" or "bran" or "whole wheat" as the first few ingredients
No weird ingredients / preservatives that you can't pronounce
Ideally organic ingredients, especially due to glyphosate found in most non-organic cereals
No artificial colors or flavors
What Is The Healthiest Cereal To Eat?
The best healthy cereal is any cereal that is organic, high in fiber (at least 5 grams per serving), low in sugar (under 6 grams per serving), under 200 calories per serving, and has no preservatives or artificial colors / flavors added.
Is Cereal Good For Weight Loss?
The answer here is: it depends! Depends on the type of cereal you're eating and how frequently you're eating it. If you're just having cereal once a day for breakfast, and you're choosing a high fiber/lower calorie/low sugar option, then that can certainly be part of a diet for weight loss. On the other hand, if you're loading up on sugary cereals multiple times a day, that's actually a recipe for weight gain!
What Cereal Has No Sugar?
There are a few cereal brands that have no sugar added! All of the best healthy cereals listed below are low in sugar, but cereals with no sugar include: plain oatmeal / rolled oats, One Degree Foods Organic Sprouted O's, Three Wishes Grain-Free Unsweetened Cereal, Nature's Path Organic Puffed Kamut, and Uncle Sam Toasted Whole Wheat Berry Flakes & Flaxseed.
What Is The Least Healthy Cereal?
Most Kellogg's breakfast cereals aimed at kids (Lucky Charms, Golden Grahams, Fruit Loops, etc.) are super unhealthy because they're high in sugar (which leads to those sugar highs and crashes), low in fiber, and contain artificial colors and flavors. Any cereal that has more than 8-9 grams of sugar per serving and contains artificial colors, flavors or preservatives is going to be pretty unhealthy for yu!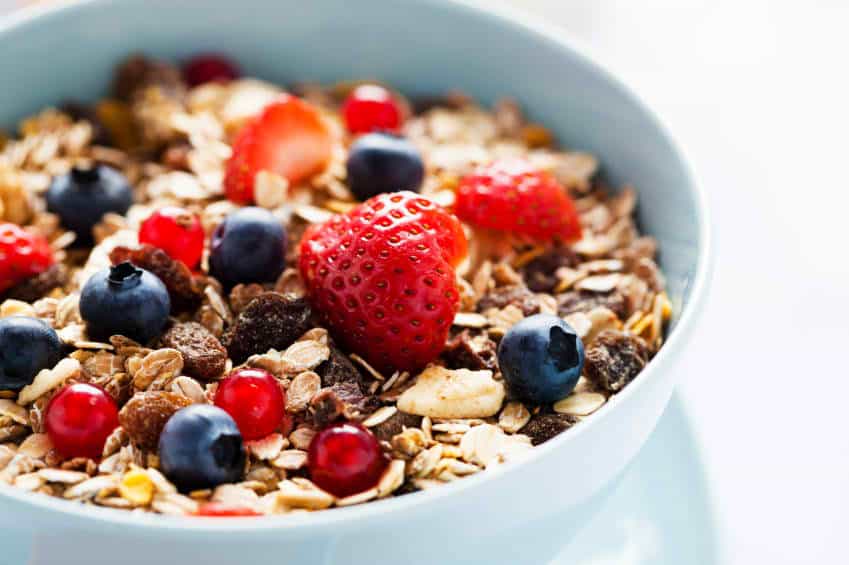 Photo Source: Personal Trainer Pioneer
The Top 20 Healthiest Breakfast Cereals
Healthiest O's, Puffs, Crunchy Cereal, Oats, and Flakes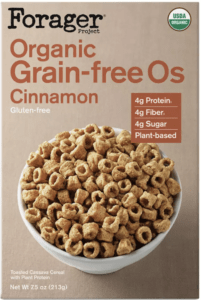 Forager Grain-Free Cereal
Forager Cereals might be one of my favorite healthy cereals on the market today! They are 100% organic, grain-free, gluten-free, dairy-free, paleo, low-sugar, vegan and vegetarian friendly. With a super clean ingredients list like navy beans and cassava root, their cereal is one of the healthiest choices you can make! They come in 3 flavors – plain, cinnamon and chocolate (I like cinnamon the best). 1 cup has 110 calories, 4 grams fiber, 4 grams sugar, and 4 grams protein.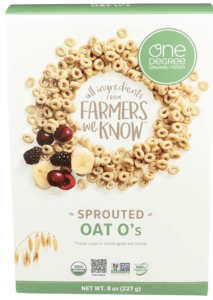 One Degree Foods Organic Sprouted O's
This Sprouted O's cereal is the healthiest alternative to Cheerios that I have found. It's 100% organic vegan, and non-GMO, made with sprouted whole oats and sprouted chickpeas. Sprouting naturally unlocks stored vitamins and minerals and makes this cereal easier to digest. 3/4 cup has 110 calories, 3 grams fiber, 2 grams sugar, and 3 grams protein.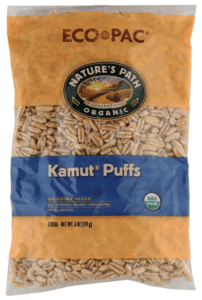 Nature's Path Organic Puffed Kamut
This Nature's Path cereal has just one ingredient – organic whole grain Kamut Khorasan wheat. Free from artificial flavors, preservatives and colors, Certified USDA Organic, vegan, and non-GMO. 1 cup has 50 calories, 2 grams fiber, 0 grams sugar, and 2 grams protein.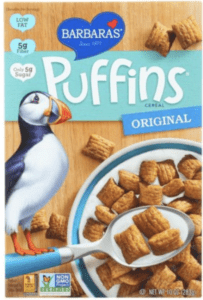 Barbara's Original Puffins
This is my top pick among all of the Barbara's Cereals line. Non-GMO, crispy and slightly sweet. 3/4 cup has 90 calories, 5g fiber, 5g sugar and 2g protein.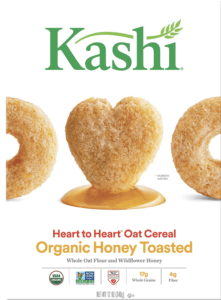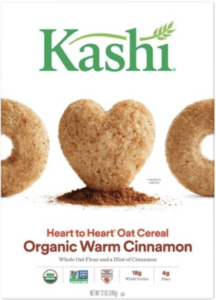 Kashi Heart to Heart, Warm Cinnamon
USDA Organic Certified. Very cinnamon-y, crunchy and packed with whole grains. 3/4 cup has 120 calories, 4g fiber, 5g sugar, and 3g protein.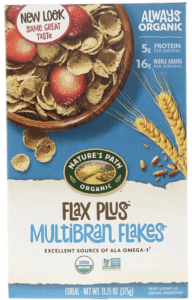 Nature's Path Flax Plus Flakes
The best alternative to corn flakes or bran flakes! Organic, Non-GMO, slightly sweet. 1 cup has 150 calories, 7g fiber, 5g sugar and 5g protein.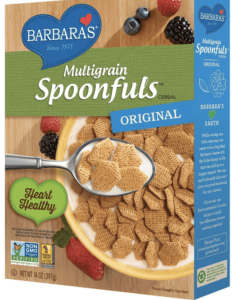 Barbara's Shredded Spoonfuls Multigrain
The best alternative to shredded wheat (especially frosted shredded wheat). Non-GMO, no high fructose corn syrup (frosted shredded wheat does have HFCS), and sweetened with molasses instead of refined sugar. 3/4 cup has 120 calories, 4g fiber, 5g sugar, and 3g protein.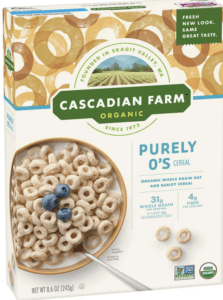 Cascadian Farm Organic Purely O's
The best alternative to regular Cheerios (which is not organic and has glyphosate residue!) This cereal is USDA Organic, crunchy and mild — perfect for a toddler/kid finger food or cereal. 1.5 cups has 140 calories, 4g fiber,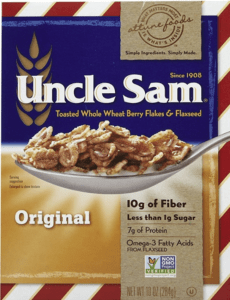 Uncle Sam Toasted Whole Wheat Berry Flakes & Flaxseed
Only 4 ingredients, Non-GMO, Vegan. 3/4 cup has 220 calories, 10g fiber, 0g sugar and 8g protein! This honestly would be my #1 pick but taste wise, it's pretty bland. I recommend buying this and mixing it with one of the cereals above (50-50) to bring a little more flavor to your breakfast bowl!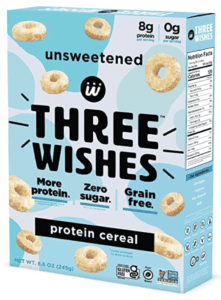 Three Wishes Unsweetened Protein Cereal
Three Wishes is a grain-free, vegan, sugar-free, gluten-free, paleo friendly cereal! It's unsweetened option has just 4 simple ingredients: chickpeas, tapioca, pea protein and salt. It's low in carbs, high in protein and high in fiber: 1 cup contains 146 calories, 3 grams fat, 20 grams carbs, 4 grams fiber, zero grams of sugar and 11 grams of protein!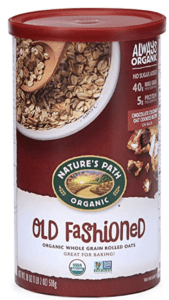 Nature's Path Organic Old Fashioned Rolled Oats
Oatmeal is definitely one of the best healthy cereals out there. Organic rolled oats especially are low glycemic compared to their instant oats counterparts – which is beneficial in stabilizing blood sugar and cholesterol levels. It's packed with nutrition and is rich in B vitamins, fiber, and essential minerals. 1 cup of cooked rolled oats has 150 calories, 3 g fat, 27g carbs, 4g fiber, only 1 gram of sugar, and 5g protein. Top these whole-grain oats with some sliced banana and peanut butter for a filling and complete meal!
Healthiest Granola, Raisin Bran, and Gluten Free Cereal
This next set of cereals is focused on the healthiest granola, raisin bran and gluten free cereal options!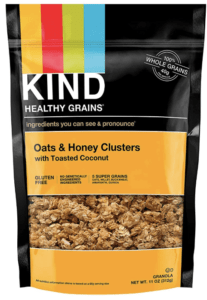 KIND Granola Oats & Honey
Gluten free, Non-GMO, slightly sweet and the perfect topping for greek yogurt bowls or smoothie bowls. 1/3 of a cup has 120 calories, 2g fiber, 5g sugar and 2g protein.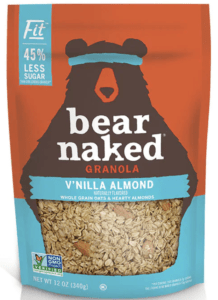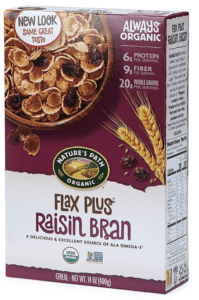 Nature's Path Flax Plus Raisin Bran
While it's slightly higher in calories, this is a great alternative to traditional Kellogg's Raisin Bran (which has tons of sugar – 18g per serving). It is high in fiber and contains healthy fats from the flax seeds. The Nature's Path version has 168 calories for 1 cup, 7.2g fiber, 10.4g sugar (only 4.8g added sugar) and 5g protein.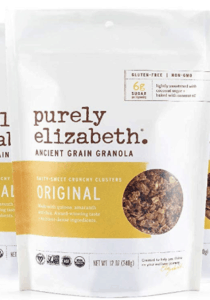 Purely Elizabeth Granola
USDA Organic, Non-GMO, Made with quinoa, amaranth and chia. 1/3 of a cup has 140 calories, 2g fiber, 6g sugar, 3g protein.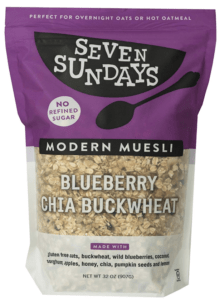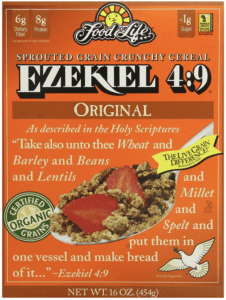 Ezekiel 4:9 Organic Sprouted Whole Grain Cereal, Original
USDA Organic, made with sprouted live grains, legumes, seeds and has absolutely no flour! 1/2 cup has 190 calories, 6g fiber, 0g sugar and 8g protein. This would be my top granola pick, but just like the Uncle Sam cereal, it's a little on the bland side and works well when paired with another cereal 50-50. They have a few other flavors (Almond, Golden Flax, etc.) that are equally good for you!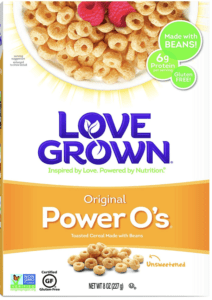 Love Grown Original Power O's
Non-GMO, Vegan, Gluten free and made with beans and lentils! 1 serving size (1 cup) has 130 calories, 4g fiber, 2g sugar and 6g protein.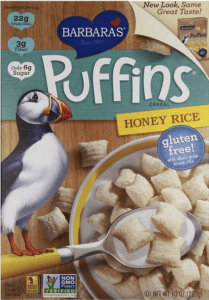 Barbara's Puffins Honey Rice
Gluten-free, Non-GMO, made with whole grain brown rice and no artificial ingredients. 3/4 cup has 120 calories, 3g fiber, 6g sugar, and 2g protein.
I hope this list helps you to pick out a great and satisfying cereal – it's the perfect excuse to make a healthy start to your day!
Healthy Cereal FAQs
What Makes A Cereal Nutritious?
Healthy whole grains, plant protein, and a small amount of added sugar makes for a nutritious cereal. When trying to find the healthiest cereal, if you prioritize cereals that are low in sugar (less than 6 grams per serving) and high in fiber (4 grams or more per serving), you'll likely find a good option that will keep you full all the way until lunch!
And when in doubt, choose organic, gluten free rolled oats and make oatmeal for breakfast – because that is guaranteed to be healthy every time!
Note: If you're feeding an especially picky eater, I recommend supplementing with an organic kids vitamin along with their breakfast to ensure they're getting all of the nutrients they need!
Is Raisin Bran Healthy?
Raisin Bran is certainly a popular cereal, but unfortunately the most common Raisin Bran cereal brands (made by Kellogg's and Post) are not healthy for you. While the name "Raisin Bran" sounds healthy, it's actually loaded with calories and sugar – because of the amount of raisins included in the cereal. Raisins are dried fruit, and dried fruit overall is concentrated in sugar, since it doesn't have all of the water that its fresh fruit counterparts contain.
One serving of Post's Raisin Bran cereal (1.25 cups) contains 210 calories and 20 grams of sugar. Kellogg's is no better – one serving (1 cup) contains 190 calories and 17 grams of sugar. That's almost the same amount of sugar in a can of Coke, or a regular sized Snickers Bar! For a healthy Raisin Bran type cereal, try Nature's Path Flax Plus Raisin Bran instead.
Is Granola Healthy?
Granola typically runs into the same problem as Raisin Bran – way too much sugar and calories packed into a small serving! Making granola at home will result in a healthier granola since you can control the amount of sugar and fat added to the recipe (like this low calorie granola recipe that is super low in sugar!)
If you are looking for a pre-made/store-bought granola, follow the same rules as you would when looking for any healthy cereal (low in sugar, high in fiber). I like KIND Granola, Bare Naked Fit Granola, and Purely Elizabeth Granola.
Are Cheerios Healthy?
On the surface, Cheerios look healthy: one serving (1.5 cups) has 140 calories, 4 grams of fiber, 2 grams of sugar, and 5 grams of protein (and they are gluten-free). However, because Cheerios are not organic, they have been found to contain high levels of the carcinogen glyphosate – so I wouldn't recommend them!
Instead, try One Degree Foods Sprouted O's or Cascadian Farms Purely O's
Check Out These Other Healthy Eating Guides!