Is he ready to be a father again?!
Ethan Ybarra, who was featured on Unexpected with Myrka Cantu, has allegedly gotten his new girlfriend pregnant, and fans are unsure of what to think.
Myrka previously announced that she was expecting again, so it looks like Ethan wasn't far behind.
According to a fan post from @tlc.unexpectedtea, Ethan Ybarra's new girlfriend is expecting! The Instagram account shared a DM from someone who claimed that they had heard from Ethan that his new girlfriend was pregnant.
"Girllll lol so Ethan had sent me a [screen shot] of a message the other day cause he thought my cousin texted him but it wasn't her," the message read. "Anyways my cousins ex said she heard his gf is pregnant and I told him and he dodged that questions. He didn't deny it tho. Yikes lol I was just like 'well I hope you do that baby right.'"
They added, "That's why my cousins ex said she lives in a city over from him. She was like either she's pregnant or looks it. But yeah I wouldn't be surprised either. IK if she wasn't he would have said she wasn't."
And fans had plenty of opinions since they got to know Ethan while he was on Unepected.
"The fact that he hasn't learned," one fan on Reddit wrote. "The guy is already a deadbeat dad to one kid."
"Oh my god someone please give this kid some condoms," another joked.
"Taking bets on how many kids Ethan will have by the time he's 25," a third chimed in.
Recently, Ethan's ex, Myrka Cantu, announced that she was pregnant with her second child.
The 18-year-old was answering questions from fans on her Instagram story when she made the announcement.
When one user asked Myrka if she planned to get any piercings or tattoos, she responded, "Omg yes but rn I can't get either."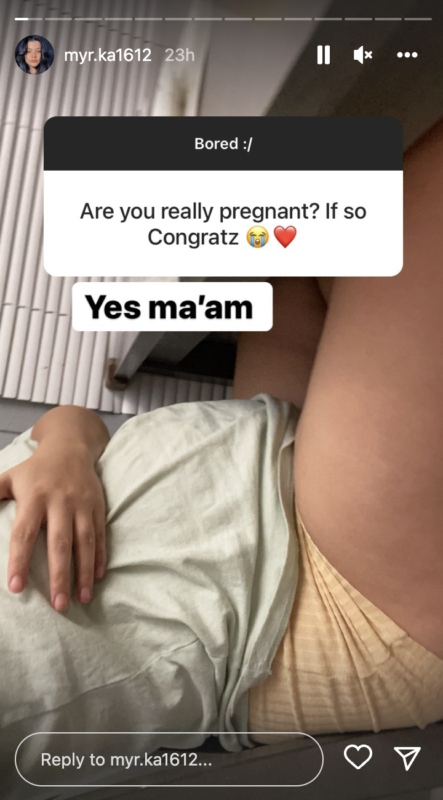 She then revealed her growing baby bump! Myrka then answered everything that fans were dying to know about her second pregnancy.
According to her Instagram story, Myrka was 15 weeks along. The ​​Unexpected star does not yet know the gender.
She also addressed some of the speculation about her baby's father. Myrka is in a relationship with the father of her second child.
Her current boyfriend does not like to be posted on social media. Starcasm reported that her partner is 18 years old and over 6 feet tall.
Evidently, he helps care for her first daughter Attalie.
The mother of one also provided some information about her current living situation.