Thinking of Making and Selling Candles as a way to make some extra income?  Great! But first, where do you buy candle making supplies in Australia at wholesale prices?
A great way to create a good income doing something you really love is to make beautiful bespoke candles.  There is a huge demand for handmade candles and starting your own business making candles is a low-cost, high-profit small business.
But first – you need to purchase all the materials to make the candles at home.  That's where we would love to help you.  Rather than having to do hours and hours of research – we have found the very best place where to buy candle making supplies in Australia.
Table of Contents:
1. Where to Buy Full Candle Making Kits:
Full candle making kits are perfect for beginners – you can find out what you like, and what you don't.  What you need and if you even like making candles at all!
Candlewick Bay
Candlewick Bay is a small company that puts together full candle making kits for one low price.  They are based in Australia and you can buy their candle making kits online via Etsy.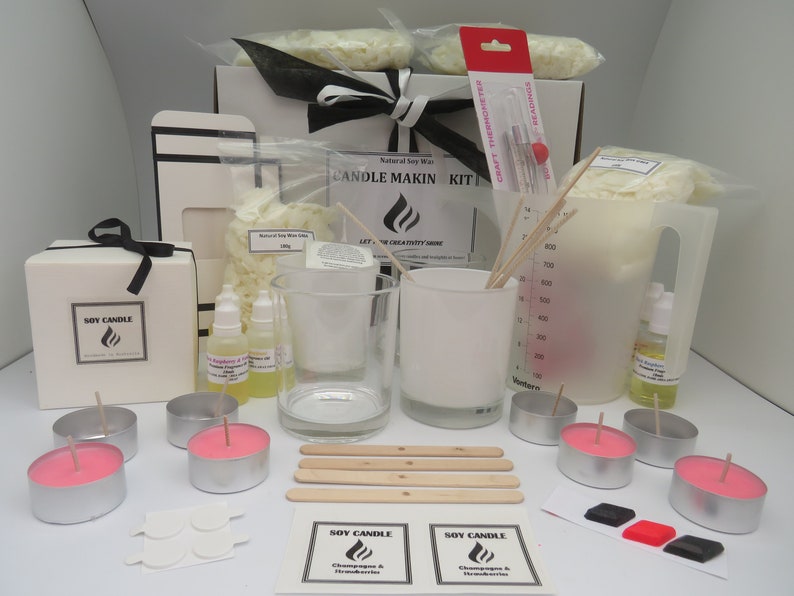 Riot Art & Craft
Riot Art & Craft not only have full candle making kits but they also sell candle wax and everything you need to make commercial quality candles at home.
See their range here >
Happy Wax
Happy Wax is a United States based Soy Melt Company.  They offer delicious wax melts in many different flavours.
Check out their range here ->
Luxury Candle Making Kits
This shop ships from the United States and provides full soy candle making kits for less than $60.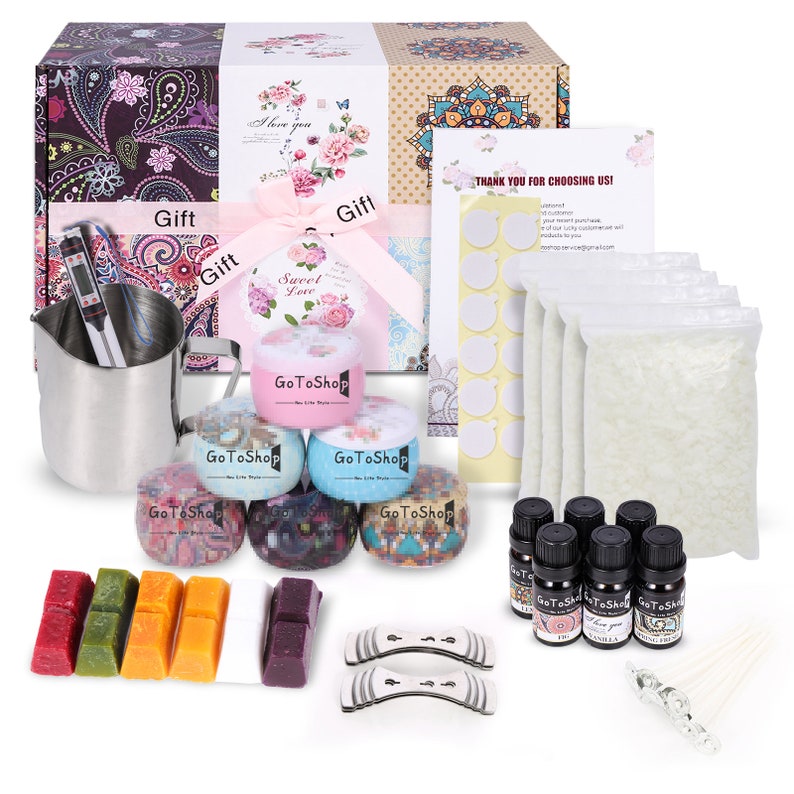 Luxury Candle Making Kit by Go to Shop US
2. Cheap Candle Making Supplies from China
There is a number of cheap candle making suppliers that you can import from China.  Sure they are cheap to buy – but you may have to wait up to three weeks or more for postage – so take this into account when ordering your supplies.
3. Soy Wax Wholesalers
Soy Wax is the base of most types of handmade candle.  Here's were to buy the most beautiful soy wax for the most perfect of candles!
4. Where to Buy Specialised Candle Making Supplies:
Candle Making.com.au
Stockist of candle making kits, soap making kits and candle making classes. They offer perhaps the largest range of candle making supplies including butters and specialty waxes, moulds, bottles and tins, fragrances and wicks.
Go to their website>
Aussie Candle Supplies.com.au
Aussie Candle Supplies.com.au has a large range of natural soy waxes, candle waxes, wicks, fragrances, dyes and glassware.
Go to their website>
5. Wholesale Candle Making Suppliers:
The following companies sell candle making supplies wholesale.  Some will require you to sign up to be a wholesaler and to provide an ABN.
=
6. List of White Label Candle Suppliers
Here is a list of White Label Candle Suppliers in Australia, tell them we sent you!
7. Where to Buy Wholesale Essential Oils
Essential Oils are commonly used in candle making – and as you know, they can be quite expensive.  Luckily we have a list of where you can purchase wholesale essential oils, online here in Australia.
See our comprehensive list;
8. Other Candle Making Ingredients You May Want to Consider:
With new ideas starting up every day in the candle making industry – it's good to look at new materials that you may want to incorporate into your own candles.  Here are some wholesale suppliers of these other ingredients.
9. Candle Making Courses:
See Candle Making Courses in Brisbane
Luxury Candle Supplies
Location: Melbourne
Candle Making.com.au
Candle Making.com.au offer candle making and soap making classes in Sydney, Canberra and Melbourne.
Check out their current courses here>