Home › Healthy Kids › Where to buy Holle, HiPP and Lebenswert formula in the US: The Best Trustworthy Vendors in 2022!
This post may contain affiliate links. As an Amazon Associate, I earn from qualifying purchases. Please read my disclosure.
Many of you know that when I had my daughter, breastfeeding was not easy. I stuck with it for as long as I could, but eventually I needed to supplement with formula. After a ton of online research, discussions with doctors, and conversations with friends, I came up with this list of the best organic formulas for your baby (with Holle, HiPP, and Lebenswert formula ranking at the top of the list).
In coming up with the list, I realized that all of the healthiest baby formulas are produced in Europe. So in addition to identifying the formulas, I needed to find reliable places to buy European formula in the US.
The good news is – since my daughter was born in 2014, there are many more places where you can buy baby formula in the US! The bad news is, there are also still a lot of untrustworthy vendors out there. That's why I have created a thorough screening process to find the most most trustworthy online vendors that I could feel comfortable recommending as places to buy Holle, HiPP and Lebenswert formula in the US.
As of January 2022, the below 9 online retailers are the safest and most reliable places to buy European formulas.
Some of the items below were given to me to review by the manufacturer or as part of an affiliate program. I may receive commissions if you make a purchase through the links provided. I only recommend products I've actually evaluated, I believe are the highest quality, and can do the most to help you and your family. By purchasing any of these products from the links below, you help keep this blog running, so thanks for your support!
My recommendations are based on the manufacturer's claims and ingredients list, and what I feel best giving to my own family. Your individual results may be different based on your overall diet, exercise, age, weight, family history, or pre-existing conditions.
Best Places to Buy Holle, HiPP, and Lebenswert Formula in the US
1. My Organic Company


MyOrganicCompany is the only online retailer I've found that literally has every formula you can think of. They are always in stock of HiPP Dutch, HiPP UK, HiPP Germany, Holle, Lebenswert, Goat Milk formula, and the sensitive formulas (HiPP HA, Comfort, Anti-Reflux); but they even have Loulouka, Good Night Formula from HiPP, Stage 3 and Stage 4 formula from HiPP, Holle, Lebenswert and Loulouka!
What Makes MyOrganicCompany stand out?
Guaranteed availability of ALL the European formulas
The only reputable supplier of Loulouka
They offer one of the largest varieties that is also the most expansive. They carry stages up until 2 years old, so that moms have the option to continue offering high quality milk to their toddlers.
The business started in 2017 and now has three different warehouses across the USA to ensure formula gets to you asap.
A subscribe & save option (up to 7%) with delivery every 1-8 weeks. The option to buy in bulk to save more.
Free shipping on all orders $50 and up, arriving within 2-3 business days.
Receive an additional 5% off using the code "THEPICKYEATER" at checkout
Amazing customer support (turnaround within 24 hours)
A comprehensive mixing guide in case customers lose their instructions!
2. Organic's Best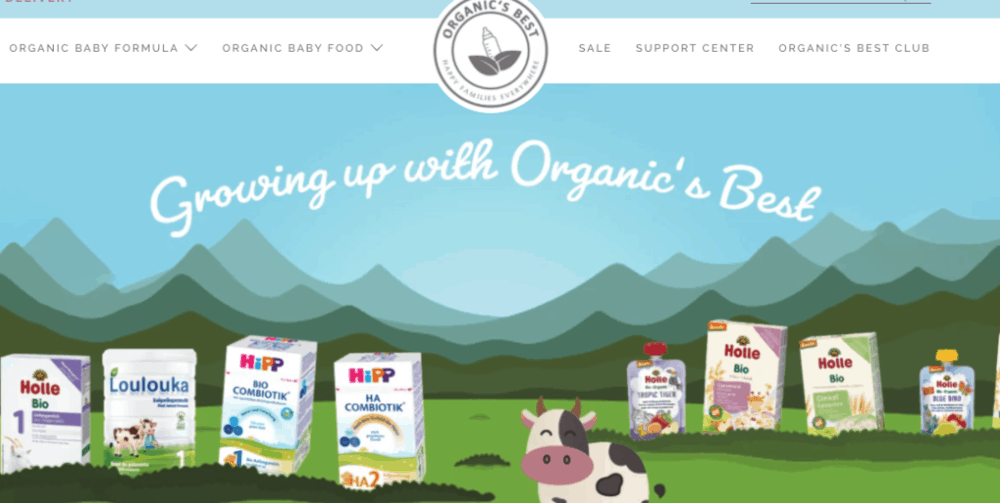 Organic's Best is based in Germany, and is passionate about making organic baby formula and baby food available internationally (to any family who wants it!) They carry HiPP Dutch, HiPP Germany, HiPP UK, Holle, Lebenswert, and Loulouka. They also carry HiPP HA, HiPP Comfort, and HiPP AR.
One thing that makes this company unique is that they ship internationally for free, and they will guarantee fast delivery between 1-4 business days. Additionally, every new customer also receives two free boxes of formula! They have low prices, and they include free shipping insurance for every order, and they guarantee availability of all formulas – so you never have to worry about your favorites being out of stock!
3. Bottles & Burps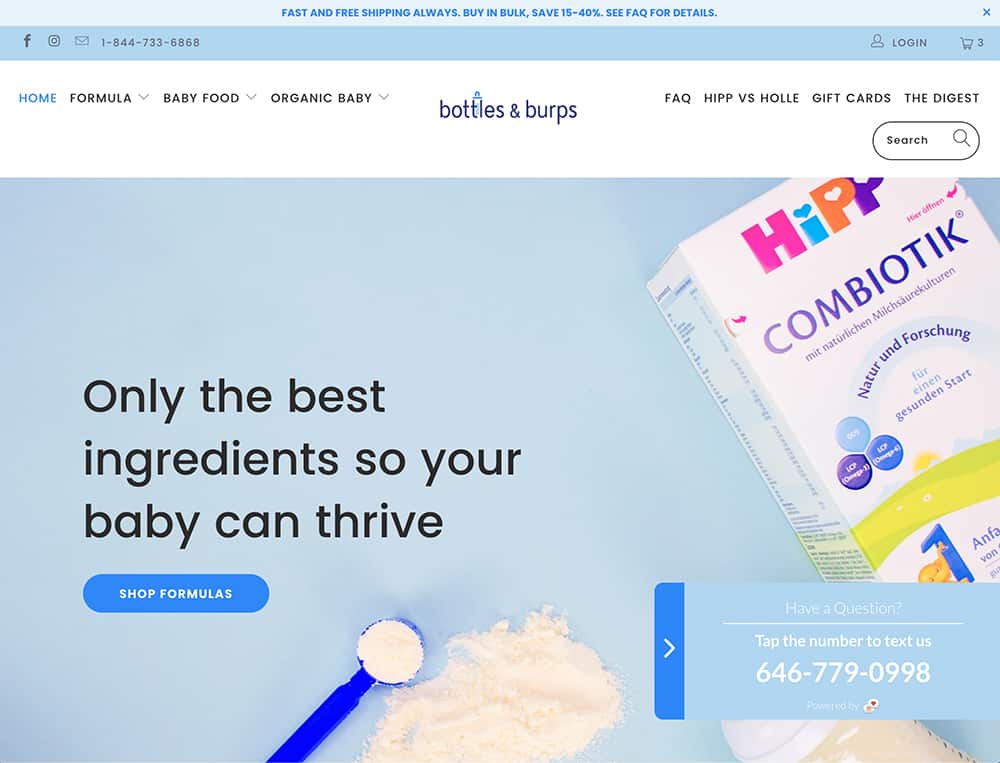 When it comes to affordability, Bottles & Burps is the lowest priced US retailer I have found that sells HiPP, Holle, Lebenswert and Kendamil. They can get all of these products to most US households in 1, 2, or 3 days from their US warehouses with their standard free shipping (shipping is always free!) I met with Courtney and Blake, the co-owners, and learned that they had the same experience as I did when trying to find healthy formula for their little one. They are committed to bringing high quality, European formula to parents in the US at an attractive price.
What makes Bottles and Burps stand out?
Bulk pricing discounts which start at 2 boxes of formula and increase as you buy more
To save even more, you can order bundles direct from their warehouse in Germany (with free, express 2-5 day shipping to the US)
FREE shipping for all orders, no matter whether shipped from the US or Germany
US shipped orders arrive in 1-3 days with their standard free shipping (usually 1-2 days for most areas, but sometimes 3 days)
$10 discount code using the code PICKYEATER10 (just enter it manually in the checkout process, minimum purchase of $125)
4. Organic Formula Shop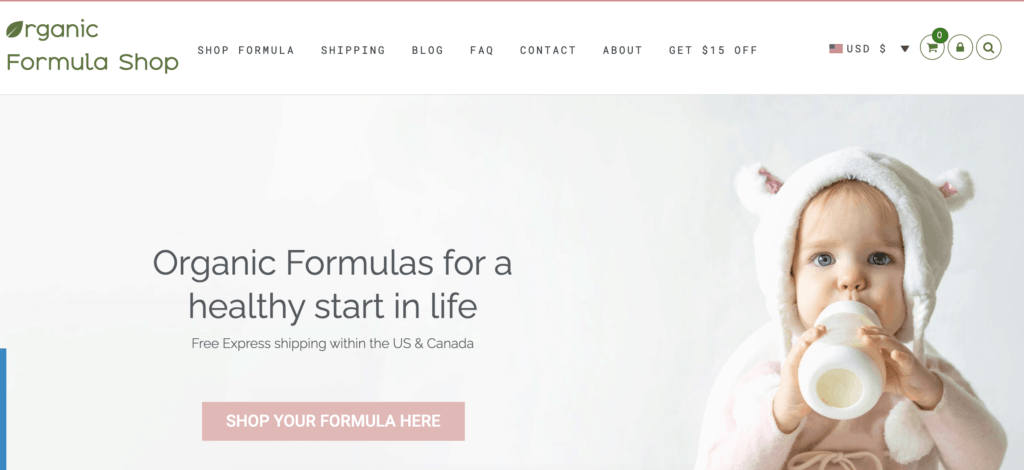 Organic Formula Shop is a family run company that delivers HiPP and Holle straight from the Netherlands, which prevents the formula from being stored at multiple warehouses.
What Makes Organic Formula Shop Stand Out?
Founded by two Dutch parents committed to getting affordable European formula to parents in the US.
No matter your order size, all orders are delivered via Express DHL within 4 business days.
1:1 help to find the right option for your baby
24/7 customer support
Bulk purchasing for a 20% discount
$5 off every order by using the code thepickyeater at checkout
They offer a Single Parent Scholarship designed to support a single mother or father with their college or graduate education
5. Organic Baby Food

Organic Baby Food is a reputable, online retailer based in the EU who has fast shipping to the US! They sell HiPP, Lebenswert, and Holle, along with Hypoallergenic formula and Goat's Milk formula. They have reasonable prices, reliable shipping (within 1-3 business days!), amazing customer support, and I have been in contact with the owner personally.
What Makes OrganicBabyFood Stand Out?
Guaranteed delivery within 2 days
Money back if your shipment is delayed
Dedicated customer support (a few hours turnaround time for emails or direct phone support at 1-800-701-4303)
Occasional promotions and discounts (sometimes up to 60%)
They are also giving readers of The Picky Eater a 10% off coupon code at checkout – just use the code: PICKY and you will get the discount!
They carry organic cereals and snacks for babies from HiPP/Holle/Leb as well!
Note: I'm in personal contact with these distributors and feel comfortable recommending them to you as reliable and safe places to purchase European formulas.
Please note that The Picky Eater is not responsible for the quality of either the formula itself or the experience of ordering from any of the distributors listed above. I am simply saying that based on my research, if I were buying a European formula for my own child, I would feel 100% comfortable getting it from any of the vendors listed in this post.