This post may contain affiliate links. As an Amazon Associate, I earn from qualifying purchases. Please read my disclosure.
This zucchini baby food puree with apples and carrots is a delicious combination your baby will enjoy! Zucchini and carrots are on the sweeter side in the vegetable category, and when paired with apples it becomes a healthy sweet treat for your little one!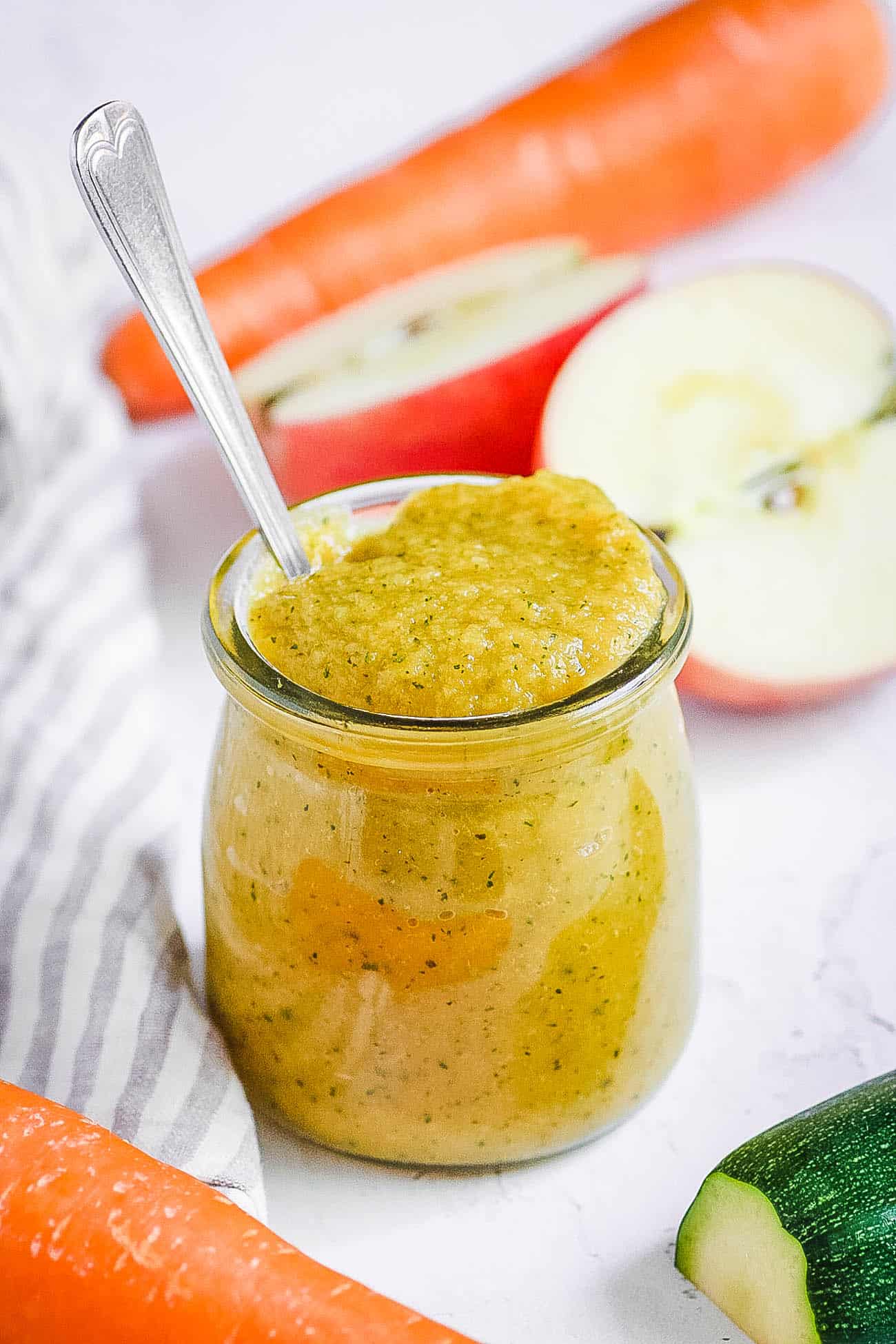 Veggies mixed with fruit is always bound to be a hit in our household. Zucchini and carrots have a mild flavor and are already on the sweeter side. When paired with apples, it becomes a true sweet treat!
While you can easily make zucchini baby food as a simple, one ingredient puree, I find that mixing it with a couple of other fruits and veggies makes babies love it even more!
I often used to mix this creamy puree with my kids' oatmeal in the morning and they loved it! This zucchini puree is a simple baby food recipe you can use in a variety of ways – it's super customizable based on your baby's needs and preferences (see below for additional recipe variations).
This zucchini baby food recipe is a great first food for your little one. It's nutritious, delicious, and I guarantee you will have one happy baby after giving them this smooth puree!
👩🏽‍🍳 Why This Recipe Works
Naturally sweet vegetable and fruit puree
Rich in vitamins and minerals for baby's diet
Quick to prepare
No fancy equipment needed
Simple to store and freeze
Perfect stage one puree
Great for babies 6 months of age and up
Makes 16 servings!
Easiest baby food zucchini recipe ever!
Latest Recipe Video!
🥘 Ingredients
Making your own baby food at home might seem complicated, but you really only need a handful of simple ingredients and a good blender! Here's what you need to make this homemade baby food zucchini puree recipe: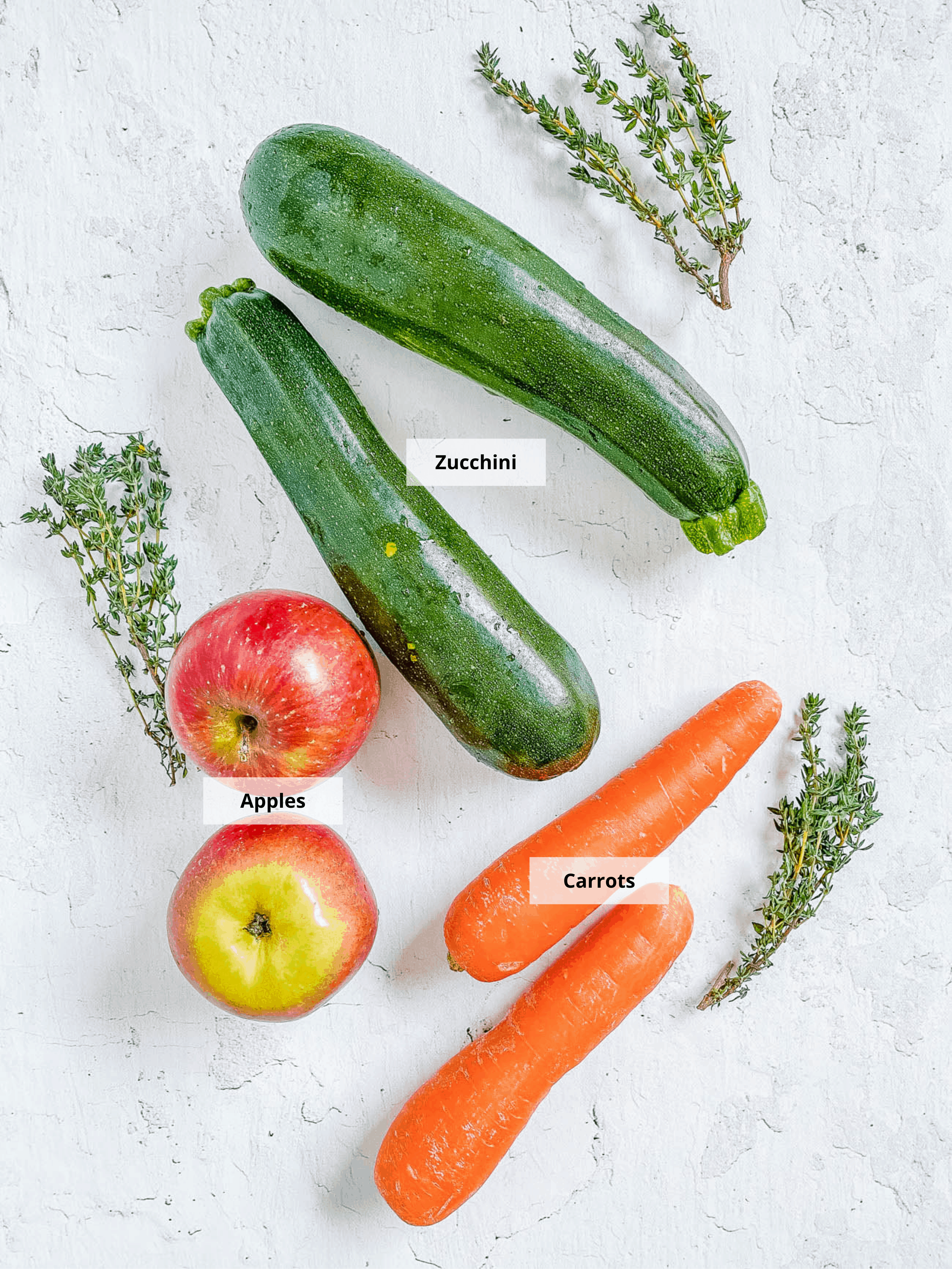 Organic Zucchini: When making your own homemade baby food recipes, I highly recommend using organic produce to reduce pesticide exposure for your baby. No matter how much you wash your fruits and vegetables, there will still be a pesticide residue. When choosing your zucchini look for ones that are bright green in color, and have no bruises, or blemishes. I prefer to use the smaller, skinnier zucchini for baby food because they have fewer seeds in the center. You could probably also make this recipe with yellow squash or summer squash if you don't have zucchini.
Organic Carrots: You can use either use large carrots or baby carrots for this baby zucchini puree.
Organic Fuji Apples: With a sweet and crisp flavor, Fuji apples are pink in color, and have a white flesh. They are excellent for baby food recipes as they easily cook down, and add natural sweetness to any baby food puree.
Water: You need 12 ounces of water to help the fruits and vegetables to cook down, so that they can be pureed into a smooth and easy to consume consistency.
🔪 Instructions
This courgette puree recipe is so easy to make and is ready in just a few steps! Here's how to make zucchini baby food:
Prep Your Ingredients, Cook All Produce: Wash all the produce. Cut zucchini in half lengthwise and cut each half into 8 pieces. Peel carrots. Cut in half lengthwise and cut each half into 8 pieces. Cut apples in half, remove seeds and stem. Cut each half into 8 pieces. Add carrots and water to a large pot. Turn on high and cook 8 minutes, stirring occasionally. Add zucchini and apples and cook another 3-5 minutes.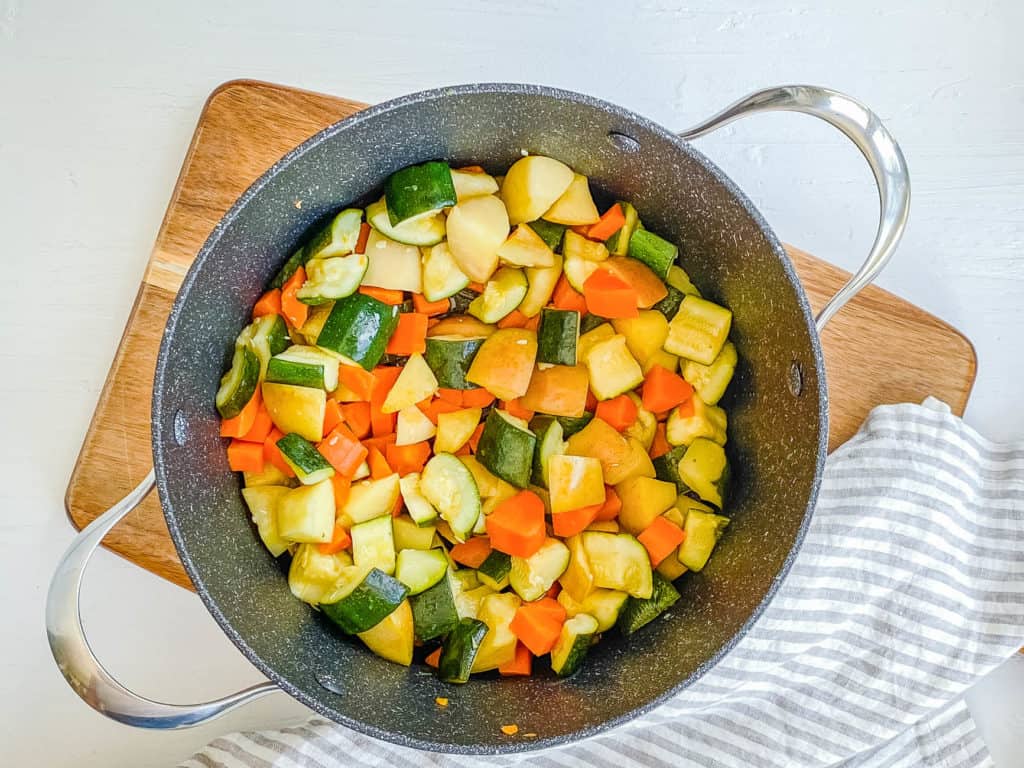 Puree Zucchini Mixture Until Smooth: Pour everything into a blender. Blend until smooth / until the pureed zucchini is the desired consistency.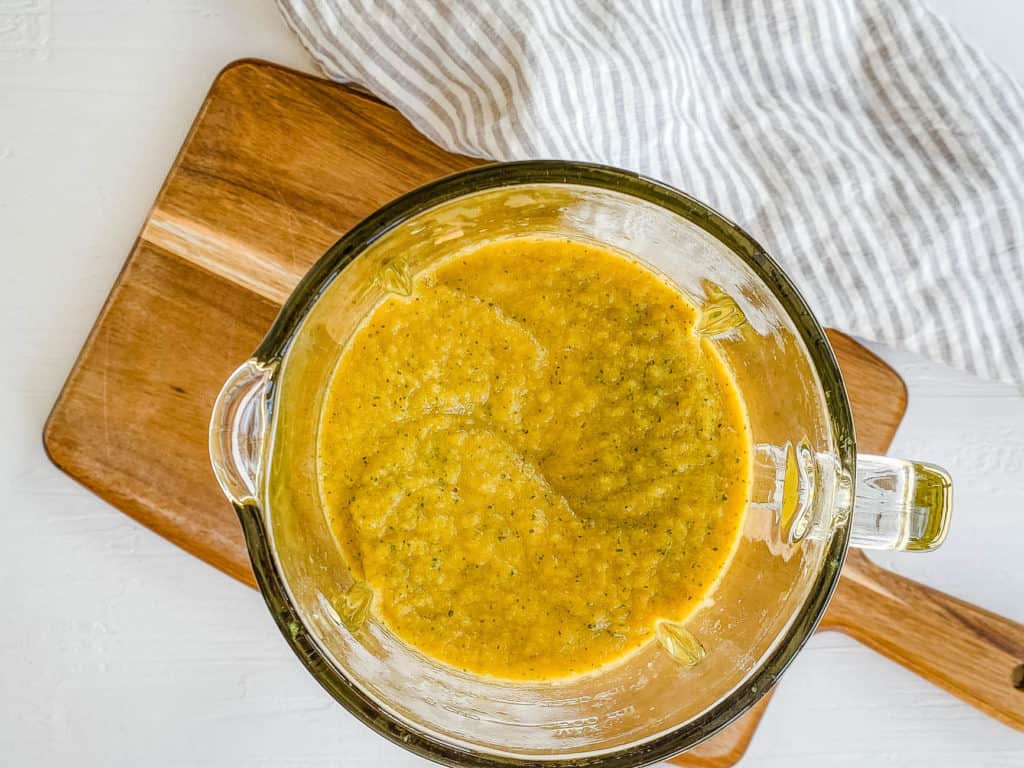 Store, Serve and/or Freeze: Pour into ice cube trays, allow to cool, wrap/cover, and freeze. Serve this courgette baby food at room temperature.
Note: Thaw in the fridge the night before use, or thaw by putting the small cubes in a bowl over a bowl of hot water on the counter to defrost.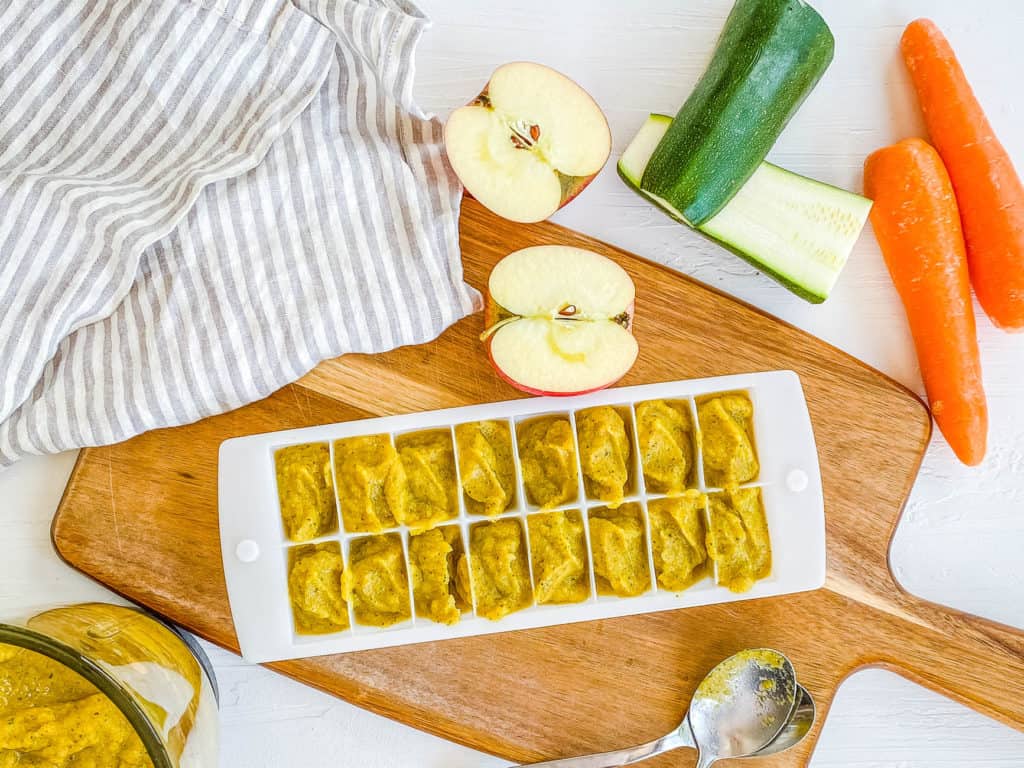 💭 Expert Tips
To store zucchini before using it, make sure the zucchini is completely dry, then place them in a paper bag and store in the vegetable drawer of your fridge. Don't put them in a plastic bag – it will cause your courgette to get slimy.
You can use a steamer basket to cook: If you don't want to boil everything in a pot, you can also use a steamer basket or slow cooker to cook down the vegetables and fruit. The best way to steam zucchini for baby is to first dice zucchini into small chunks. Then, bring 1 inch of water to boil in a large stock pot with a steamer basket inserted in the pot. Add the zucchini into the bottom of the steamer basket. Cover and cook for 5 minutes or until the courgette is super soft. Then transfer the steamed zucchini to a blender with a little water and puree until smooth.
How to choose the best zucchini: You want to look for zucchini that are small to medium sized, because smaller zucchini don't have a high water content (compared to the larger ones). Additionally, the smaller courgettes will have more flavor and less seeds. Large zucchinis have a ton of seeds, less flavor, and are super watery!
For quicker cooking time, cut the vegetables and fruit into small pieces to help them cook down more quickly.
Store in the fridge if you plan to use within a week, otherwise freeze. If you plan to use this entire batch of zucchini baby puree within 1 week, you can transfer the entire puree into one airtight container and place it in the fridge. Then, just scoop out individual servings when you're ready to feed your baby.
Make sure to use a high speed blender, not a food processor for this zucchini baby recipe. You want a blender that will totally pulverize all of the ingredients. If you use a food processor, you won't get that super smooth consistency, it will remain slightly chunky or grainy.
📖 Variations
One of the best things about this recipe is how customizable it is. There are so many ways you can make baby food recipes with zucchini! Here are some of our favorite zucchini baby food combinations:
Different Veggies: Some other vegetables that would taste great with this courgette puree include:
Change the Fruit: Use a different type of apple in this delicious puree, or add one of these other fruits for a fun way to change things up!
Add Spices Or Herbs: You can add a variety of herbs and spices to your baby's food to expose them to new flavors. Try a little bit of basil, thyme, rosemary, parsley, garlic, or lemon. Or, for a sweeter flavor, try a pinch of cinnamon or nutmeg.
Add Breast Milk or Formula: Stir in breast milk or organic baby formula to thin out the consistency of the puree right before serving. Do not add breastmilk or formula before freezing this courgette baby puree as formula is not meant to be frozen, and breastmilk has a different shelf life in the freezer compared to this zucchini baby food puree recipe.
Make it a single-ingredient puree: If you don't have carrots or apples on hand, no problem! You can make this zucchini baby puree all on its own! Just add the zucchini and a few tablespoons of water to a pot, boil and then puree in a blender. Zucchini has a lot of water, so if you don't add the carrots and apples, you may need less water for just a plain zucchini puree.
Make baby finger foods: For older babies, or babies who are using baby led weaning foods, you can cut the zucchini into match-sized sticks, and roast them in the oven with a little bit of olive oil. They turn into zucchini "fries" and are a great way for your baby to experiment with gumming soft foods when they're ready for it.
❓Recipe FAQs
Can babies eat zucchini?
Yes! Babies can enjoy zucchini as young as 6 months old when they begin to try other solid foods. Courgette baby puree is one of the best stage 1 baby food recipes because it's so mild, typically is not on the list of common food allergies, and is easy for babies to eat.
Is zucchini puree good for babies?
Yes! Zucchini is packed with health benefits and has a ton of nutritional value for your baby. It's an excellent source of beta-carotene which your baby's body converts to vitamin A. This helps support their immune system, and improve eyesight.
It's also a great source of vitamin C. Vitamin C is important for baby because it helps your child absorb iron. Babies tend to lose iron at around 5 months old, so consuming foods that are high in iron and vitamin C helps them retain their needed iron intake. It also contains vitamin B6 which is essential for brain development.
Can babies eat raw zucchini?
No, do not give your baby raw zucchini. They cannot mash it with their gums, and the small pieces can be a choking hazard.
Do I need to remove the seeds? Can babies eat zucchini seeds?
It is fine for baby to eat zucchini seeds when they are pureed with the rest of the zucchini.
Should I peel zucchini for baby food?
You might be wondering whether you need to peel the zucchini skin before cooking it. The answer is no – you definitely don't need to peel the zucchini. The zucchini skin has a ton of nutrients, and becomes super soft when cooked, which means it's ideal for pureeing.
How to serve zucchini to baby?
You can serve this courgette puree all on its own, or combine it with other fruits and veggies (see the variations section above!) Feel free to also mix it with either breastmilk or formula right before serving (but don't mix it with breastmilk or formula before storing!)
If this is your first time serving zucchini to your baby, make sure to check for allergic reactions over the first 1-3 days of serving it, and then you can move on to mixing it with other purees.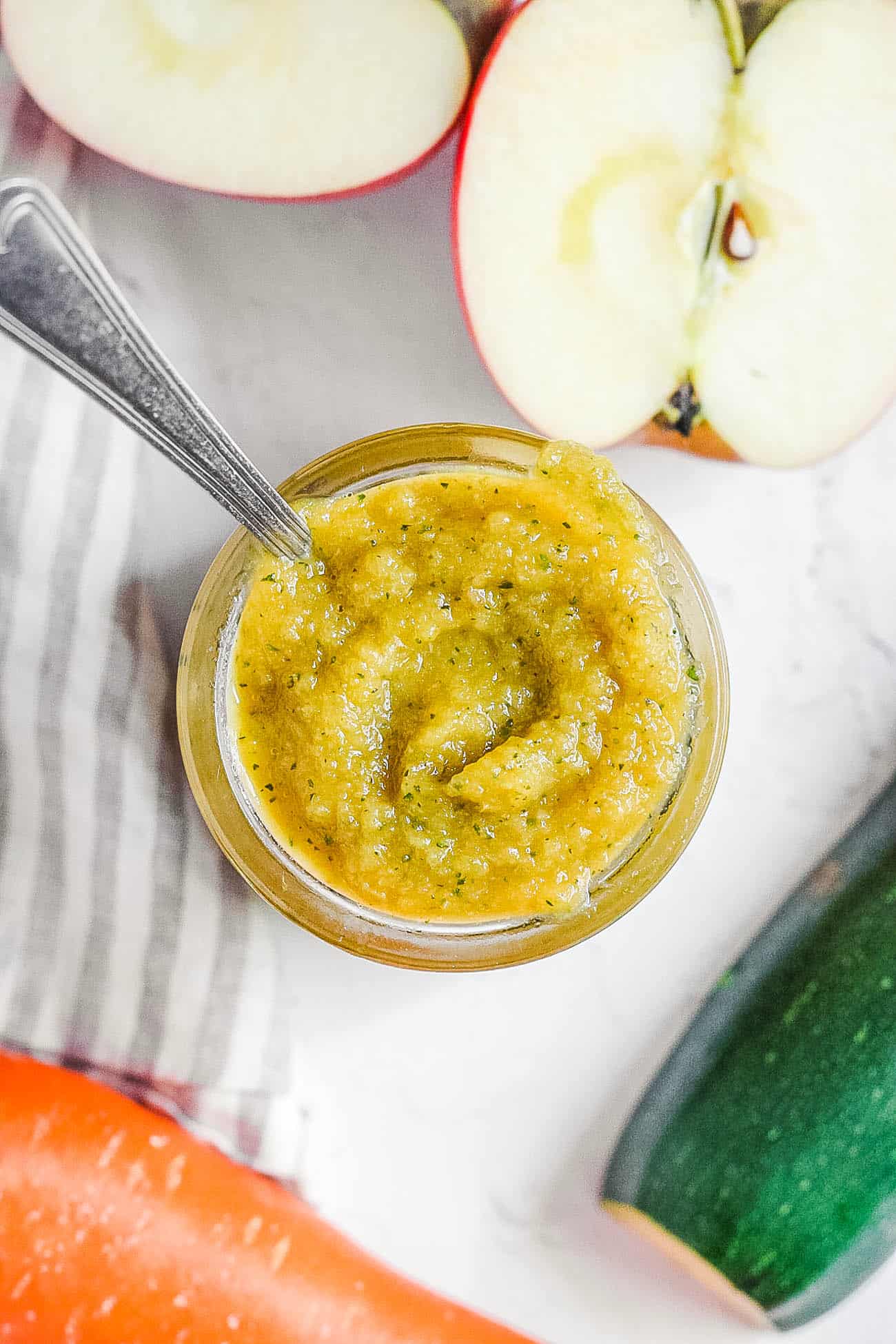 🍎 More Easy Homemade Baby Food Recipes!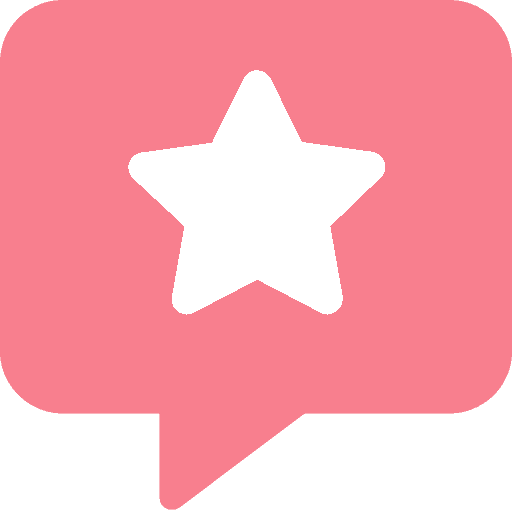 Love this plant based baby food recipe? Please leave a 5-star rating 🌟 in the recipe below and/or a review in the comments section further down the page!
You can also FOLLOW ME on FACEBOOK, TWITTER, INSTAGRAM, and PINTEREST to see more delicious, healthy, family-friendly food, and if you have any questions, I'm here to help!
📋 Recipe Card
Zucchini Baby Food Puree
This zucchini baby food puree with apples and carrots is a delicious combination your baby will enjoy! Zucchini and carrots are on the sweeter side in the vegetable category, and when paired with apples it becomes a healthy sweet treat for your little one!
Prep Time10 mins
Cook Time20 mins
Total Time30 mins
Course: Baby Food
Cuisine: American
Diet: Gluten Free, Low Calorie, Vegan, Vegetarian
Servings: 16 ounces
Calories: 22kcal
Store zucchini in a paper bag in the fridge to keep fresh.
If you don't want to boil everything in a pot, you can also use a steamer basket or slow cooker to cook down the vegetables and fruit.
Cut the vegetables and fruit into small pieces to help them cook down more quickly.
If you plan to use this entire batch of zucchini baby food within 1 week, you can transfer the entire puree into one airtight container and place it in the fridge. Then, just scoop out individual servings when you're ready to feed your baby.
1 ice cube = 1 oz of food
Adapted from BabyLove
Calories: 22kcal | Carbohydrates: 5g | Protein: 1g | Fat: 1g | Saturated Fat: 1g | Sodium: 13mg | Potassium: 144mg | Fiber: 1g | Sugar: 4g